Lockdown sceptics are not conspiracy theorists
Those Hyde Park protesters don't represent the sensible and growing movement against the lockdown.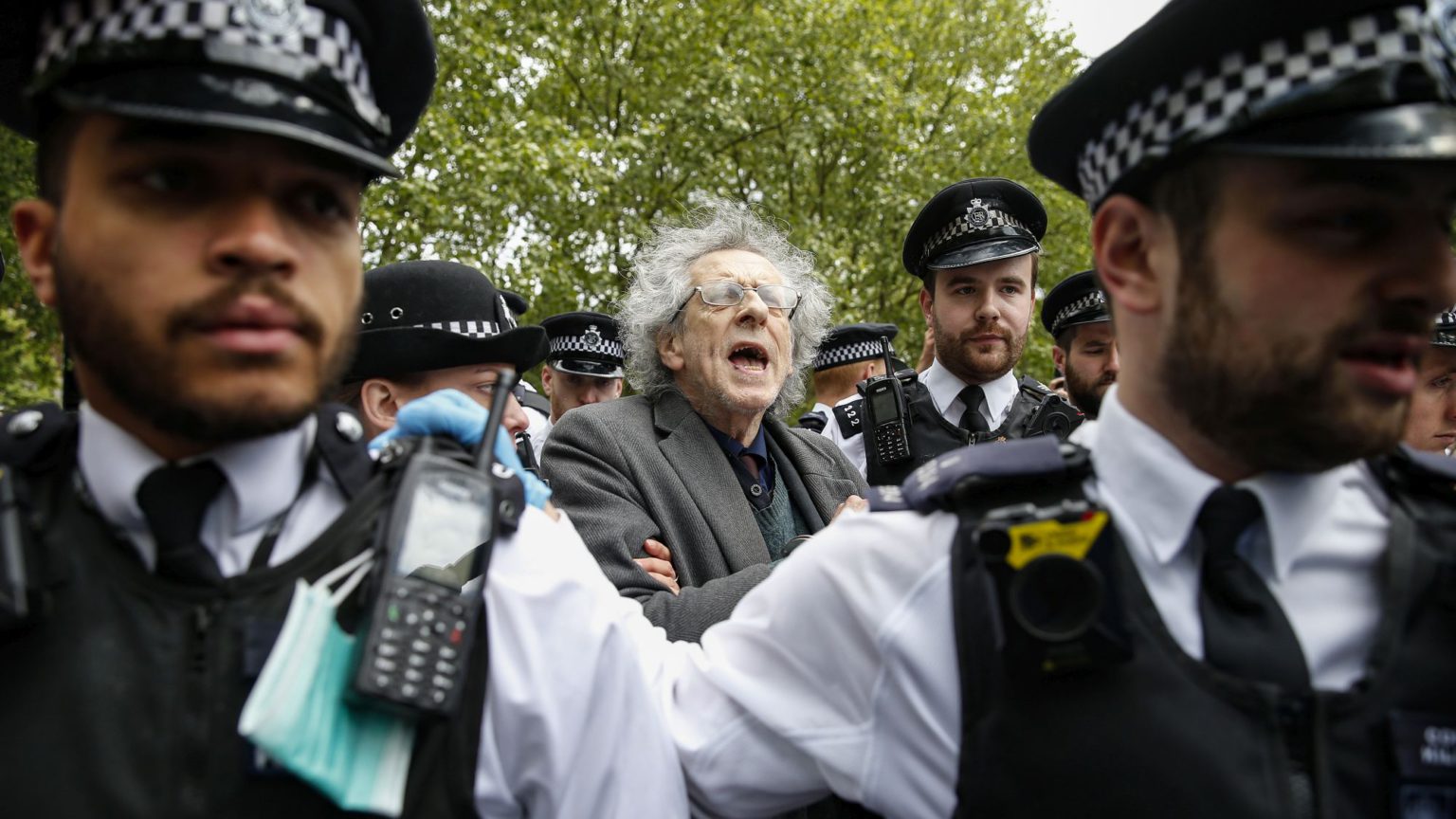 If you paid any attention to the news this weekend, you will have no doubt seen reports of the 'anti-lockdown' demonstrations taking place in London and elsewhere. Photos of demonstrators in Hyde Park deliberately flouting social-distancing rules – and apparently trying to lick police officers – have been shared widely on social media and are held up as definitive proof of the idiocy and selfishness of those who oppose the ongoing coronavirus lockdown.
There is a big problem with that analysis, though: it isn't really true. Having been in Hyde Park myself on Saturday (albeit as an observer rather than a supporter) it was clear to me that the demonstration was in no way representative of the growing number of sensible (in some cases, eminently sensible) people questioning the social and scientific merit of the current restrictions. Instead, the event – organised by an esoteric outfit called the UK Freedom Movement – should really be understood as a very different beast.
Shortly after arriving at the demo, I was handed a flyer setting out its various aims. It repeated some well-known criticisms of the lockdown (like the NHS postponing life-changing operations in order to prioritise its coronavirus response). But it quickly pivoted to the usual conspiracy-theorist talking points: the secret dangers of 5G, the existence of a malevolent vaccination lobby intent on microchipping humanity, and the UN's clandestine plan to depopulate the planet. Some of these themes were endorsed by Piers Corbyn, the older (and even loopier) brother of the former Labour leader, when he gave a short speech at the demo.
These loosely connected conspiracy theories have been circulating around the internet – and Hyde Park's Speakers' Corner – for years. The secret to their survival is their ability to attach themselves on to major world events – terrorist attacks, missing planes, assassinated heads of state, and the like – as a way of renewing their relevance. If anything, the alt-media personalities who make money from these things are probably glad for the lockdown: it is yet another opportunity to spin their tired old yarn.
There are, of course, some specific coronavirus conspiracies (most of which take umbrage with the virus itself – alleging it doesn't exist or that it's actually a secret bioweapon – rather than the lockdown per se). These were well represented on Saturday, too. But I suspect those theories have struck a chord with existing conspiracy-theory types, rather than bringing on board new converts.
Either way, these corona counternarratives are a distraction from the rigorous debate that is going on elsewhere. To the extent that a mainstream 'anti-lockdown movement' even exists, it is far more concerned with trying to get answers to serious questions about the validity of the Imperial College model, the epidemiological merit of lockdowns (ie, whether they can be proven to directly reduce infections), and whether there is any sense in shutting down schools.
At its best, the movement is about trying to ensure we have evidence-based policies: something that the chattering classes of Twitter (with whom lockdown scepticism is hugely unfashionable) would usually be the first to say they support.
Then there are those people who have personal cause to question the lockdown: the small-business owners wondering whether they will be able to pay their mortgages, the grieving relatives barred from attending funerals, or the parents worried about the impact of isolation on young children's development. These people aren't interested in flamboyant conspiracy theories. Nor are they inclined to wave placards and attend protests. But they have the right to question whether their sacrifices are really proportionate.
Perhaps that is why the pro-lockdown hardliners like to latch on to events like those in Hyde Park, as they can be dismissed without actually having to engage with any serious arguments. It is interesting, for example, that when it comes to international coverage of the US situation we see much more of gun-toting survivalists in Michigan than we do of the likes of Shelley Luther, a Texan woman who was thrown in jail for refusing to shut her hair salon. The former might make for better pictures, but they are also much easier for liberal Europeans (most of whom associate gun ownership with political wackiness) to ignore.
Watching Saturday's demonstration from a slight distance (as I explained to one police officer, I always prefer to stay more than two metres away from members of the Corbyn family), it struck me that this kind of demonstration would probably be a turn-off for most lockdown sceptics I know.
Most of us accept the need to reduce some unnecessary human-to-human contact, particularly with those most vulnerable to the virus, as a way of reducing transmissions – we just object to blunt and heavy-handed attempts to criminalise our movements and interactions. We would have no desire, say, to huddle among strangers in Hyde Park for its own sake (and certainly not to go licking police officers) – but we do want to express our objection to the shameful behaviour we have seen from some police forces.
As protesters ranted about the lockdown being part of a totalitarian masterplan to control our minds, I was reminded of a maxim called Hanlon's razor, which states that we should never attribute to malice that which can be adequately explained by stupidity. In essence, that is the difference between lockdown sceptics and lockdown conspiracy theorists. Where they see a conspiracy, we suspect an old-fashioned cock-up. A dangerous one, yes, but a cock-up nonetheless.
Robert Jackman is a critic and writer with the Spectator.
To enquire about republishing spiked's content, a right to reply or to request a correction, please contact the managing editor, Viv Regan.