In London today, the police behaved disgracefully
Cops are enforcing the lockdown in a rude, arrogant and heavy-handed way.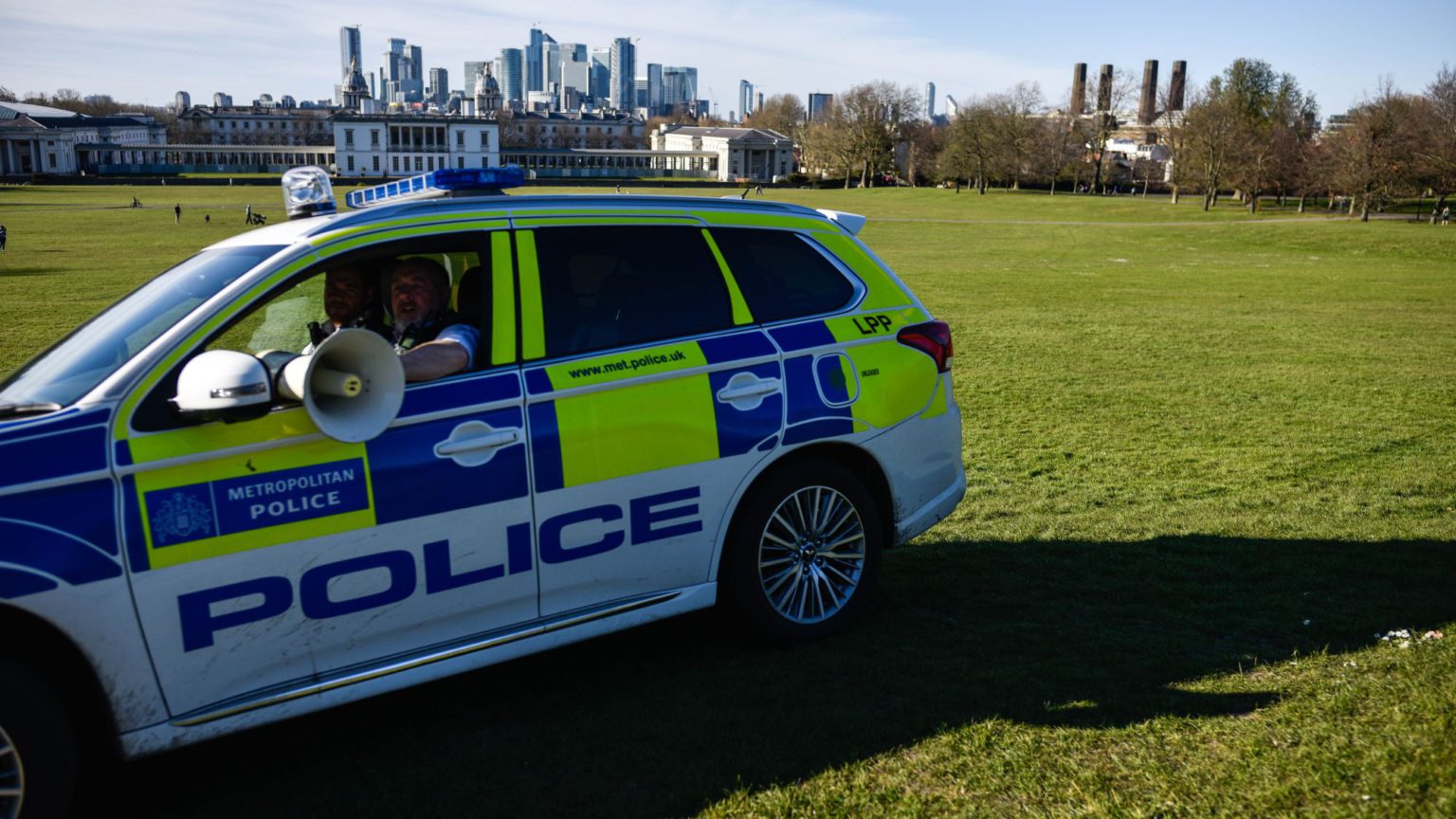 You heard them before you saw them. It sounded like a platoon of soldiers. The one in charge was barking orders to 'move forward!' and then came the trudge of their boots. Scores of them, making military manoeuvres, marching in a long, thin line through one of Britain's prettiest parks: St James's Park in London. This was the Metropolitan Police today, enforcing the lockdown, sweeping through parks and streets and issuing the same warning to everyone they came across, from young lovers to dads playing football with their kids to homeless people with nowhere else to go: 'Move on.' It's one of the most disturbing things I've ever seen the police do.
Watching them stream through St James's Park, looking for all the world like a line of soldiers conquering a small town, you'd think they were on their way to confront some serious organised crime. But of course their targets were sunbathers, those apparently selfish people demeaned in the media and now harassed by the cops. And a dad playing football with his toddler. 'Aren't we allowed to exercise?', the dad asked. 'For one hour', came the reply. 'How long have you been out?' And young lovers and friends. I saw a copper on horseback shouting down at two young men as if they were in the process of committing some awful crime. I guess they were in the eyes of the lockdown fanatics: they were sitting under a tree.
A young Muslim mum sitting down and watching her two kids play with little tennis bats was confused, too. Can't kids play outside? She was told she couldn't sit still. She had to walk. 'How about walking your kids around the park?', said the spectacularly patronising cop. They even threw out homeless people. I saw them tell four individual homeless people (ie, not a group of homeless people) to move on. Where to? Must they also walk and walk, forever, and never sit down anywhere? The most despicable thing I saw was a policeman telling an elderly homeless gentleman to move on. Inarticulately, the man explained he had nowhere else to go. I stepped in and explained to the cop that there is no home for him to go to, and he has to be able to sit down somewhere on a hot day. 'I don't make the rules', came the snivelling, officious reply.
The police's reputation will have taken a severe beating in London today. Anyone who argued back — as two young women did, patiently explaining that they are from the same household and that they were metres away from everyone else — was patronised or even insulted. 'You're putting other people's lives at risk', the women were told, which is completely untrue — being outside and socially distanced on a very warm day carries virtually zero threat of infection. I heard an officer call someone an idiot. Another officer made fun of someone who asked about his right to be outside. It was staggeringly rude and even repugnant behaviour. A politician, or someone, needs to get a grip on these people.
All through central London there were police vans, packed with cops waiting to sweep through parks and greens and streets. The saddest sight I saw was on a small green on the South Bank where a woman of African descent was watching as her very young child, two years old at the most, kicked a football around. As five police officers on bikes approached the woman actually did that thing that I thought was just a meme: she started doing star jumps, hoping that her exercising might make the cops go away. No such luck. She was told that if she wasn't really exercising, she had to go home. I'd seen enough by this point. I asked the cop if he really thought it was a good use of his time to send a mum and her very young child home. He called me a moron.
I have not seen the police like this before. Sure, I've seen police heavy-handedness; I've actually encountered it, on demonstrations many years ago. I've seen police harassing homeless people for no good reason. I've seen the over-policing of certain streets and certain communities and seen how dispiriting people find it. But this arrogant, sneering barking of orders at sunbathers and mums and homeless people resting under trees on a warm day is completely new. It is lockdown fanaticism in action. This rude and heartless officiousness is the logical conclusion of the culture of hysteria our political and media elites have whipped up over Covid-19.
And the thing is, every single police intervention I saw today was unnecessary. Every one. That homeless gentleman was not near anyone else. The mum and her young kid playing football were the only people on that small green on the South Bank. (Until the police turned up.) It is only corona-hysteria that has turned these perfectly safe and good outdoor activities into dangerous things the police must clamp down on. What I saw today among the police was relish. They welcome these new powers. Their petty authoritarianism and contempt for 'rule-breakers' has been emboldened. They have shown themselves to be a force not for the people, but against us. Someone sensible in the police or in government should be thinking hard about how to repair the police's reputation following their disgraceful and excessive behaviour during this lockdown.
To enquire about republishing spiked's content, a right to reply or to request a correction, please contact the managing editor, Viv Regan.