The dangerous crusade for Remainer revenge
Their 'Blame Boris / Brexit' obsession is distorting debate about the coronavirus crisis.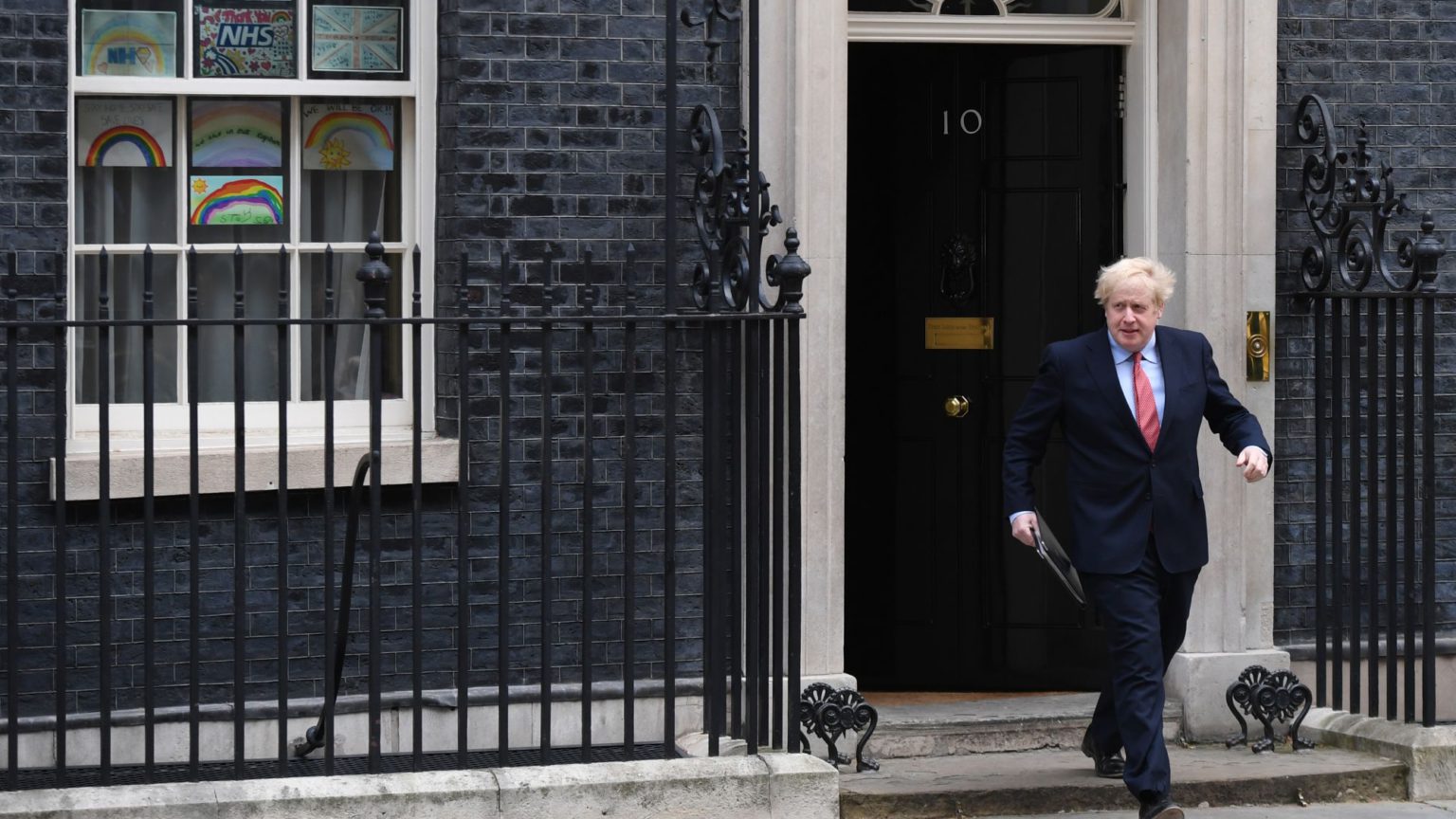 It was no big surprise to see unpleasant people posting poison-dipped remarks about the birth of Boris Johnson's baby son, suggesting that Boris had somehow induced his partner, Carrie Symonds, to give birth early, allegedly so that he could dodge being grilled over the coronavirus crisis by non-terrifying Labour leader Keir Starmer during Prime Minister's Questions.
It was even less of a shock to find that those to the fore in this outburst of lowlife social-media abuse have previously tagged their accounts with EU flags, hashtags such as #RejointheEU, or the obscure Remain battle cry #FBPE ('Follow Back, Pro-EU'). And entirely predictable that the MP who tweeted that 'It appears Boris Johnson has found yet another excuse to miss PMQs' should be somebody like Labour Remainer Ruth Cadbury, who even Corbyn kicked off his front bench for being too pro-Single Market. The same was true of many who spread conspiracy theories about Boris's supposedly 'fake' Covid-19 infection.
No wonder so much of the coronavirus debate feels like a hangover from the Brexit Wars of the previous four years. The most bitter Boris-bashing and Britain-bashing in the media and politics is part of a crusade for Remainer Revenge from those who conspired to overturn the democratic vote for Brexit – and now appear to hope that a virus can succeed where they failed.
Anybody is of course entitled to criticise the government; Johnson and the Conservatives must be held firmly to account. But the way that many of those shouting loudest look at the crisis through Remain-tinted glasses risks leading them to irrational criticisms and one-sided conclusions.
The Remainer Revenge tendency in the corona debate goes far beyond the tired demands to delay Brexit yet again. Many in the media and politics now base their entire worldview on the pre-existing belief that post-Brexit Britain must inevitably be a global basket case. And that everything that goes wrong must be the fault of Boris and the Brexiteers.
These prejudices prompt the critics to impose certainty where nothing is yet clear and endorse worst-case scenarios as absolute truths. They appear convinced, for example, that – thanks to its Tory government – the UK must inevitably be far worse-afflicted by coronavirus than any EU member. Never mind that those who understand these things have detailed the problems with drawing hasty comparisons, given the differences between population densities and demographics and in the way that nations compile their figures. Gormless left-wing Labour Remainer Richard Burgon MP even left hard-hit Italy and Spain off his list of national death tolls, so desperate was he to show Britain doing much worse than EU member states.
It is a similar story with the shrill attempts to hold Boris and Brexit wholly responsible for a shortage of personal protective equipment (PPE) for frontline staff. The media Remain Revengers made much of early reports that the UK government had not signed up to an EU PPE procurement scheme; they somehow failed to report that, weeks later, the bureaucratic EU programme had delivered not one piece of PPE.
What about the outcry over shortages of PPE in the Republic of Ireland? And why are German and French health workers posing naked on social media to highlight the lack of suitable protective clothing there? Is that all the fault of Boris and Brexit as well? Or might there just possibly be some other, wider explanation?
These trends mean that discussion of the coronavirus is often being distorted and degraded by petty point-scoring against the Conservatives and Brexit. It also leads many of the critics to draw dangerously one-sided conclusions.
Although the cause of Remain was championed by much of the left, it was actually by definition a very conservative outlook, set against the radicalism of the Brexit revolt. Remainers essentially argued that the UK should not risk leaving the staid security blanket of the EU, that we were better to be safe than potentially sorry. There was also a powerful anti-democratic, anti-demos (the people) strand to the Remain argument, which assumed that normal citizens like the 17.4million Leave voters could not be trusted to make sensible decisions for themselves.
Transposed on to the current crisis, this safety-first conservatism means that the Remainer forces in our media, politics and academia are often the most shrill in demanding the stricter enforcement and extension of the general lockdown that is now having such a dire effect on our economy and society. Their conformist certainty that they have been right all along has closed their minds to the possibility of any alternative way ahead – and closed their eyes to seeing that, whether governments have adopted the Spanish or Swedish models to date, progress of the disease appears broadly similar.
As with Brexit, they simply do not trust people to make their own decisions and create a better future. Instead they can only attack the government – with the gift of hindsight – for failing to put us in general lockdown harder and faster, and attack any suggestion that we might now be let off the leash.
Everybody with a political axe to grind is out to exploit coronavirus, treating the crisis as an opportunity to push their case. Thus we have witnessed eco-zealots singing the praises of the closed-down economy and plane-free skies, public-health crusaders blaming Boris's waistline for his near-death coronavirus experience, and the WHO neo-puritans declaring that access to alcohol should be restricted during lockdown (that really would be a mental-health issue for some of us).
Of all these self-serving interventions, the extent to which Remainer Revenge is influencing the discussion is the most problematic. One added danger is that, by contrast with the Brexit wars, their shrill warnings are resonating with more people. Polls suggest that Brits are wary of being let out of lockdown 'too soon', and that many remain unsure about sending their children back to school or going to the pub, even after restrictions are eased. There is a risk that the rebellious democratic spirit of the Brexit revolt could be replaced by a public mood of passivity, fearfulness and conformism.
After we have congratulated him sincerely on the birth of his baby son, Johnson's Conservative government does need to be held to account and taken to task – for its failure to stand up to the Remoaners, reluctance to lead us out of the crisis, and lack of a plan for rebuilding Britain by unleashing its people. Instead, the embittered Remainer establishment is essentially bashing Boris and Co for not being more conservative and cowardly.
To enquire about republishing spiked's content, a right to reply or to request a correction, please contact the managing editor, Viv Regan.