American dystopia
The combination of the Covid-19 crisis and the Trump presidency is proving disastrous.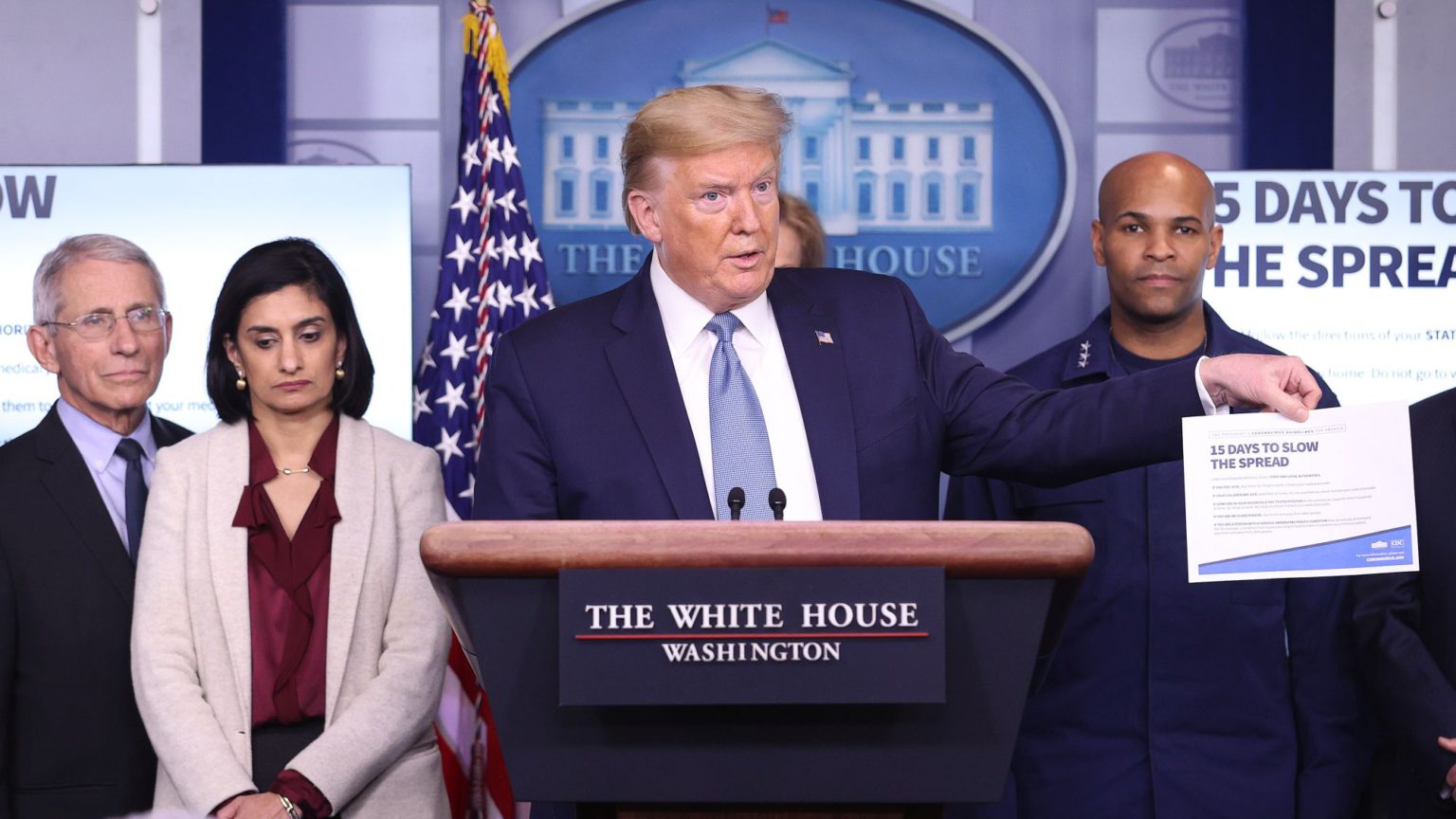 Don't panic, if panicking means acting irrationally. But do be deeply unsettled. Recognise that fear of disease is reasonable, especially if, like me, you're officially elderly (I'm 70) and considering a decimated US healthcare system unable to provide everyone with necessary care. Entertain outrage at the stunning incompetence and dishonesty that leaves us facing a potential catastrophe. If we don't immediately practice social distancing, and even some isolation, the US will look like Italy, according to respected public-health experts. Americans 'should be prepared that they're going to have to hunker down significantly more than we as a country are doing', Dr Anthony Fauci, our leading infectious-disease expert warns: 'I would like to see a dramatic diminution of the personal interaction we see in restaurants and in bars.' Officials, he says, 'should really be overly aggressive and get criticised for overreacting'.
The president, of course, has been dramatically underreacting, to say the least – ignoring or explicitly dismissing the advice of public-health officials like Fauci. Relying on his 'gut' and disdain for knowledge and expertise, driven by fear of acknowledging a crisis that could endanger his re-election, and supported by the sycophants he appointed to replace informed, honest officials, Trump has endangered everyone's health, not to mention their retirement accounts.
If we manage to 'flatten the curve', we will have civil society and state and local governments to thank. The National Basketball Association suspended its season. Colleges and universities shut down, converting to online learning. Businesses cancelled meetings and sent staff home to work remotely. Retail outlets closed. Governors and mayors limited public gatherings, banned parades and suspended public schools. The Boston Marathon has been postponed for the first time in its 124-year history. All of these measures have generated great financial and social costs and sometimes created new problems, like the challenge of feeding kids from low-income families who depend on school meals. But all these measures are essential, made so by the stupidity, cowardice, mendacity and perhaps delusions of a president who long insisted that the coronavirus was no worse than a cold or the seasonal flu and that the crisis it posed was just another 'hoax' aimed at ousting him from office. Trump has not been merely irrelevant to preventing a possible catastrophe — he has facilitated one.
The responses of civil society, state and local governments and, perhaps most of all, investors who crashed the stock market, shaken by obvious failures of presidential leadership (or sanity), have dragged Trump into recognising the crisis (sort of) and declaring a national emergency. But he is still publicly shaking hands and minimising the dangers we face, leading his supporters to minimise them as well. As Politico reports, 'A significant share of voters, mostly Republicans, say they don't expect the outbreak to have major effects on their daily lives — a view that runs counter to the recommendations of public-health officials'. Less than half of people surveyed by the Wall Street Journal and NBC say they have stopped attending or plan to stop attending large gatherings. So much for social distancing.
It's not surprising. Trump continues undermining the increasingly desperate appeals of the medical community, promoting his alternate realities instead, in the interests of his ego and image. He's still lying about the availability of testing, still bragging about low numbers of known cases, which reflect the lack of tests, and still insisting that all his actions have been 'perfect'. He has falsely denied that he disbanded the White House pandemic office and claimed that problems (like testing failures) are the fault of Barack Obama, who has been out of office for three years. 'I don't take responsibility at all', he has declared, predictably.
So here we are, dealing with a dystopian healthcare crisis greatly exacerbated by the dystopian political crisis of the Trump presidency. Both crises will get worse and the political crisis may not get better. State primary elections are already being postponed. It's not hard to imagine presidential and congressional elections in November being suspended, relieving Trump and Republican senators of the obligation to face voters if the healthcare crisis becomes a catastrophe on their watch. Trump can't unilaterally postpone or cancel an election, but state legislators (a majority of whom are Republican) could use the Electoral College to obviate voting, as Mark David Stern explains in Slate.
Once, that would have been unthinkable, like the spectacle of an ignorant, mob-boss president fawning over dictators and dissing allies or standing next to Vladimir Putin at a press conference and taking his word over the consensus of America's intelligence agencies. More than three years into the Trump presidency, facing a pandemic for which we have been disastrously unprepared, nothing is unthinkable anymore.
Wendy Kaminer is an author, a lawyer and a former national board member of the American Civil Liberties Union.
Picture by: Getty.
To enquire about republishing spiked's content, a right to reply or to request a correction, please contact the managing editor, Viv Regan.