Will coronavirus be Trump's Hurricane Katrina?
His incompetence in handling this crisis cannot be overstated.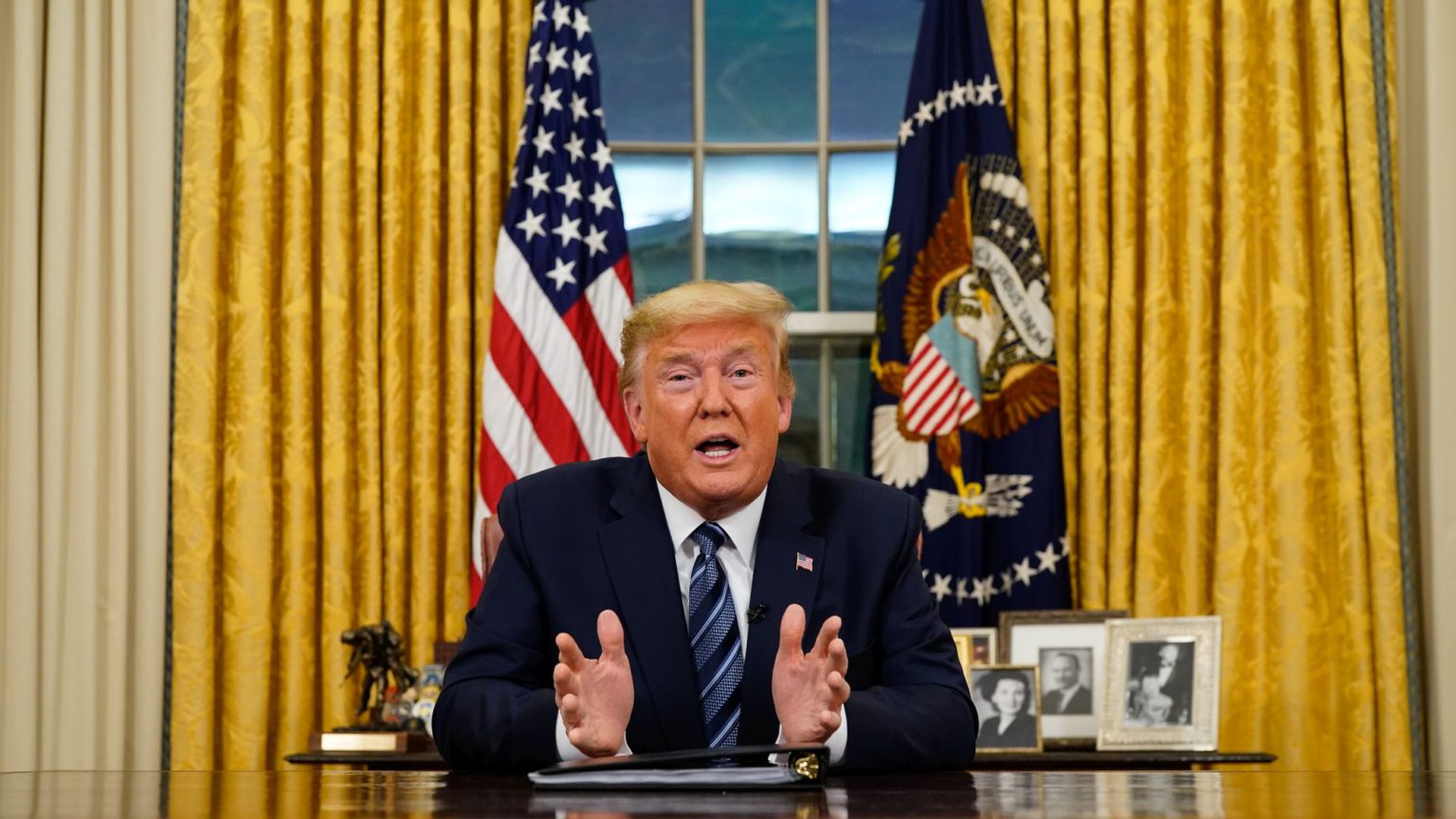 After weeks of dismissing the coronavirus epidemic, President Trump took the rare step of addressing Americans on national TV yesterday, thus acknowledging that the virus does, in fact, pose a serious public-health issue. In an extraordinary, wartime-like move, Trump announced a 30-day ban on Europeans travelling to the US (the UK and Ireland are exempt). He also promised to work with congress to provide financial assistance to those affected.
In just the past few days, the mood in the US has changed sharply, and many people have become very apprehensive about coronavirus (aka Covid-19). Many had not paid attention until recently, assuming it was mainly an issue outside the country. But that has changed as the number of cases in the US has grown. In New Rochelle, a suburb of New York City, the National Guard was sent in to support a newly established 'containment area', following an outbreak centered on a synagogue. Many colleges and schools declared they were closing indefinitely, and some companies have asked employees to work from home. Just as Trump was speaking, the National Basketball Association decided to suspend its season, and the actor Tom Hanks revealed he tested positive for the virus.
Signs of concern are emerging among the public. Hand sanitiser, for one thing, seems to be entirely unavailable. As I discovered yesterday, the shelf space in our supermarket that is normally devoted to stacks of toilet paper was completely empty.
With his speech last night, Trump's objective should have been to reassure people amid this atmosphere of growing unease. He failed dismally. His TV address only reinforced that he is out of his depth when it comes to dealing with a health crisis like coronavirus, a situation in which institutions and people are looking for leadership.
The sheer incompetence of Trump and the people closest to him cannot be overstated. Immediately after his speech, Trump's advisers scrambled to correct a number of things Trump had just announced minutes before. They 'clarified' that Trump's statement that trade with Europe was being cut off – which totally panicked the futures markets – was not true. They also said that the ban on travel with Europe did not apply to Americans, who could still go to and from the continent (the logic of this was not explained). Health insurers then piped up to say that Trump's claim that insurers would waive out-of-pocket costs for treatment for coronavirus was false — they were only waiving costs for testing.
The TV address was prepared in advance, and Trump's wooden delivery made it obvious he was just reading from a teleprompter. So those mistakes were in the script. How inept do you have to be to fail properly to review a speech you are about to give to the entire country?
With all of the news about the virus spreading within the US, it was off-putting for Trump to frame this issue as a foreign threat. His constant references to China made it seem that he was more interested in defending himself rather than dealing with the problem at hand. What's more, it is odd that Trump is focusing on Europe now, as if travel from Europe is the primary danger facing Americans. His resort to 'America First' rhetoric did not provide answers to the many questions in Americans' minds.
Indeed, it was striking what Trump failed to address. By now, almost everyone knows the country has not been testing for the virus on a large scale, and people are worried about it. But Trump said hardly anything about that. We hear the phrase 'social distancing' more and more, and large events are being cancelled. But Trump didn't say whether or not this is advisable. Medical experts are warning that hospitals are at risk of being overwhelmed, as the virus grows exponentially. But Trump did not say what, if anything, the government is planning to do about that.
In a situation that is increasingly perceived as a crisis, Americans are looking to their president for leadership. People want to hear straight talk – the full truth about the situation, the risks involved, the advice from medical and scientific experts, and, if necessary, an admission if you haven't got it exactly right up to now. They want acknowledgement that there is a serious challenge, but also reassurance that our institutions are working together to get things under control. They want clear guidance on what they need to do, including how they can help others. Trump is not providing any of this.
The crisis over coronavirus is exposing a deeper problem for Trump: he has no reservoir of public trust to fall back on, and consequently he has lost authority. His initial response to the coronavirus has hurt his credibility – it is hard to go from utter complacency one day (saying the flu is worse and coronavirus 'will go away') to all-hands-on-deck government action the next day. That kind of abrupt pivot is more likely to cause panic.
But Trump's loss of authority today cannot be put down just to his reaction to this crisis. Three years of infantile tweeting, childish taunting of his opponents, reckless threats to foreign countries, empty promises to the workers who voted him in – all of this has taken a big toll on how he is viewed, and on whether people feel they can trust him to do the right thing. It now appears to many Americans that, while we might have been able to get by with an incompetent president like Trump up to now, having a clown in the White House is dangerous during a crisis period.
There is no doubt that coronavirus is damaging Trump politically. This is shaping up to be his Hurricane Katrina, which hurt George W Bush so badly. And you can't help but think that the big swing to Joe Biden in the Democratic primaries was influenced by a 'flight to safety', to a leader who can steady the country.
But Trump's political woes pale in comparison to the thousands if not millions of lives that are at risk. While it's clear that Trump is not up to the job of dealing with coronavirus, let's hope that other officials – from state-level politicians to public-health and medical officials to local authorities – step up and provide some leadership. Let's also hope they take advantage of the many people who are looking to do whatever they can to help.
Trump is unfit for this crisis, but we don't have to be.
To enquire about republishing spiked's content, a right to reply or to request a correction, please contact the managing editor, Viv Regan.