'We need to turn the tide on cancel culture'
Toby Young on why he set up the Free Speech Union.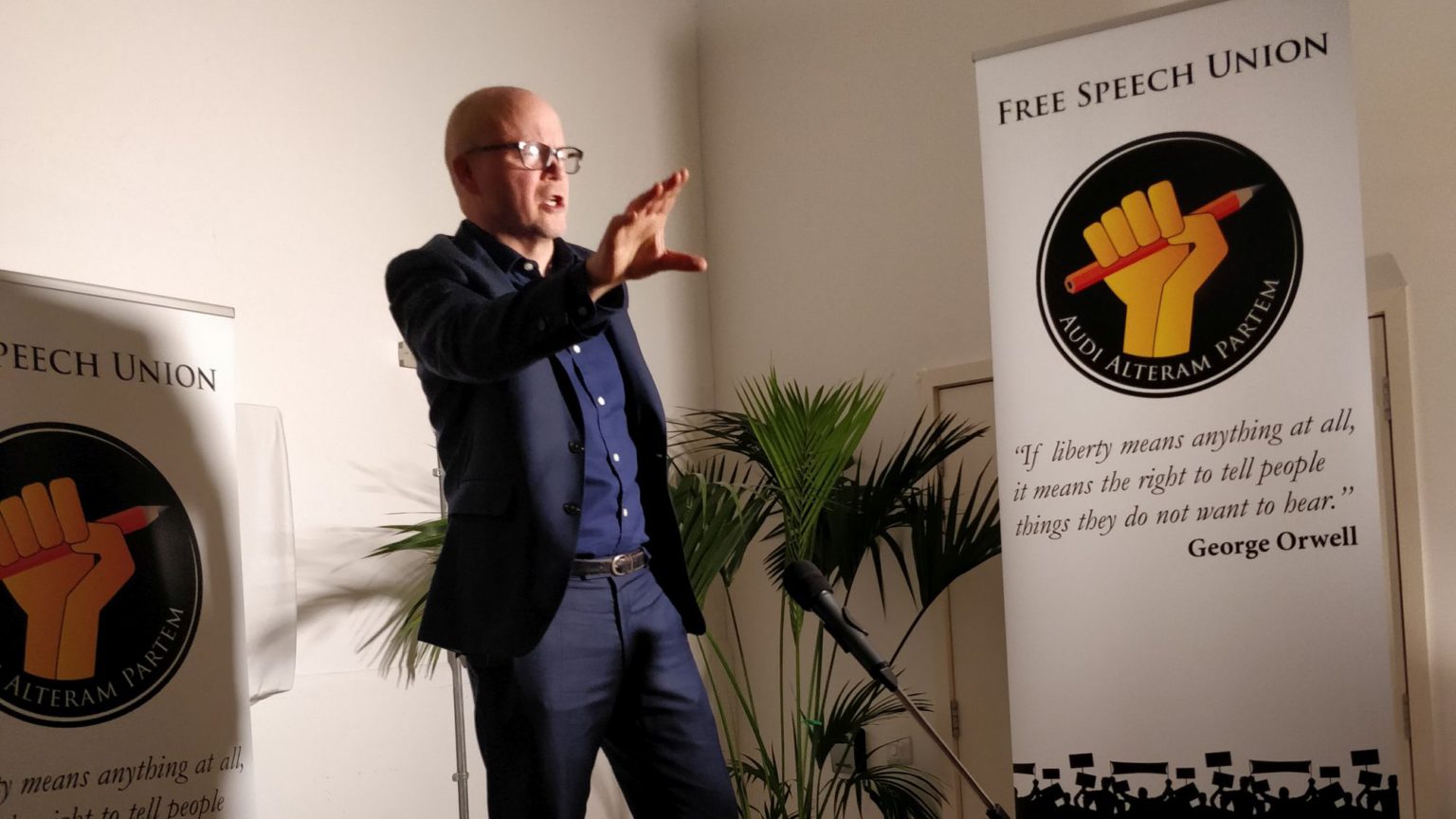 Free speech in the UK is in crisis. Police investigate and arrest people for making offensive comments online, 'problematic' speakers are shut down on campus, and outraged Twittermobs agitate to have people sacked from their jobs. The scope for what can be thought and said gets narrower every day – censorship now targets not just extremist views, but also mainstream opinions.
To push back against this climate of intolerance, journalist Toby Young – himself a victim of a high-profile public shaming over his tweets and columns – has set up the Free Speech Union. spiked caught up with him to find out more. (An extended audio version of this interview is available on the spiked podcast.)
spiked: What is the Free Speech Union, and why did you set it up?
Toby Young: The Free Speech Union is a non-partisan, mass-membership organisation that stands up for the speech rights of its members. Free speech has never been in greater peril not just in the UK, but also across the Anglosphere, at any point since the Second World War.
What's the evidence of that? Well, in Britain's universities, I think there is no doubt that there is a free-speech crisis. A 2017 survey by academics at Lincoln University for the University and College Union, the largest academic trade union, looked at the state of academic freedom across the European Union and found that the UK scored the second lowest. That was pretty shocking. There was a Policy Exchange report last year that surveyed hundreds of students. One of its findings was that 60 per cent of Brexit-supporting students didn't feel comfortable expressing that view in front of their classmates.
We see evidence all the time of a free-speech crisis. Probably the most recent example is Selina Todd, professor of modern history at Oxford. She now needs a security guard to accompany her when she goes from her office to the lecture theatre because she has offended the trans taliban.
In the arts sector, there was a report in The Times last week, based on a pretty comprehensive survey, and it found that 80 per cent of the respondents feared that expressing dissent from a very narrow range of views could lead to them being ostracised by colleagues, and even losing their jobs.
But perhaps the most shocking bit of evidence emerged after Harry Miller's case was heard in the High Court a few weeks ago. Miller is the ex-cop who was visited by the police and told he had to 'check his thinking' after liking and retweeting a comic verse about transgender people. His retweet was recorded as a 'non-crime hate incident'.
Miller decided not to take that lying down. He launched a judicial review into the police and the guidance from the College of Policing they had been acting on. The judge ruled in his favour in one respect. He said that the police had been acting like the Stasi. He compared them to the Gestapo. He quoted George Orwell and John Stuart Mill. That bit of it was fantastic.
But the judge also said that the official hate-crime guidance was completely lawful, and that there was nothing wrong with the police recording the fact that Harry had committed a non-crime hate incident and placing it on his record. So he is now appealing that verdict to the Supreme Court, and has been given leave to do so. One of the things the Free Speech Union will be doing is crowdfunding to help him pay his legal costs, because the Supreme Court is pretty expensive.
One of the facts that emerged in the wake of the Miller verdict was that 120,000 people have been investigated in England and Wales in the past five years for committing non-crime hate incidents. That works out at about 66 people per day who the police are investigating for things like misgendering someone on Twitter. What are they thinking? We are in the midst of a knife-crime epidemic, the rate of successful investigations into burglary, auto crime and muggings has never been lower. Why are they wasting their time policing people's tweets when they should be policing our streets? It's just completely bonkers.
spiked: The UK has some prominent civil-liberties organisations, like Index on Censorship and Liberty. Is there a gap in the market that the Free Speech Union is looking to fill?
Young: I would be loath to criticise any of the organisations in this space, particularly Index, which does a good job. But these organisations tend to focus on the more high-profile cases. The resources across all of these organisations are quite limited.
They are also not membership organisations. One of the things I also hope the Free Speech Union will be able to do is defend its members if they are targeted by digital outrage mobs and cancelled on social media. Often those organisations, because they are so respectable, are sometimes a little bit cautious when it comes to sticking up for the harder cases. I hope we can work with them and I hope that the Free Speech Union will be a complementary organisation that can help to strengthen free speech generally. I don't think there can be enough activity or enough organisations promoting free speech.
spiked: Your critics say right-wing columnists like yourself just want to be able to say whatever you like without being criticised, that you don't want any of the consequences that come with free speech. Is that really what the Free Speech Union is about?
Young: It is a criticism you hear a lot. It seems to me to be very short-sighted – and just plain wrong – to think that the only beneficiaries, or even the chief beneficiaries, of protecting free speech are male, pale and stale conservatives like me. In Tom Slater's spiked interview with Ira Glasser, the legendary ex-head of the ACLU, he made the point that without the protections of the First Amendment, the civil-rights movement in America wouldn't have got off the ground. It was only thanks to a series of landmark First Amendment cases that civil-rights leaders were able to organise, march, protest and demonstrate. And the same applies to the gay-rights movement in the 1970s. So the idea that free speech is somehow not in the interests of marginalised groups, and is only in the interests of straight, white men like me, is just nonsense.
You get the impression that free speech was a cause for the militant left 50 years ago, and the reason it isn't so much of a cause for them anymore is that they have won most of their cultural battles. And now they see restricting free speech as a useful weapon against their right-wing opponents. But as Ira Glasser said in that interview, speech restrictions as a weapon are a bit like poison gas – they seem like a good idea when you have the enemy in your sights, but then the wind changes.
spiked: What can we expect from the Free Speech Union in the next few years?
Young: I think in order to be effective, the Free Speech Union has got to grow and become a mass-membership organisation. It is fairly early days. We opened for membership last week and already almost 2,000 people have become members. On Monday, people were signing up at the rate of one every two minutes. And I think once we have a bit of momentum, once we have grown and have a sufficient number of members, then we can be a really effective force.
We want to help people who have been mobbed on Twitter. We will come to their defence. We can lavish them with praise or we can challenge those people calling for them to be thrown under a bus. We can try to create some kind of due process that companies can follow before sacking people. It is particularly hard for freelancers who are mobbed on Twitter, because there is no due process for them. I think we can draw attention to the toxic way in which the no-platformers, the cancellers, the digital McCarthyites operate. If people start petitions, if they start circulating open letters, we can start counter-petitions, we can start circulating counter-open letters.
I hope we can provide our members with legal assistance. We are talking to a firm of legal insurers about putting a legal-insurance scheme in place, whereby if you need to go to the law to protect yourself, you will be able to do that even if you don't have many resources. If you need to crowdfund, we will help you crowdfund. And I hope with our research activity, and with our educational arm, we can also begin to turn the tide.
Toby Young was talking to Fraser Myers and Tom Slater for the spiked podcast. Listen to the full discussion below:
To enquire about republishing spiked's content, a right to reply or to request a correction, please contact the managing editor, Viv Regan.