The irrational fury over the Jamaica deportations
The frenzied opposition to a routine deportation suggests the cultural elite has no understanding of citizenship.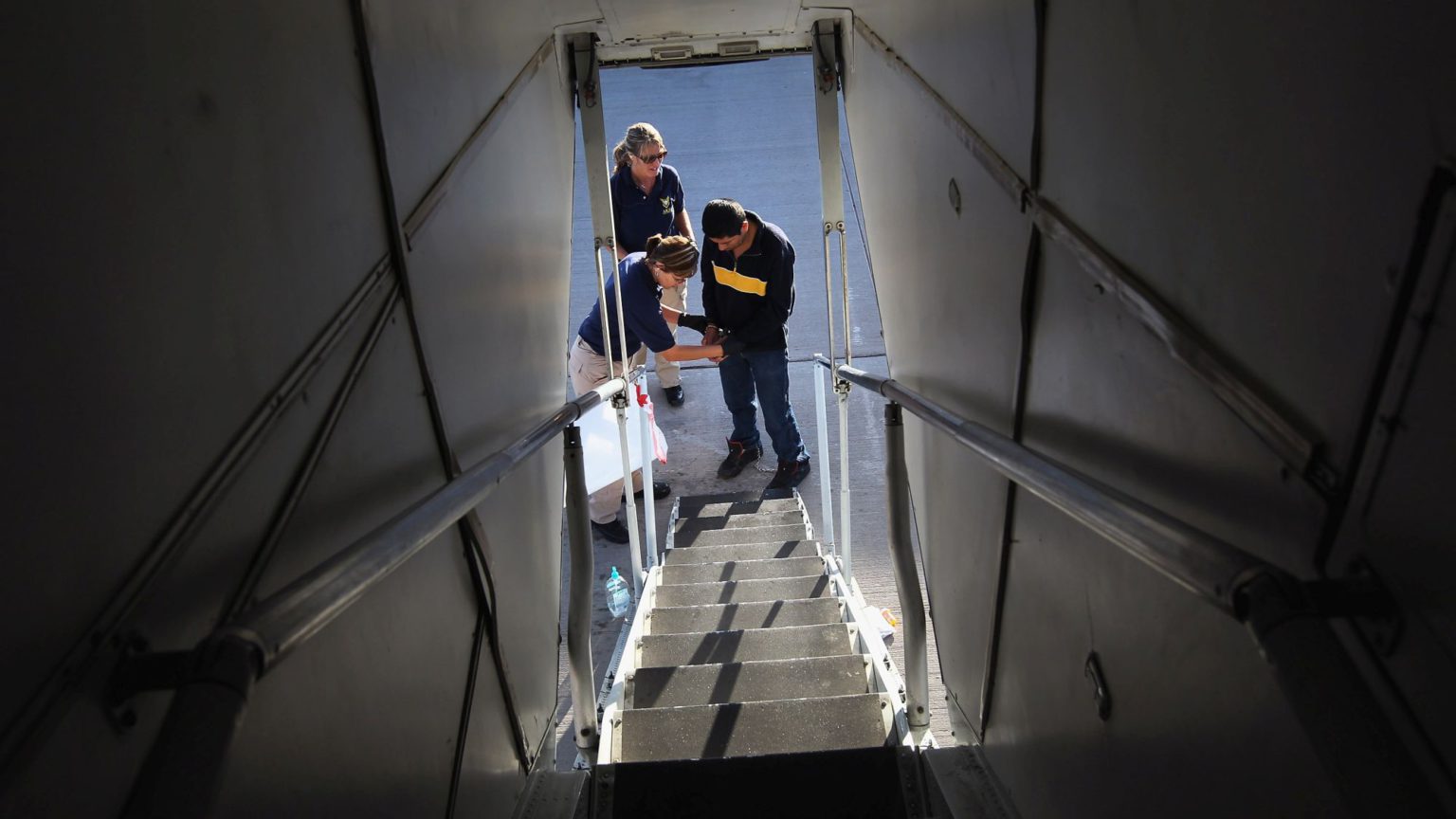 There is so much confusion, not to mention outright disingenuousness, over the deportation of Jamaican offenders. Listening to anti-deportation campaigners, and reading the more woke sections of the media, you would be forgiven for thinking that a grave injustice was taking place. That the planned removal from the UK of 50 Jamaican citizens who have committed serious offences is a vile, racist act that violates liberty itself. But this is not true. To make such arguments is to demonstrate a flimsy understanding of the idea of citizenship and of the importance of nationhood and democracy.
First, the disingenuousness. Much of the discussion about the deportations amounts to little more than fake news. The idea that the deportations prove that Britain is racist is yet another defamation against this country, its current government and its people. The truth, which is wilfully ignored by those determined to make political mileage from the deportations by bending them to their racially myopic PC agenda, is that the majority of foreign offenders deported from Britain in recent years have been white. In 2018, 68 per cent of the 5,391 FNOs (foreign national offenders) who were deported were EU nationals, primarily from Romania and Albania. The 50 Jamaicans currently subject to deportation orders are a tiny proportion of the FNO population, which is predominantly white.
More disingenuousness can be glimpsed in the breezy dismissal of the gravity of some of the Jamaican deportees' crimes. Politicians and commentators act as if the crimes are not really a big deal. In parliament yesterday, Jeremy Corbyn likened Boris Johnson himself to the Jamaican criminals. He wondered if an American-born white person who had admitted to having 'dabbled in Class A drugs' should be deported – clearly a reference to Boris, who was born in the US and who has admitted to taking cocaine in the past. This is quite outrageous. The men being deported did not 'dabble' in drugs. Two of them are rapists. One is a serial offender with 24 convictions. Another was sentenced to nine years in jail for possession of a firearm and conspiracy to rob. The more 'minor' offences relate to the sale of drugs, not 'dabbling' in drugs.
There is something very odd, and worrying, when the leader of the opposition makes light of such serious offences that have caused great harm to British citizens and to Britain's social fabric. Indeed, there is something almost nihilistic, or certainly irrational, in the passion with which campaigners have sought to keep foreign-born rapists and drug-dealers in the UK. To present these people as victims of prejudice, as individuals worthy of our sympathy, confirms the extent to which sections of the left have had their moral and political anchors completely destroyed by the impulse of identitarianism and the cult of victimhood. They now feel more attachment to the so-called rights of FNOs who committed rape and armed robbery than they do to their own society that was negatively impacted upon by these crimes.
Perhaps the worst aspect of the disingenuousness has been the race-baiting. This is unforgivable. It has come from Corbyn himself, who suggested in the Commons that the Jamaica deportations prove there is 'one rule for black boys and another for white'. He must know – surely? – that in recent years most FNOs deported from the UK have been white. So why is he making it about race? Because that connects with his constituency: the race-obsessed identitarian left. It doesn't matter to Corbyn, it seems, that his cynical, opportunistic and wrong racialisation of the deportation issue could have detrimental social consequences, such as by making black Britons feel insecure or by intensifying multicultural tensions. No, all that matters is winning affirmation from the middle-class identitarian left. This is deeply irresponsible.
Likewise, David Lammy has asked in relation to the deportations, 'When will black lives matter again?'. To which the only reasonable response is to wonder why Lammy never asked when Romanian, Albanian or Hungarian lives will 'matter again' following the deportation of vastly higher numbers of offenders from those countries over the past three years. Again, it's because in the highly divisive and socially destructive cult of identitarianism that passes for 'progressiveness' these days, mileage is more easily made from claims of racial injustice and racial unfairness than from understanding the reality of how deportation in this country works. It is shameful that a fairly routine removal of foreign-born offenders has been turned into a libel against the nation and its citizens, who are presumed by so much of the woke elite to be open or secret racists.
This is why it is so wrong to compare this deportation exercise with the Windrush scandal. The reason the deportation or threatened deportation of Windrush people from the UK was so immoral and horrendous is that these people had leave to remain in this country (so they had every single right to be here) and they were good citizens who had worked and raised families in Britain for decades. Most of the Jamaican FNOs, by contrast, do not have leave to remain, and rather are residents, and they have committed grave offences. It is utterly demeaning to the people of the Windrush generation to compare the terrible injustices they have faced in recent years with the attempted deportation of non-citizen grave offenders. (Lammy says six of the people facing deportation do have leave to remain, which would certainly raise some specific legal and moral issues.)
And then there is the confusion around the big issues highlighted by this deportation discussion. The greatest confusion is over the nature of citizenship, over who is and isn't a citizen. None of the Jamaicans who are being deported are British citizens. They are residents in this country. I am of the opinion that Britain should be fairly generous with its granting of residency to people who are keen to visit and work here. But residency is not citizenship. Residency is not an unconditional right. Residency comes with conditions, prime among them being that you obey the law of the land. It is known, and always has been, that residents who fail to do this can be removed from the country they are visiting. In the case of the UK, if a resident commits a grave offence, entailing a prison sentence of longer than 12 months, he is automatically slated for deportation. Everyone knows this, or ought to.
One of the arguments being made is that because some of these individuals came to this country when they were young, then surely they have become British citizens, even if they don't actually have the paperwork. This is wrong. It is true that the government too often treats citizenship as a bureaucratic exercise, as being about little more than paperwork, but the notion that citizenship happens by default, after a period of time, is similarly bureaucratic. It represents an entirely passive understanding of citizenship, as if just happens, almost accidentally, almost thoughtlessly. But it doesn't. Citizenship is a relationship, a sense of purpose, an active striving to change and to belong.
Both officialdom's overly bureaucratic treatment of citizenship and anti-deportation campaigners' view of citizenship as a default development following a period of time drains away the key elements of citizenship. Namely, the aspiration to loyalty to your new home; the desire to assimilate and belong; the urge to contribute; the ambition to become something different to what you had been previously. In this case, to become British. Citizenship is both an active embrace of new values and a process (the process of officially becoming a citizen). Reducing it to one or the other, or believing it can happen without either of these developments, is to misunderstand what citizenship entails.
The real problem exposed by this deportation discussion is not foreign criminality. There will always be criminals, most of them British, some Romanian, some Italian, some Jamaican. And, as the law stands, if the person who has committed a serious offence is a foreign national, he could very likely be removed from the country. No, the problem exposed by this debate is the cultural establishment's own dearth of attachment to the ideals of nationhood and citizenship. In equating residents with citizens, they denigrate citizenship. In seeking to use judicial review to block a government action – in this case the deportation of some of the Jamaica-born offenders – they demean the democratic process. And in siding with serious offenders against the citizens they harmed, they advertise, once again, their complete moral removal from the values of most ordinary people. The political rot is here, at home, and it needs to be addressed.
To enquire about republishing spiked's content, a right to reply or to request a correction, please contact the managing editor, Viv Regan.