Amnesty for the Windrush children
These people are British citizens yet are treated like criminals.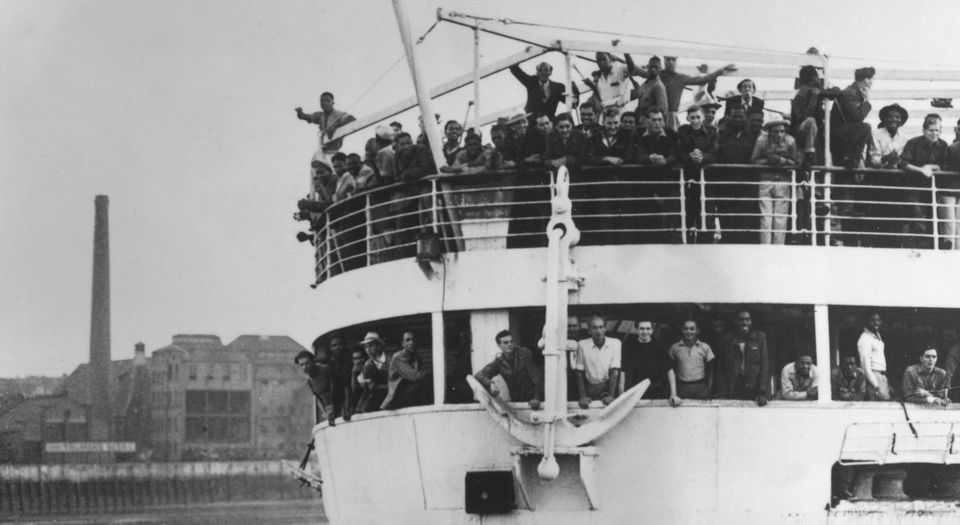 On 22 June 1948, the Empire Windrush docked at the Port of Tilbury on the Thames, carrying with it 492 Caribbean migrants. That year, parliament gave citizenship status to all British colonial subjects, and the Windrush marked the beginning of a wave of migration from the Commonwealth. The images of the young men and women standing on deck, waving at the cameras in their Sunday best, have become a symbol of the desire of many to come to Britain to seek a new and better life.
But today, 70 years later, thousands of the Windrush children are having their lives torn apart. They're facing deportation, detention, forced joblessness, the rescinding of benefits and life-or-death medical treatment, as a result of the callous and careless policies of the British government, the 'hostile environment' approach to migration that PM Theresa May introduced while home secretary. They've been betrayed by the nation they chose to make their home in the face of tough times and racist hostility.
In the run-up to this week's Commonwealth summit, the Guardian has been publishing some of their stories. Michael Braithwaite, a 66-year-old special-needs teacher, has been here since he was nine, but lost his job last year when he was deemed an illegal immigrant. Sixty-one-year-old Paulette Wilson ended up in Yarl's Wood detention centre for a week, and was set to be flown to Jamaica, which she hadn't visited for half a century, until her MP intervened at the last minute. Albert Thompson, a Londoner now for 44 years, has been refused free NHS care. He has prostate cancer.
These are people who have worked, paid their way, had children and grandchildren. But now they're being shaken down by the Home Office, and even having their lives put at risk, on the basis of bureaucratic technicalities. In 1971, Commonwealth migrants were given indefinite leave to remain in the UK, and so many of them have never formally naturalised or applied for a British passport. But new legislation requires all migrants to provide documents in order to work, rent or access benefits, as border control has been outsourced to bosses, landlords and doctors.
The undocumented Windrush children are being treated worse than criminals. After settling down in Britain completely legally they are being asked to jump through ludicrous bureaucratic hoops in order to prove they have a right to be here. The Home Office's guidance asks applicants for multiple documents for each year in which they've been living in Britain. Where they have difficulty gathering this together, as anyone who has been here for decades would, the government suggests they seek legal advice, which is prohibitively expensive for most.
The home secretary, Amber Rudd, today apologised and announced a new task force to help those affected. But this isn't good enough. The government is presenting this as a simple bureaucratic process, which kindly officials will help applicants through. In reality, people have been sent threatening letters, detained, and, as happened in the case of Anthony Brian, paid a visit by immigration officers with a battering ram and a one-way ticket 'home'. That the PM has only just agreed to meet with Commonwealth leaders to discuss this issue speaks volumes.
While press coverage has helped some of the targets of May's 'hostile climate' settle their cases, there are thousands more who have been left in limbo. The Migration Observatory at Oxford University estimates that around 50,000 Commonwealth-born residents could be vulnerable to these new measures. Migrants' rights groups have been flooded with requests for help from people who fear going to the government to clarify their status.
This appalling episode demonstrates that the government doesn't understand the first thing about citizenship. Being a citizen is not about having a piece of paper: it's about lived experience, it's about working, integrating, setting down roots in a society that is, or you've chosen to be, your home. Threatening to throw people out on minor technicalities makes a mockery of citizenship, and risks sending an ugly message about who does and doesn't belong here.
The Tory effort to cut migration seems now to have been a case of chasing easy targets. Given the constraints on limiting certain migration flows, such as EU free movement, May's Home Office deported thousands of foreign students on deeply spurious grounds – a crackdown that was eventually halted by the courts. Now it seems that the Tories' desire to be seen to be doing something about migrant numbers has led them to screw over even Britain's own citizens.
Michael Braithwaite, Paulette Wilson and Albert Thompson are as much British citizens as the Home Office bureaucrats sending them menacing letters. And most of us know and feel this implicitly. Yes, there is a popular desire to reduce migration, and those of us who want a more liberal approach may have our work cut out for us. But when voters say they'd prefer British citizens to be put first, the vast, vast majority are thinking of the Windrush children, too. For all the talk of the post-Brexit bigotry of ordinary people, it is the Home Office telling them to 'go home'.
The government should apologise and give them amnesty. Now.
Tom Slater is deputy editor at spiked. Follow him on Twitter: @Tom_Slater_
To enquire about republishing spiked's content, a right to reply or to request a correction, please contact the managing editor, Viv Regan.