Not all non-consensual touching is evil
Why praise Nadal's spontaneous kiss but baulk at ScoMo's rejected handshake?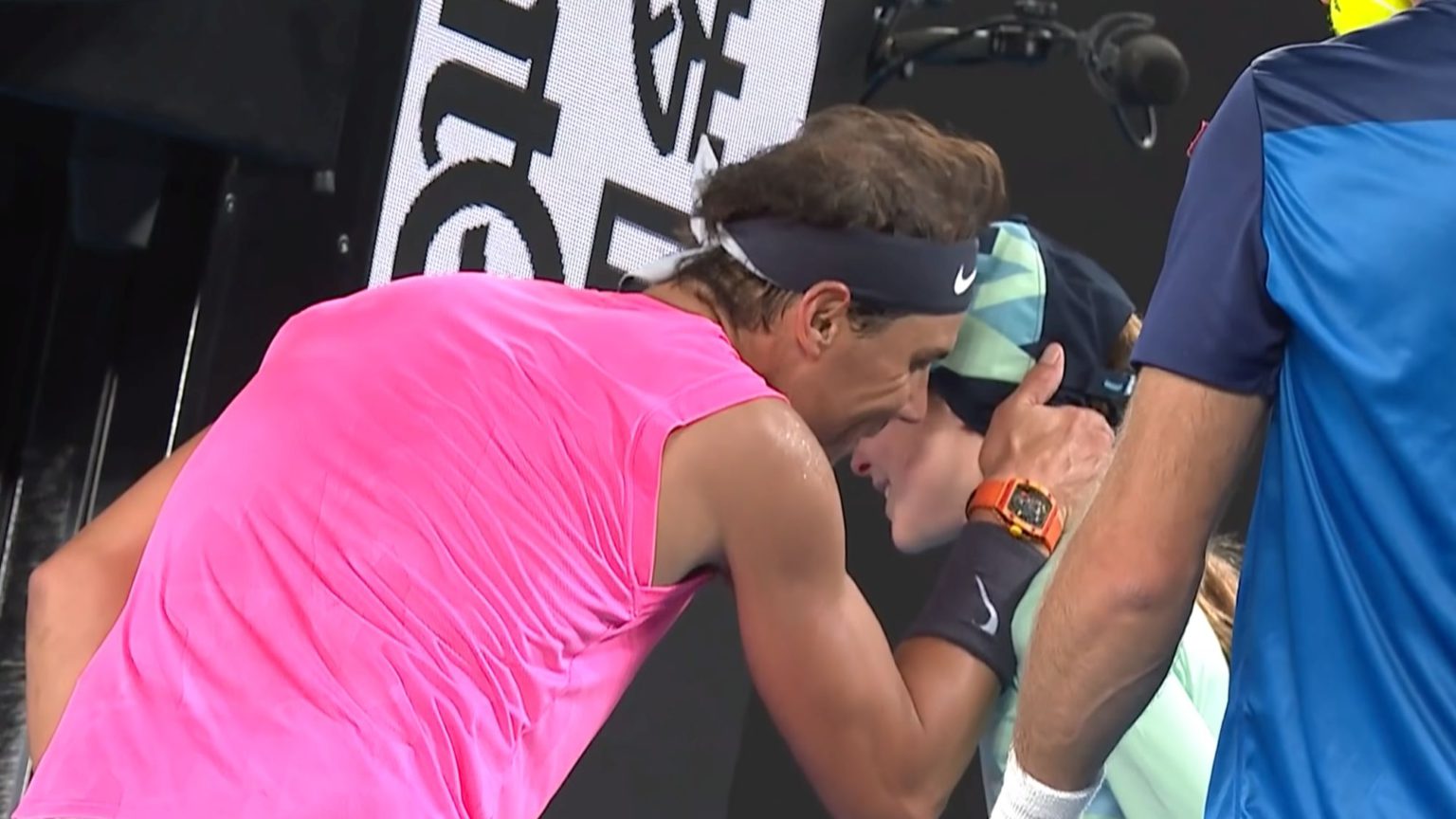 As #MeToo patient zero Harvey Weinstein continues to hobble his way into a New York courtroom to defend himself against serious sexual-assault charges, down under, at the Australian Open tennis, a 33-year-old male tennis player kissed a 13-year-old ball girl on the cheek – without consent – after one of his power forehands caused the ball to hit her in the side of the head.
Of course, Spanish tennis great Rafael Nadal's impromptu apology kiss was nothing like the alleged actions of Weinstein. But it did remind us what can be lost when we overly proscribe the rules of human interaction and try to enforce hyper-regulated notions of consent, particularly in the wake of the Weinstein-inspired #MeToo movement.
The joy of the Nadal kiss is that, in an unexpected moment, it brought together a number of very human responses which we can all identify with, and yet which many seem to want to eradicate from society. Nadal showed spontaneous compassion and kindness in an era where there are growing calls to manage more and more human interaction through contracts, laws and tribunals. He displayed a kind of old-school chivalry in comforting a hurt young woman. Thankfully, the tactile expressiveness of Mediterranean culture hasn't yet given itself over to the scowling neurotic political correctness of the Anglo-Saxon world.
Clearly, there is a public appetite for this kind of spontaneity. In recent years, Australian TV has largely toed the line on the new feminism. But many of the same channels have given favourable coverage to the Nadal kiss, with some even interviewing the delighted ballgirl.
The Nadal kiss offered a perfect contrast to another memorable well-intentioned but poorly received moment of non-consensual touching. In January, when prime minister Scott Morrison was visiting bushfire victims, some members of the public did not take kindly to his presence. At one point, Morrison was filmed trying to shake the hand of a female bushfire victim after she initially refused to accept his condolences.
While the rejected prime ministerial handshake was understandably highlighted by the media, some with gender-relations axes to grind went the extra yard. Social media was awash with claims of 'physical assault, 'common assault' and even 'sexual assault'.
These attacks may be effective in the short term in helping the left regain some morale after losing last year's apparently unlosable federal election. But in the long run, trivialising sexual assault does no one any favours.
ScoMo is not the first prime minister to be labelled a misogynist, either. In 2012, then prime minister Julia Gillard gave a speech in parliament denouncing Tony Abbott, leader of the opposition at the time, as a sexist and misogynist 'every day, in every way'. The 'm' word was regularly thrown around by commentators, often to attack Abbott's blokey persona.
The use of gender issues for partisan attacks is not going anywhere anytime soon. Three days after the Nadal kiss moment, author and men's rights advocate Bettina Arndt won an Australia Day Award to howls of criticism from feminist commentators. Arndt's prominent role in the 1970s, fighting for women's sexual freedoms in a then very conservative Australia, was sadly overlooked. Clearly, the gender wars hurt men and women alike.
Michael Scammell is a writer based in Melbourne.
Picture by: YouTube.
To enquire about republishing spiked's content, a right to reply or to request a correction, please contact the managing editor, Viv Regan.