Another people's revolt in France
Macron's pension raid has sparked mass unrest.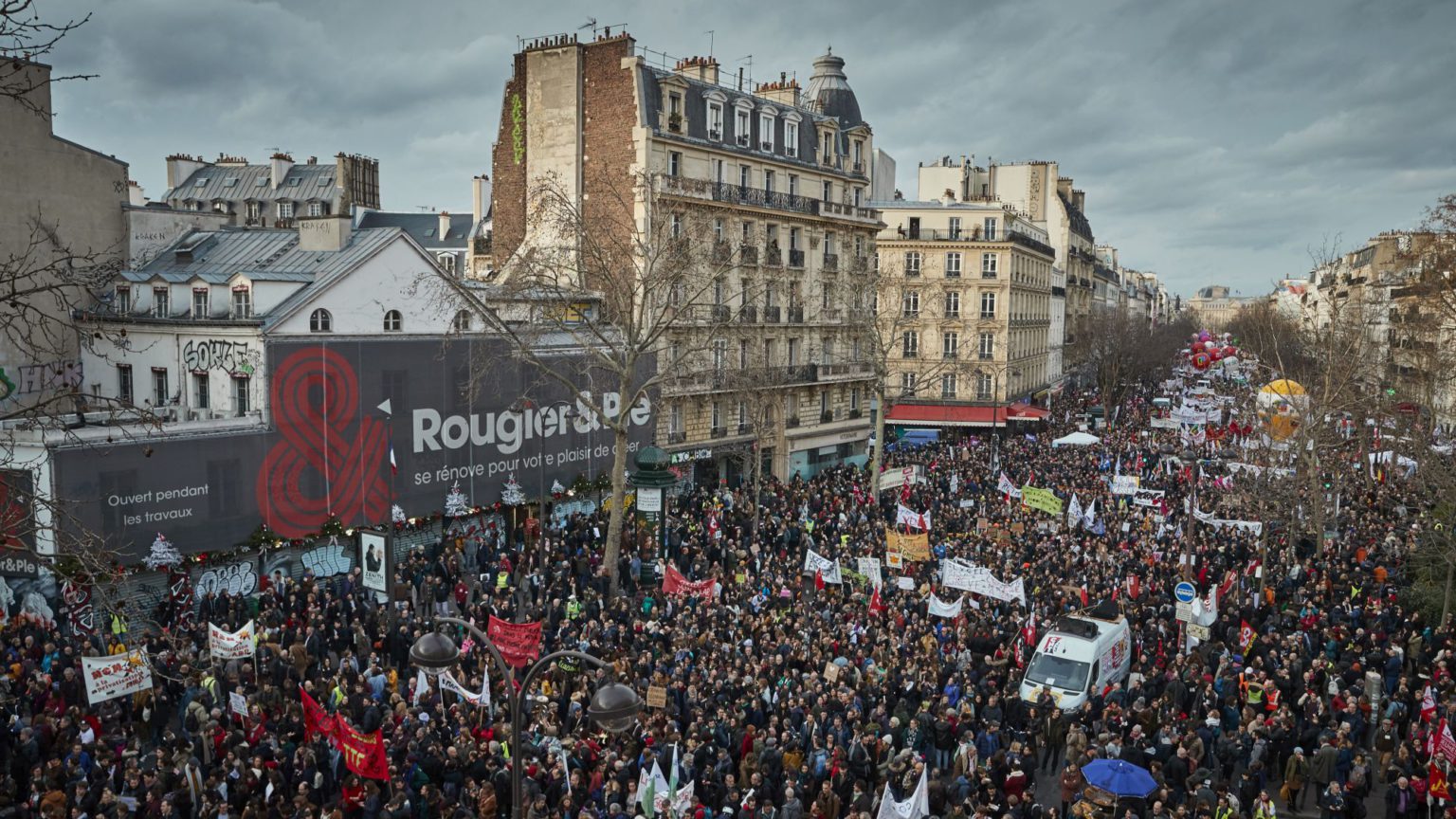 France is once again in revolt. This time, it is experiencing the longest strike movement since 1968. French rail workers have been particularly active, bringing the transport system to a halt with the longest continuous rail strike since the founding of the national rail network in 1938. Four days of mass protest to accompany the strikes began last Thursday with 450,000 marchers, according to the unions. Around 150,000 took to the streets in Paris on Saturday.
At the heart of the row is President Emmanuel Macron's proposed reforms to the pension system. Unions say that the government's plan to streamline the system would leave workers working longer for less. Under pressure from the strikers, the government has already rowed back on its plan to introduce a 'pivot age' at 64 (an age at which you can start withdrawing a full pension), which would effectively create a new, later retirement age.
Unlike other forms of welfare, pensions touch on almost everyone in society. And so the backlash has come from all wings of society, too – far bigger than the crowds that the more militant unions can usually summon on their own. According to polling in Le Figaro, one month into the strikes, 61 per cent of the French public think the ongoing strikes are justified. Over €2million has been raised by crowdfunding for a strike fund.
Lawyers have occupied courthouses across the country, staging sit-ins and throwing off their robes. Firefighters have sprayed foam over the town hall in Le Havre, where Macron's prime minister, Édouard Philippe, served as mayor. Over a third of teachers walked out last Thursday. The Paris Opera has provided perhaps the most surreal backdrop to the protests, as striking musicians and ballerinas have given free performances to the gathered masses.
The pension dispute also touches on a much deeper sore. It represents the final nail in the coffin of the postwar settlement. Macron and his supporters lament the 'complexity' of the pension system, which has around 42 different schemes with varying levels of remuneration, state involvement and even different retirement ages. (The French rail workers' pension scheme allows for retirement at 52, but this is exceptional.) Another issue is the large deficit, which the government claims could reach more than €17 billion by 2025.
Simplifying all pensions into a one-size-fits-all package allows the reforms to be sold as more modern and fair. But the real reason these schemes are so fiendishly complex is that their terms and conditions have been shaped by disputes and struggles over time. To wipe so much of that away is to deny French workers their social inheritance. The compromises that arose from decades of struggles between labour and capital are being decisively swept aside.
The idea that ordinary people should be able to expect stable jobs with decent wages, a good work-life balance, and a reasonable standard of living in retirement, is now depicted as old-fashioned. Instead, in the name of modernisation, reform and flexibility, working people are told to lower their expectations. They should work longer and more unsociable hours in less stable jobs with fewer entitlements. They should expect their work to earn an ever-dwindling share of the national wealth. And they should be grateful for the opportunity to do so. 'You may speak very freely, but the one thing you have no right to do is complain', Macron once told a group of pensioners, who were angry about an earlier raid of their pension pots.
Of course, the pension strikes are by no means the first mass rebellion against Macron's vision for France. The gilets jaunes began their weekly protests over a year ago. And just as with the yellow vests, the police response to the pension strikes has been brutal. Officers have been filmed firing rubber bullets at point-blank range. Teargas has been fired with reckless abandon. Violent repression is the order of the day under Macron's 'liberalising' regime.
French workers are defending their living standards against a ruthless establishment. They deserve our solidarity.
Fraser Myers is a staff writer at spiked and host of the spiked podcast. Follow him on Twitter: @FraserMyers.
To enquire about republishing spiked's content, a right to reply or to request a correction, please contact the managing editor, Viv Regan.