You can now go to jail for insulting Anna Soubry
MPs are now part of a protected class who it is illegal to insult and protest against.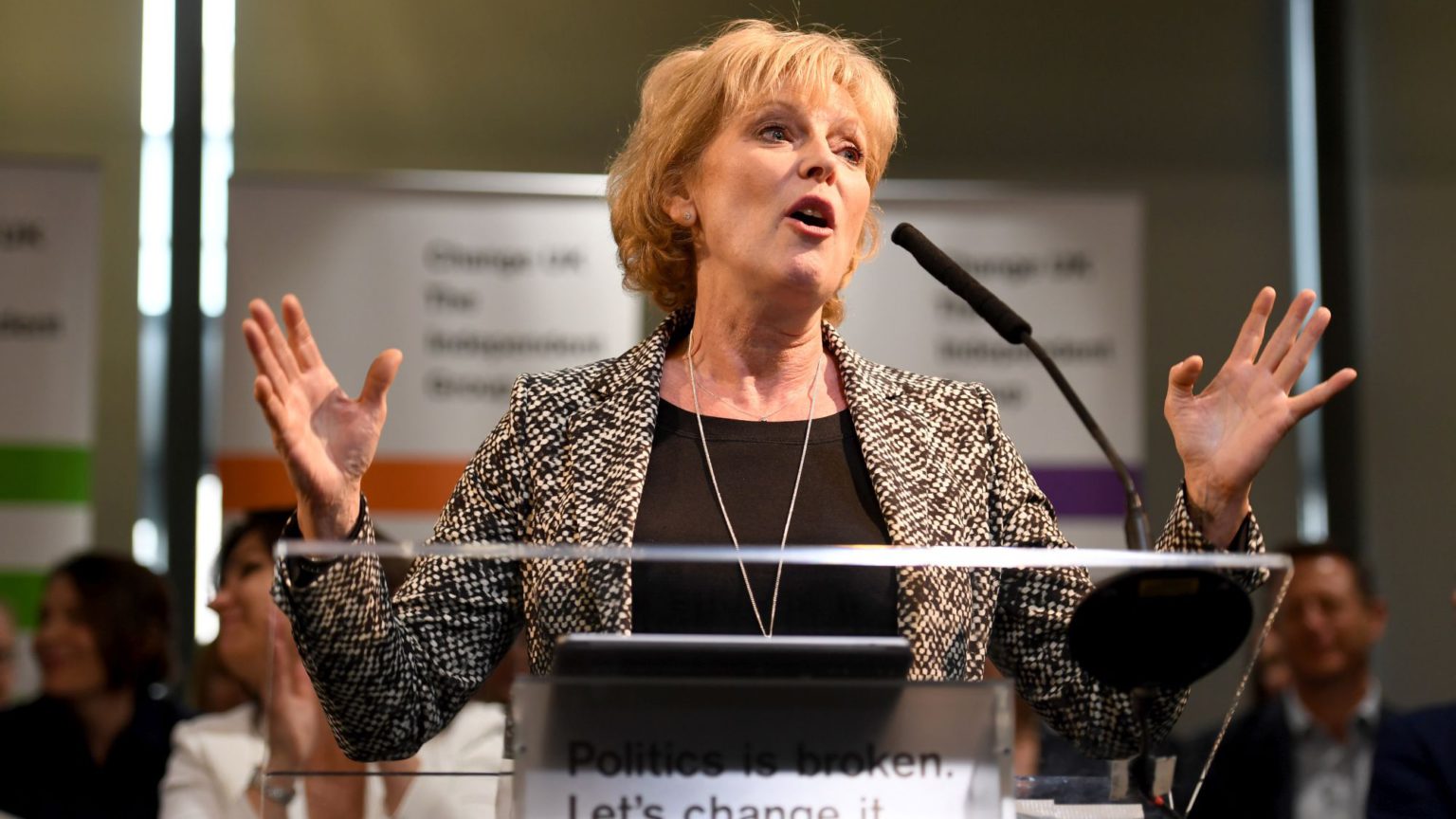 In Anglo-Saxon times, you had to choose carefully who you messed with. If you happened to kill someone, then the more important he was, the more it cost you – a serf came in at 40 shillings, a freeman 100 and a prince 1,500. Today, things are different, of course. Everyone mucks in together and we don't have privileged classes entitled to special protections.
Or do we? One of the sideshows of the General Election might make you think again. Ex-Tory Remainer Anna Soubry, standing in Broxtowe, faced a persistent and vocal opponent called Amy Dalla Mura (known online as Based Amy). Dalla Mura is a member of the nationalist English Democrats and is a fanatical Brexiteer.
Last January, during one of Soubry's question-and-answer sessions, in a swish London hotel shortly before she resigned the Tory whip, Dalla Mura intervened loudly throughout. She accused Soubry of not respecting the referendum vote and got into arguments with the audience. Two months later, while Soubry (by then in the Independent Group) was giving an interview to BBC Newsnight in the central lobby at Westminster, Dalla Mura was there again. She interrupted to say, 'Anna Soubry is traitor'. 'Get the police', said Soubry.
You might think this was just part of the political rough-and-tumble. Far from it. The police now have a special unit called PLAIT – the parliamentary liaison and investigations team – dedicated to dealing with 'attacks' on MPs. Police intervened and Dalla Mura was arrested and prosecuted at Westminster Magistrates' Court for harassment. In November she was convicted. Despite the fact that she was standing as a candidate in Broxtowe, she was bailed for sentence on condition that she neither visit Broxtowe nor mention Soubry in any of her literature. She won 432 votes despite these handicaps (beating another independent). Last week she was sentenced to 28 days in jail.
There is so much wrong with this. Nothing Dalla Mura did should have been treated as a criminal offence. However much Soubry affected to be frightened for her safety, Dalla Mura never threatened violence. Reduced to its essentials, all she did was consistently and effectively embarrass Soubry and make it difficult for her to get her message across. No doubt this was frustrating. But it is what any robust politician ought to have to put up with. If the law on harassment prevents it, then it needs to be reined in, not have its use extended. Yet in this trivial case, Dalla Mura was not only given a criminal record — she was actually imprisoned.
Secondly, it is hard to see any justification for the restrictions placed on Dalla Mura's election campaigning while she was on bail. Broxtowe is a large constituency consisting of three towns. What possible harm could be done to Soubry by the mere presence of an opponent in one or more of them is entirely unclear. As for the prohibition against any mention of Soubry in her campaign literature, this was simply bizarre. Any politician who is so oversensitive as to be distressed by the uncomplimentary mention of her own name in a General Election campaign does not deserve to be in politics.
Thirdly, the comments made by chief magistrate Emma Arbuthnot in the case are alarming. Having started by saying that this was not a freedom-of-speech case – always a surefire indication that free speech really is at stake – Arbuthnot went on to refer to Dalla Mura's activities as 'intimidation' (which they were not). Then, like too many people who should know better, she invoked the murder of Jo Cox by a madman. As if there could be any reasonable comparison between heckling a self-important politician and murder. Arbuthnot then suggested that Dalla Mura was damaging democracy and insisted that 'MPs should be able to do their jobs without putting up with harassment'. Finally, she added that: 'You insulted her by calling her a traitor among other things. This behaviour against elected representatives carrying out their duties will not be tolerated by this court.' In other words, insults against politicians will be criminalised.
This isn't the first time we have seen the heavy-handed treatment of political protest. In July this year, the same chief magistrate gave a suspended sentence to another anti-Soubry protester who called her a 'Nazi' and a 'traitor'. For good measure, Arbuthnot also banned him from Parliament Square. Such 'tirades' were unacceptable in the face of a 'vulnerable' Soubry who had shown 'great courage', she said.
So, the 'safeguarding' of democracy apparently now means that MPs and politicians must be given a special protected status. They must have the right – unlike the rest of us – to protection from stinging insults under threat of imprisonment.
The establishment is, of course, delighted with this state of affairs. Chillingly, immediately after the Dalla Mura hearing, a spokesman for the Metropolitan Police said that his force had a 'commitment to dealing robustly with incidents of harassment and abuse against MPs'. He added, menacingly, that having strong political opinions was 'absolutely no excuse'. Let that sink in.
Andrew Tettenborn is a professor of commercial law and a former Cambridge admissions officer.
Picture by: Getty.
To enquire about republishing spiked's content, a right to reply or to request a correction, please contact the managing editor, Viv Regan.