Now German farmers are revolting
Farmers brought Berlin to a standstill in a protest against an out-of-touch elite.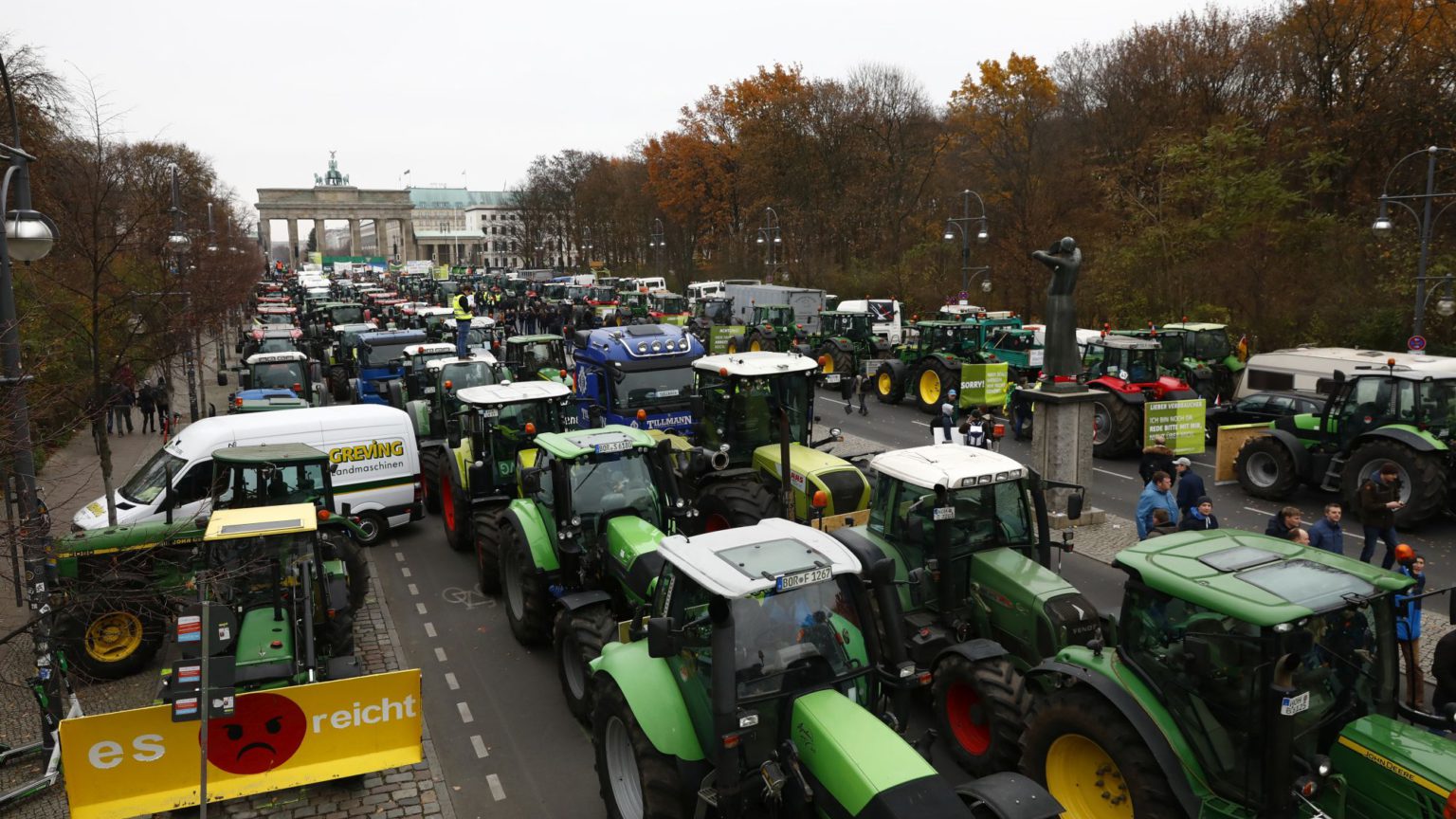 A couple of weeks ago, I arrived at work half an hour later than usual, because the buses had stopped running. The rather unusual reason? Several columns of around 15 or 20 tractors each, honking their horns and spewing their exhaust fumes, had taken over and blocked the often quite narrow streets of central Berlin. The chipboard panels on the tractors all conveyed roughly the same message: 'Farmers feed you', or 'Without us, you would be hungry, naked, sober'.
This was the 'national farmers' protest' – a protest against the federal government's new agriculture package, which will further limit the use of insecticides, weed killers and other animal- and plant-protection products.
Heading towards Brandenburg Gate, to check out the main rally, I quickly got a sense of the size of the protest. Alongside tractors, there were semi-trailer trucks, livestock transporters and pickups. The organisers later said that around 40,000 farmers and 8,600 tractors had come to Berlin to take part.
A temporary stage had been erected in front of the Brandenburg Gate. The scene more closely resembled a classical political rally, or maybe a fair. People were milling around between the parked agricultural vehicles, eating bratwurst, smoking and talking. Many wore work clothes, while some had donned yellow high-visibility vests, a symbolic nod to the French gilets jaunes. Someone had piled up cartons of apples for passers-by to take, while loudspeakers broadcast the speeches from the stage. Somewhat removed stood Greenpeace under the almost conciliatory banner: 'To protect water, climate, animals; farmers need our help' (it rhymes in German).
Judging by their dialects, the speakers came from across Germany – Brandenburg, Bavaria, Baden, and so on. Most kept it short. One talked about 'hasty political decisions', taken to appease the 'green left'. Another spoke of the extra jobs many farmers take in order to make ends meet. A third speaker talked of her bulimic daughter, who, like many children from farming families, faced bullying in school, not least because teachers and educators carried the green ideology of 'radical NGOs' into the classroom.
One speaker said, 'Our ancestors survived the Thirty Years' War, we will remain free farmers on free soil'. Another said, 'In the land of inventors, can't we do better than just apply bans?'. And when they spoke, they were met with a cacophony of horns.
The rally had been called by a group calling itself Land Schafft Verbindung (Countryside Creates Connection). It is also behind several smaller protests in other parts of Germany. According to a report by regional public-service broadcaster Bayerischer Rundfunk, LSV is a loose network of farmers, and has no desire to compete with the German Farmers' Federation. It emerged in early October and mainly organises itself via Facebook and WhatsApp.
LSV is not alone, however. Over the past few weeks, similar tractor-protests have taken place in Ireland, France and the Netherlands, often with thousands of farmers and tractors participating. In the case of the Netherlands, there is a very specific cause. The centre-left Democrats 66 (D66) party, part of prime minister Mark Rutte's governing coalition, wants to fight climate change by restricting livestock farming. In October, a D66 leader suggested reducing livestock in the Netherlands by around 50 per cent. This caused Dutch farmers' anger to boil over. They have since used roadblocks several times to paralyse traffic throughout the Netherlands. In Groningen, farmers even used a tractor to break down the door to the provincial council offices.
Judging by the atmosphere and aims of the Berlin rally, such escalations are very unlikely in Germany. Nevertheless, there is something in the air. The conflicts around farming are part of a wider social conflict. On one side stands a well-off, mostly university-educated middle class, who see themselves, in the words of the German philosopher Alexander Grau, as the 'vanguard of progress'. This does not mean technological progress or economic growth, but so-called post-material concerns, such as environmentalism, identity politics and global social justice.
And on the other side are those who find this kind of 'progress', and the self-righteous tone in which it is advanced, deeply unappealing. Some, such as Germany's farmers, view it as a direct threat to their material interests. So, increasingly, they are rebelling, either at the ballot box or by joining independent protest movements.
The American geographer and writer Joel Kotkin has described how the current liberal elite tends to view itself as a highly qualified expert class, which derives its authority from 'persuading, instructing and regulating the rest of society'. One of the most interesting things about the current farmers' protests is how they are challenging the authority of this expert class. They are even calling into question its claim to possess expertise at all.
Indeed, the farmers have taken to the streets precisely because they believe that the political class is not really guided by expertise, but by its own 'progressive' worldview. 'Facts, not ideology', read one of the placards I saw at the rally. 'Dear politicians, please base politics on science', read another. Politicians will increasingly have to engage with this type of confident citizen, because people who question the prescribed narratives and scripts won't go away. And for democracy, this can only be good news.
Kolja Zydatiss is a journalist and writer based in Berlin. A German version of this article first appeared on the weblog Die Achse des Guten.
To enquire about republishing spiked's content, a right to reply or to request a correction, please contact the managing editor, Viv Regan.