Where was the debate about the climate?
Channel 4's leaders' debate on climate change was a pointless and pathetic exercise.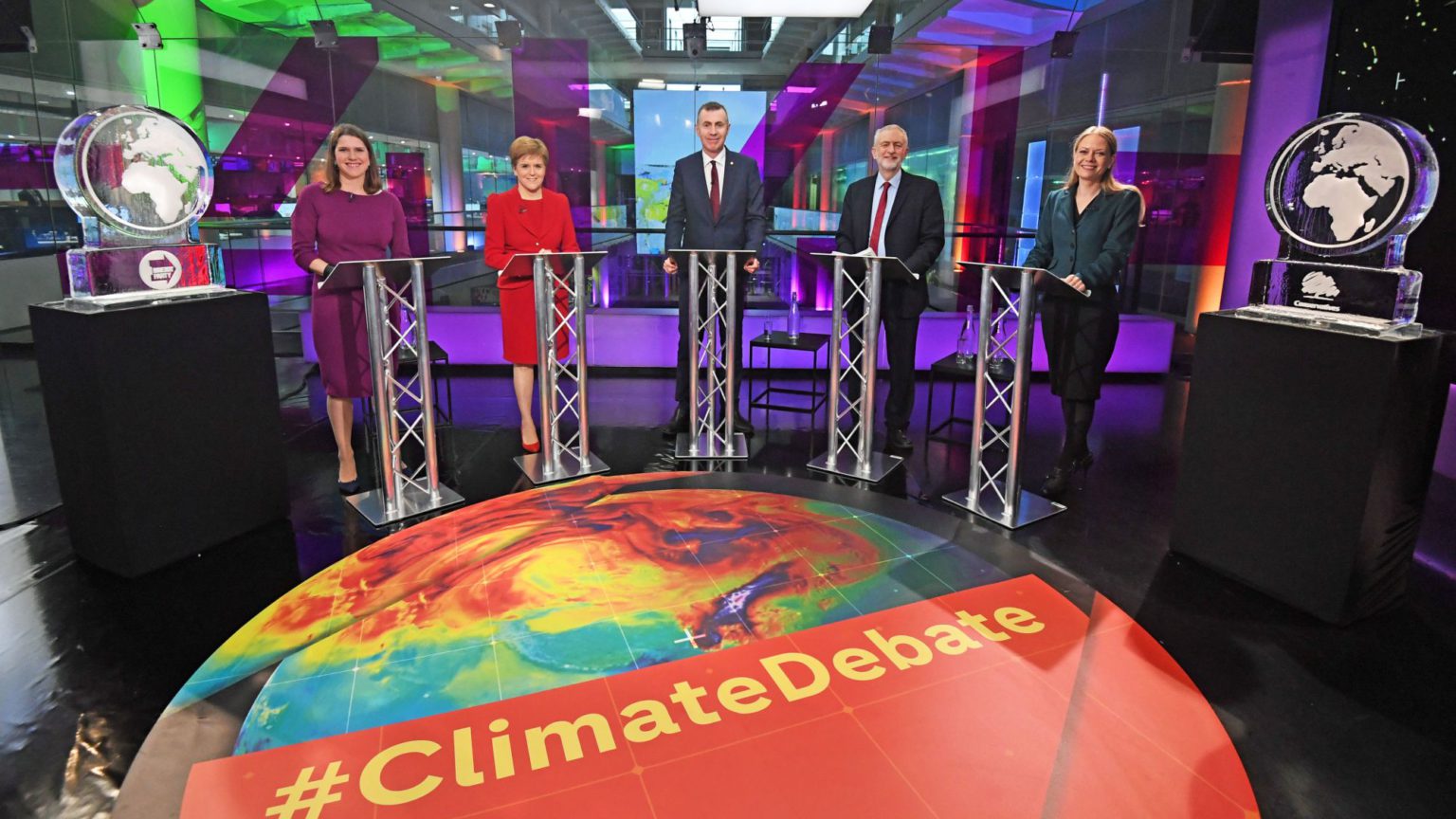 'It is the biggest issue on the planet', said Krishnan Guru-Murthy as he introduced the Channel 4 News Climate Debate. Cue a montage of floods, storms, fires and a burned Koala (because, of course, none of these things ever happened before climate change). If Guru-Murthy was right, then the issue had surely been settled before the debate had begun. And what is the point of a debate between party leaders whose statements on climate change are identical in every significant respect? The show may have self-identified as 'debate', but it lacked anything that qualified it as one.
This General Election was called to resolve a parliamentary impasse over Brexit. But the Green Party – adamant anti-democratic Remainers, unwilling to accept the referendum result – believed that the election should instead be about something else, and declared it a 'climate-change election'. Channel 4 News, notable for its overt Remain bias, seized the initiative and last week announced that party leaders had been summoned to the studio for the event.
Conservative leader Boris Johnson declined the invitation, leading to hostile reactions from the climate commentariat who claimed the Conservatives were not taking the issue of climate change seriously. Channel 4 News placed ice sculptures in the places nominated for the prime minister and Brexit Party leader Nigel Farage, who also declined.
This childish empty-chairing stunt casts serious doubts on the broadcaster's claims to be merely representing the 'biggest issue on the planet'. Clearly, Channel 4 News thinks far too much of itself. Excessive self-regard in this case led to an editorial team deciding, not unlike the Green Party, what voters' priorities should be. Why not a leaders' debate about jobs, housing or the economy? The typical answer from the green-minded is that without a planet, there will be no jobs, no houses and no economy. This glib rejoinder does more than merely presuppose the least-plausible worst-case scenario as a fact. It tells us that climate change is a figleaf for our utterly intransigent political and media class.
Who decided that 'climate change is the biggest issue on the planet' anyway? When? By what means? Only very few individual MPs have ever deviated from the political consensus on the climate since the 1980s. And as I pointed out recently on spiked, no party in Westminster is offering the public an alternative, against which to test the legitimacy of that cross-party political consensus. MPs have waved through all kinds of far-reaching climate policies, recently lowering the UK's emissions-reduction target to Net Zero without even a vote.
The point here is that Britain has never had a debate about climate change of any consequence. Never. Political parties and broadcasters, through their own deterioration, have formed a consensus between themselves, and have excluded from their ranks, departments, institutions and from the airwaves any possibility of debate. Moreover, this consensus exists to displace from the public sphere any debates of actual consequence. Jobs, housing, the economy… political parties have long struggled to identify coherent ideological positions on these issues, from which they could devise and contest a policy agenda.
Channel 4 News is equally disoriented about its purpose and role in society. The editorial team has increasingly sought to use the broadcaster's public-service remit to try to set rather than report the political agenda – to use the publicly owned station as a vehicle for campaigning. It's an affliction that all British broadcasters seem to suffer from, echoing the uniformity of political parties, which compete only to best represent the consensus that exists between them.
The debate itself was as pointless as it was predictable. The Green Party's Sian Berry insisted that the other parties would agree with her (they did) but would fail to take the issue seriously enough to make policies that would save the planet in time. Liberal Democrat leader Jo Swinson argued that 'Brexit is a climate crime'. Jeremy Corbyn claimed that Labour would kickstart a 'green industrial revolution' – the exact same claim that Labour prime minister Gordon Brown made shortly before the economic crash.
In many ways, the 'climate emergency' has saved each of these mediocre leaders of mediocre parties from themselves. There was plenty of moral grandstanding and vacuous pledges as they desperately fought to find ways to best each other on the climate issue while offering absolutely nothing to the voter. If the climate emergency didn't exist (it doesn't), they would have to invent it.
Britain badly needs a debate about climate change. But last night's bizarre spectacle was not it. All it revealed is that our political parties, politicians, broadcasters and 'journalists' are no longer fit for purpose.
Ben Pile blogs at Climate Resistance.
Picture by: Getty.
To enquire about republishing spiked's content, a right to reply or to request a correction, please contact the managing editor, Viv Regan.