Jeremy Corbyn just gave the worst political performance of modern times
Listless, disengaged, unprincipled and bored – Corbyn was awful in his clash with Andrew Neil.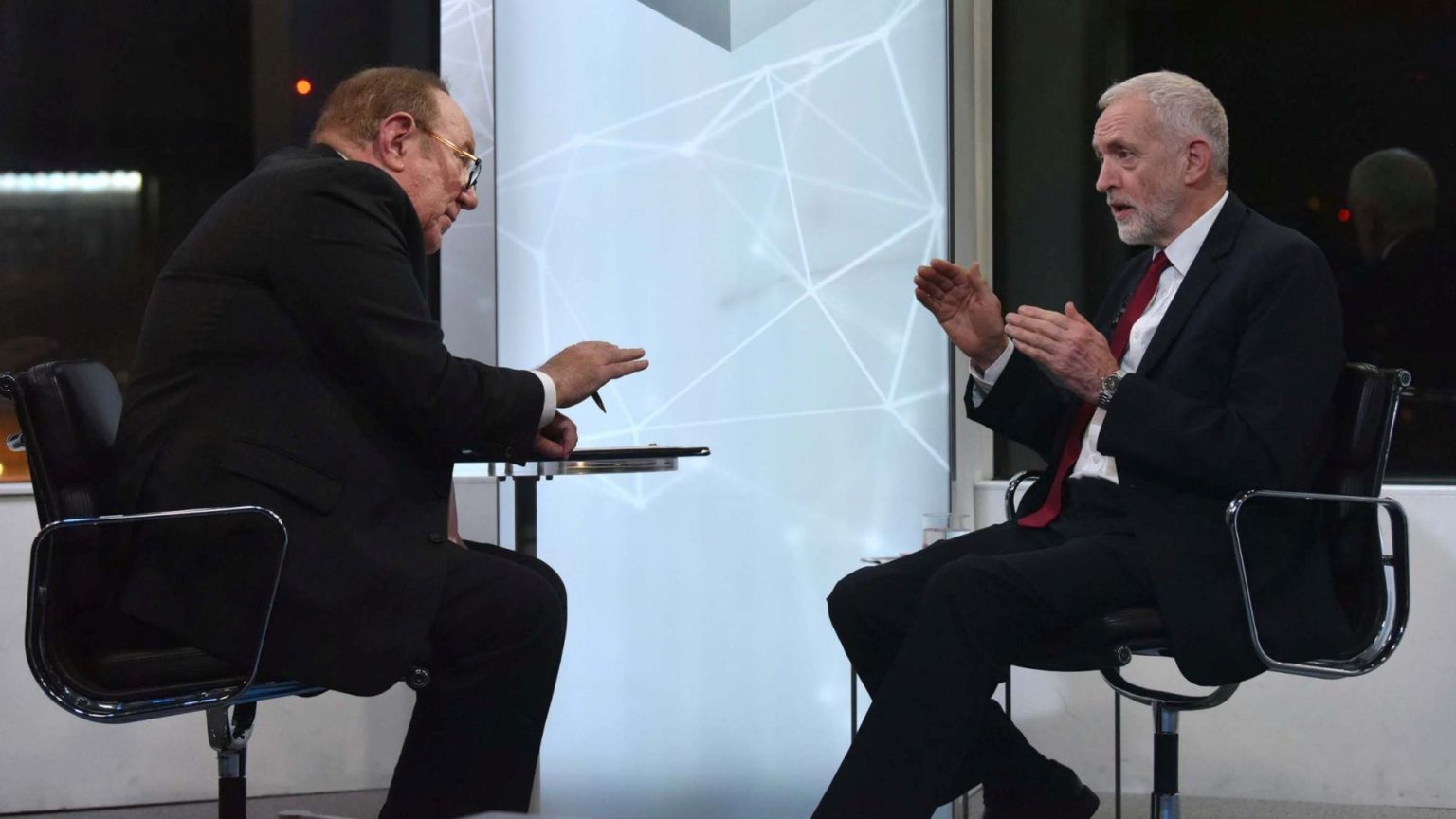 That must surely rank as one of the worst political performances of modern times. Jeremy Corbyn in his grilling by Andrew Neil came across as listless, disengaged, impersonal, irritable, unprincipled and outright bored. Especially when asked about Labour's anti-Semitism crisis and the fact that 80 per cent of Britain's Jews think he is anti-Semitic. He looked bored. And of course he started banging on about Islamophobia. He couldn't believe someone was asking him about those pesky Jews when all he wants to talk about is lovely Muslims.
It was terrible from beginning to end. Corbyn fluffed every single issue. Four times he was given an opportunity to apologise to Jews and he refused. He was asked if saying that 'Rothschild Zionists control world affairs' is anti-Semitic and he couldn't bring himself to say it was. For crying out loud. It was unacceptable, he said. Eventually, when pressed, he said it was an anti-Semitic trope. So why hasn't the Labour member who uttered those very words been suspended, Neil asked? Oof. And again from Corbyn, just boredom. Irritation. He looked like a man being bothered by flies rather than a man being asked why a significant majority of Jews think he's a racist.
On the WASPI women and their pensions, a policy adopted by Labour only when Boris was asked an awkward question about it on the Beeb the other night, Corbyn couldn't say how he would fund those pensions. 'They have to be paid for', he kept saying. Okay – but how? No idea. From Britain's reserves, he suggested. Where in our reserves will you find £60 billion, asked Neil? Don't know, said Corbyn, bored again. Then came Brexit. Would he campaign in a second referendum? No, he said. He'd do nothing. He'd just run the government. Following his performance tonight, I'd say the fat chance of him running the government just got that bit fatter.
He wouldn't even say whether he would kill an ISIS leader. Neil gave him the scenario. The military has its eyes on an ISIS leader, that ISIS leader is plotting terrorist attacks in the UK, and you are given the option as PM to kill him – yes or no? Corbyn's response was as predictable as it was yellow-bellied. Can't we arrest him, he said? Of course, Jeremy – maybe we should send the Old Bill over to Syria to put him in handcuffs? The idiocy of it. Corbyn is so lacking in principle, in basic decisiveness, that he won't even commit to killing the leader of the closest thing to religious fascism that exists in the world right now. So much for his anti-fascism.
It was an astonishing sight. And it wasn't entirely down to Neil's famous grilling techniques. Neil is great, of course, but much of this disaster was of Corbyn's own making. He can't answer basic economic questions, he won't take a stand on the biggest issue of the day (Brexit), and he won't even drop a bomb on a mass-murdering, woman-enslaving, child-killing religious lunatic. Most strikingly of all, Corbyn looked like he just didn't want to be there. Which is one thing he has in common with the rest of the country: we don't want him to be there, either. When you treat a Q&A over how you would run the country in such a switched-off, cretinous fashion, it really is time to call it a day. Save Labour; hell, save Jeremy himself – put this sad man out to pasture.
To enquire about republishing spiked's content, a right to reply or to request a correction, please contact the managing editor, Viv Regan.