The media have lost the plot
Kay Burley's 'empty chairing' of James Cleverly was embarrassing – for her.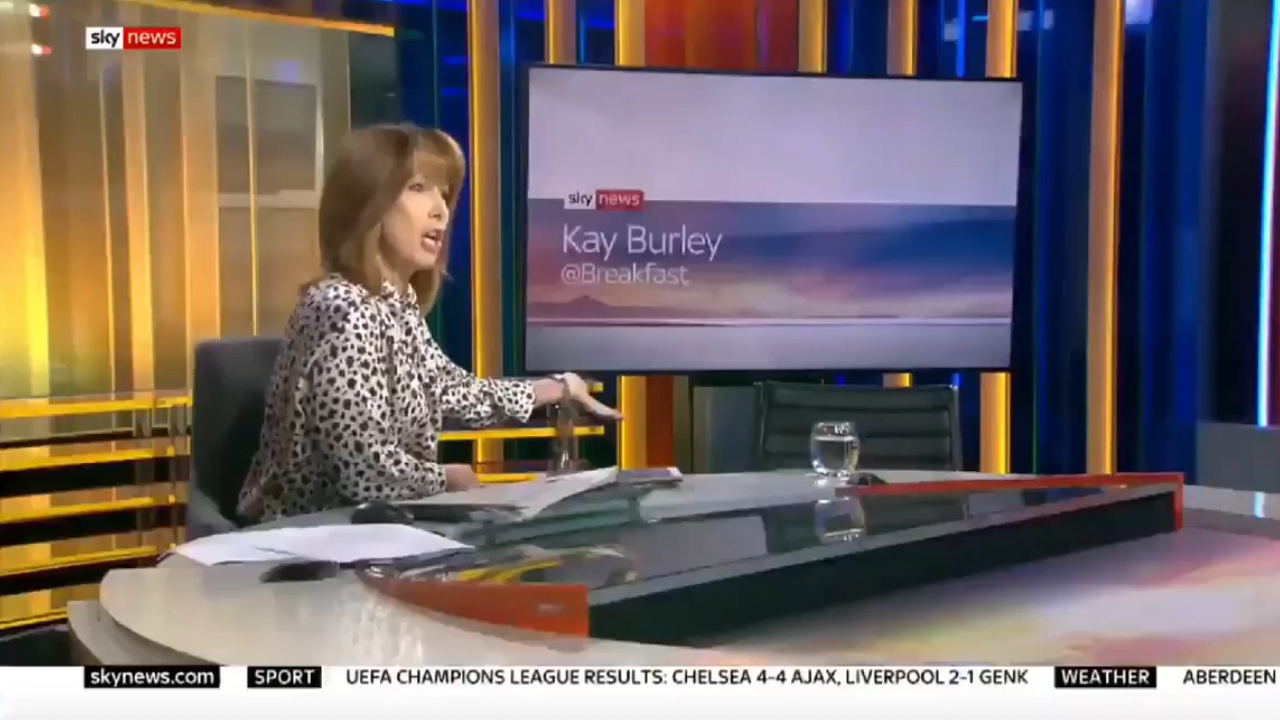 The big viral clip of this morning is of Sky News' Kay Burley, ostentatiously 'empty chairing' Tory Party chairman James Cleverly for apparently refusing to appear on her show.
James cleverly gets the empty chair treatment after he pulls out of an interview with @KayBurley #CarCrashTories#KayBurley #r4today #BBCBreakfast pic.twitter.com/McYGfhNVyo

— Haggis_UK #FBPE ?? ?? (@Haggis_UK) November 6, 2019
In the clip, she reels off a laundry list of controversies she wanted to ask him about – from Boris Johnson comparing Jeremy Corbyn to Stalin in today's Telegraph to Jacob Rees-Mogg's comments about the Grenfell Tower tragedy. She says Cleverly is just feet away, outside the studio, but for some reason is dodging the interview.
Only it turns out that the story is a bit more complicated than that. Cleverly was apparently booked in to do another interview, around the same time, on talkRADIO with Julia Hartley-Brewer. He was using one of the many studios in 4 Millbank – where Sky News, the BBC and others have their Westminster bases.
Cleverly gave his side of the story on Hartley-Brewer's show, saying that as good as he is at multitasking, he isn't capable of being in two places at once.
James Cleverly hits back at Kay Burley's 'empty chair' interview@JamesCleverly | @JuliaHB1 | @KayBurley https://t.co/GMFv6kZuSU

— talkRADIO (@talkRADIO) November 6, 2019
Burley seemed to suggest that No10 had promised to put someone up that day. Perhaps it was all a big mix-up. But in the end, Burley's empty-chairing of Cleverly only embarrassed her. She has faced criticism of late for alleged anti-Brexit bias, and such theatrics won't do much to disabuse people of the notion that she is bringing her political leanings to work with her.
Whatever the truth of all that, this bizarre episode is just another reminder of how much the media are losing the plot. Too many journalists seem to confuse moral grandstanding against the government with holding it to account. They seem incapable of keeping their own biases to themselves, and they seem so self-important that one declined interview (even for understandable reasons) is an excuse to go ballistic.
To enquire about republishing spiked's content, a right to reply or to request a correction, please contact the managing editor, Viv Regan.