No, SpongeBob SquarePants is not a violent colonialist
A senior academic claims the talking sponge is whitewashing American militarism.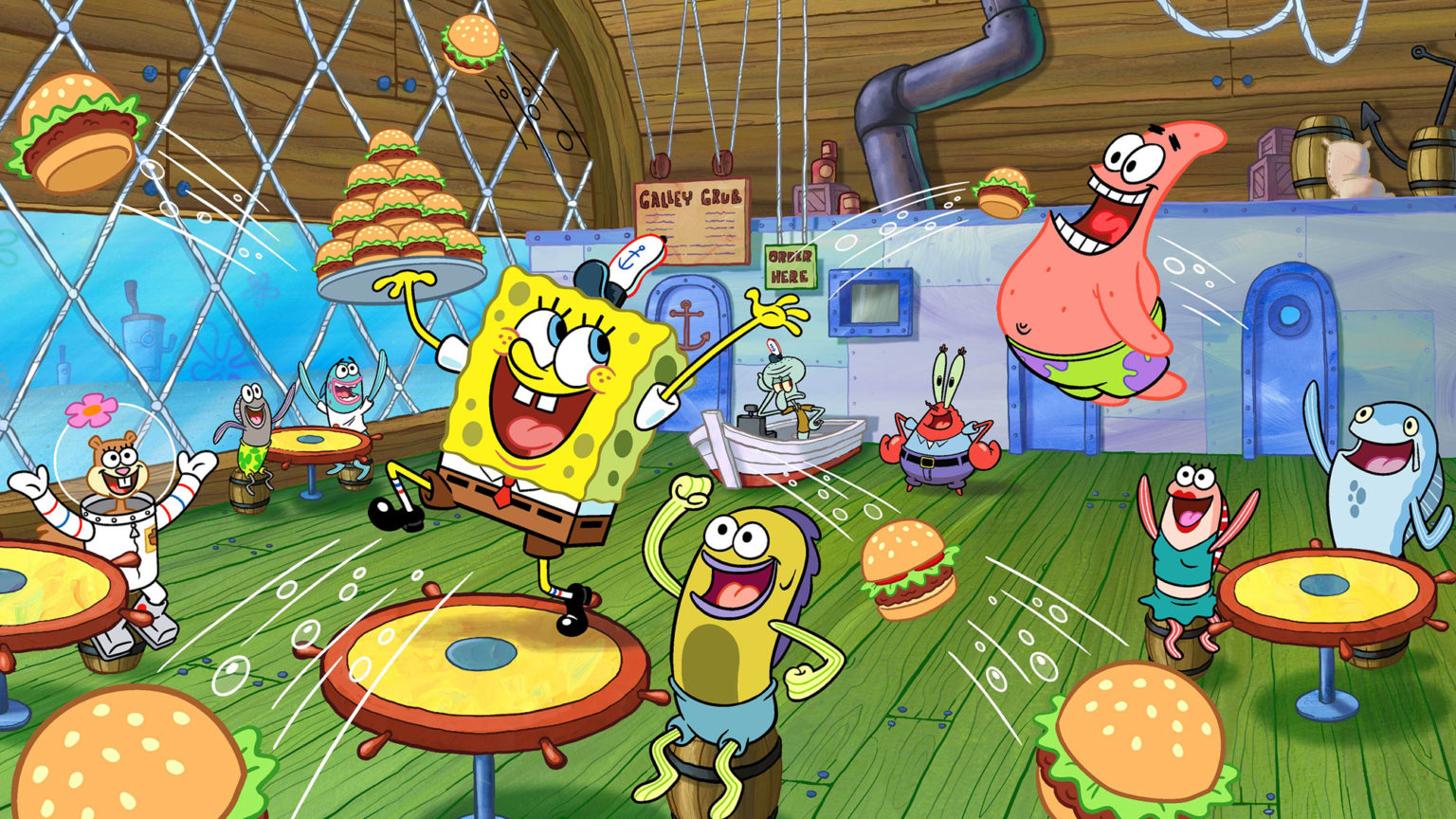 A senior lecturer at the University of Washington has published a 10,000-word report purporting to expose the evils of the popular Nickelodeon TV show, SpongeBob SquarePants.
Professor Holly M Barker argues that the children's cartoon is guilty of 'the whitewashing of violent American military activities' towards the indigenous people of the Pacific's Marshall Island during the Cold War. She draws a connection between Marshall Island's Bikini Atoll and the fictional underwater town of Bikini Bottom, where SpongeBob lives. Indigenous people on the island were told to leave their homes so that the US military could test out its nuclear weapons, making the lands desolate and uninhabitable.
Because of this 'Bikini' connection, SpongeBob SquarePants is an apologist for colonialism and its legacy, apparently: 'SpongeBob's presence on Bikini Bottom continues the violent and racist expulsion of indigenous peoples from their lands (and in this case their cosmos) that enables US hegemonic powers to extend their military and colonial interests in the postwar era.'
You read that right. The affable, erratic, talking sea sponge who lives in a pineapple-shaped house with his pet snail is spreading imperialist and militarist ideas to your children before they shoot off to school every morning. My mum should have pulled me away from the telly when she had the chance.
At least Baker's article – 'Unsettling SpongeBob and the legacies of violence on Bikini Bottom', to give it its full title – acknowledges that the show's writers were probably unaware that they were promoting such themes. Nevertheless, Baker fears that children are unknowingly being 'acculturated to an ideology' of US hegemony. If that wasn't bad enough, Baker also worries about the careless cultural appropriation practised by Bikini Bottom's residents, especially as the show features lots of anthropomorphised fish wearing Hawaiian shirts. Meanwhile, SpongeBob's neighbour, Squidward Tentacles, lives in an Easter Island head.
Baker's bizarre article is a shocking reminder of the institutional dominance of wokeness in academia and the humanities in particular. Academics increasingly see it as their duty not to understand and explain artworks but rather to expose their moral failings – even something as innocent as a cartoon about a talking sea sponge is now scoured for evidence of racism.
It also illustrates how wokeness is degrading education. There is a similar internet fan theory, believed to have originated on Reddit, that connects Bikini Bottom to Bikini Atoll. The theory goes that the underwater sea world inhabited by SpongeBob is the product of US nuclear testing – and the radiation caused him and his strange friends to come to life. But while such theories might be a fun distraction for internet users, why are they being taken seriously in academia?
'Unsettling SpongeBob' recalls the so-called Sokal Squared hoax performed by three academics last year. Helen Pluckrose, James Lindsay and Peter Boghossian submitted pseudo-academic papers to woke journals. Titles of articles included 'fat bodybuilding' and 'the infrequency of male anal masturbation'. One accepted submission was a feminist revision of a chapter in Mein Kampf. We can assume Baker's report, on the other hand, is meant to be taken seriously. In an article in the Conversation, she says she has discussed these ideas with her anthropology students.
While Baker's attack on SpongeBob Squarepants may seem amusing, the prevalence of wokeness in academia is a serious problem. We need to confront the nonsense of wokeness and stand up for rigorous educational standards, for the humanities – and for SpongeBob.
Callum Breese is a writer based in Sheffield.
To enquire about republishing spiked's content, a right to reply or to request a correction, please contact the managing editor, Viv Regan.