Harry and Meghan, please stop whinging
You live a life of incredible privilege, at taxpayers' expense.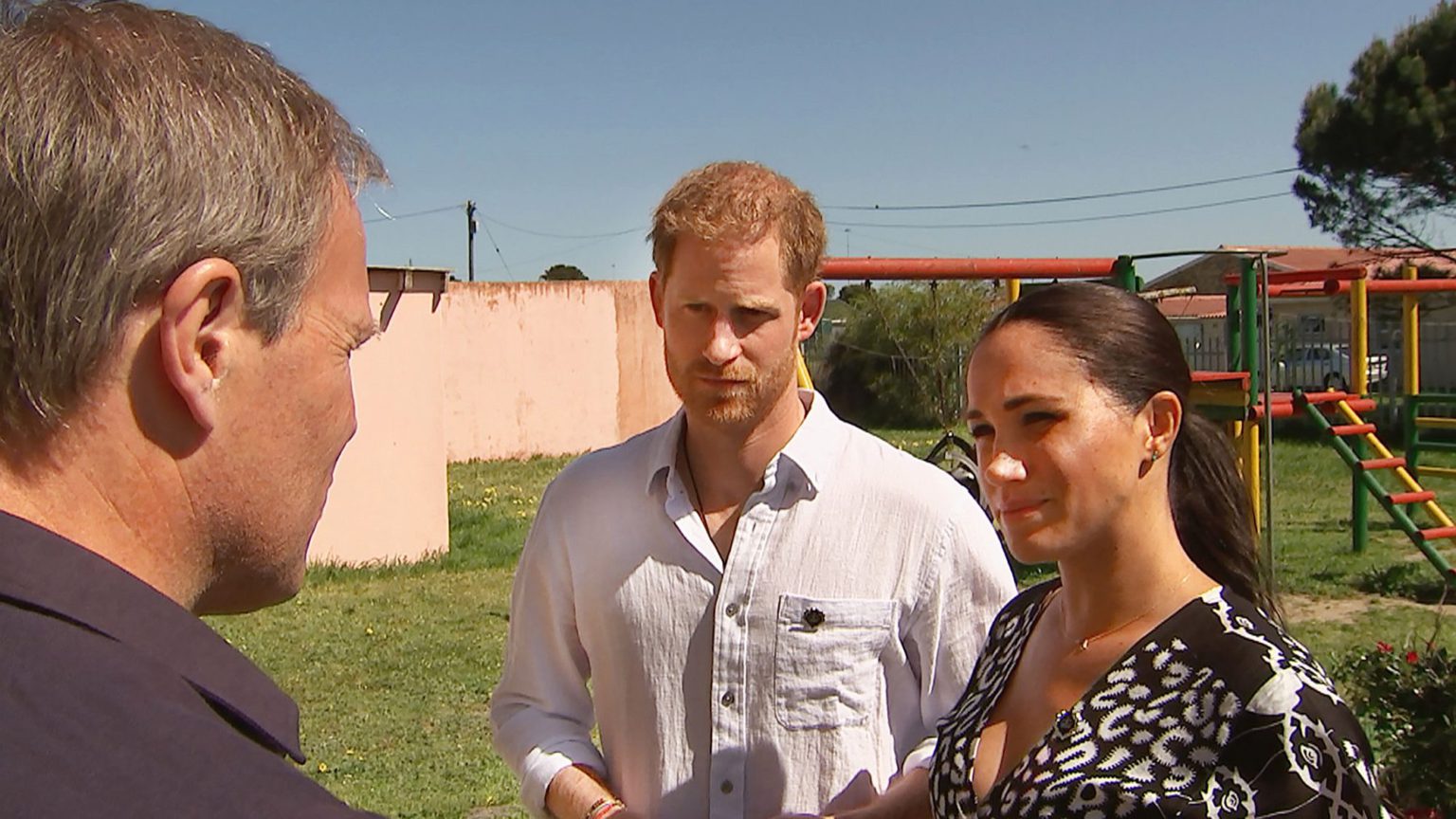 Prince Harry and Meghan Markle may have come in for a lot of criticism of late. But one thing's for sure: they are nothing if not professional. As last night's ITV docu-love-in Harry and Meghan: An African Journey showed, they have perfected the brave smile, the lip chew, sad eyes and resigned shrugging. They might need a script for the staged speeches, but they have ad-libbing to camera off pat.
The take-home message for the viewing plebs was that Harry and Meghan are not okay. Apparently it's really hard being royal. It's even harder to be a duchess at the same time as getting to grips with being a new mum, a wife, having a new job and living in a different country. To make matters worse, hardly anyone has asked Meghan if she is okay.
Blimey. What are all those servants being paid for if they can't even get their act together to enquire after Meghan's state of mind? Us ignorant folk may all blithely assume that the cleaners and gardeners and caterers and nutritionists and nannies and private doctors and midwives and stylists and chauffeurs as well as the private jet and the foreign holidays and the £2.4million house renovation might make being a wife and a mum who has to turn out to smile and wave every now and again just a little bit easier. But it turns out we'd be wrong: poor Megs is merely 'existing not living'.
I tried to feel sympathetic towards Meghan's new-mum-with-a-new-job schtick. Honestly. But what rubs is the context. Harry and Meghan ask us to feel sorry for them moments after ITV's intrepid Tom Bradby announces they are in Malawi, the fifth poorest country on Earth. Over the course of his hour-long syco-fest, Bradby records the couple in the townships of South Africa, at a school (little more than a shed) in Malawi, and in a hospital in Angola. We learn of dire poverty, the legacy of Apartheid and war. And yet, at the end of the show, our sympathies are supposed to lie with the Duke and Duchess of Sussex. Yes, the cute little Angolan boy might have lost his leg, but he doesn't have to put up with people writing stuff about him in tabloid newspapers.
According to Harry and Meghan, the royal tour to southern Africa was all about 'the causes'. They simply want to raise awareness about conservation, climate change, violence against women, and the need to educate girls. In the eyes of the royal couple, tackling these issues – beginning with bringing them to our attention – is indisputably the right thing to do. These causes are beyond contestation and therefore in the realm of morality rather than politics. To their minds, there is nothing to discuss. No one, as Harry points out, could surely be so stupid as to question the science of global warming.
But despite Meghan and Harry's insistence, the issues the couple highlight are political. Or, at least, what to do about them is. A string of nuclear power stations across southern Africa would transform people's lives. Widespread use of GM crops would make better quality food more affordable. Investment in transport infrastructure would make businesses more productive, create jobs and lead to higher wages. Harry and Meghan refuse to advocate these solutions. Worse, their insistence on a simplistic morality puts the possibility of political debate – and of these solutions being raised – off the agenda.
The couple's crusade against the press, given only cursory coverage in Bradby's on-message production, stems from this same moralistic impulse. Tabloid newspapers are lumped in with the evils of landmines, violence against women and killing baby elephants: all really bad things that must be stopped. As Harry and Meghan see it, the worst thing about the press is that it scrutinises their actions when all they want to do is good. According to this logic, tackling climate change is so important – and Harry is so obviously correct when he tells us to heed the science – that it is just plain wrong for the press to question their use of private jets or the need to ship cars from the UK to South Africa for the royal tour. But no one in the public eye – especially not those living at the taxpayer's expense – should be beyond scrutiny.
Last night's documentary showed exactly how Harry and Meghan want the press to be: servile and sycophantic, enquiring sympathetically after their wellbeing and showing only pre-approved messages. Tom Bradby played the part of humble lackey superbly well. Despite what Harry and Meghan might say, the press as a whole has been incredibly restrained in their coverage of them. There have been no long-range paparazzi shots of baby Archie and no revelations as to his godparents. What Harry and Meghan claim they object to is the publication of 'untruths'. But the only 'untruths' appear to be the charges of hypocrisy and arrogance. Harry might argue that it isn't hypocritical for the privileged pair to bang on about the environment while spending more time in the air than on land because their pal Elton bought some trees. But the rest of us should be free to think, read and write that it is.
Harry might walk through fields of landmines and Meghan might talk about the importance of education for girls – but this latest orchestrated media outing showed the main cause the royal couple endorse is themselves. Great. Just do it at someone else's expense and leave the rest of us alone.
To enquire about republishing spiked's content, a right to reply or to request a correction, please contact the managing editor, Viv Regan.