Eliud Kipchoge: a gold medal for the human spirit
Running a marathon in under two hours is one giant leap for mankind.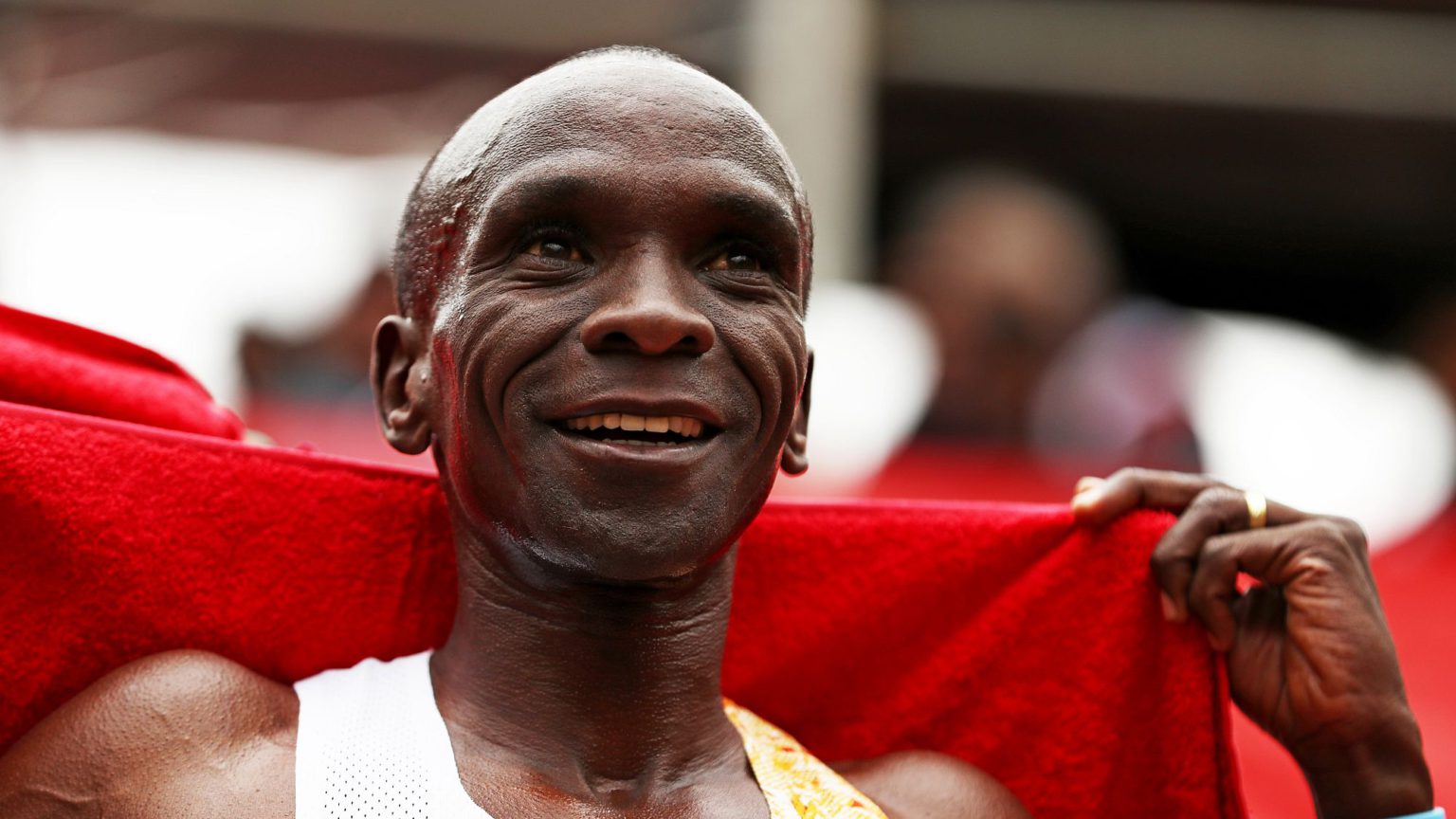 Eliud Kipchoge did not win any medal for his marathon run at the weekend. His achievement will not be recognised in the official record books. But by becoming the first man ever to run the marathon in under two hours, Kipchoge did something even bigger than that. He made the impossible seem not just possible, but inevitable.
'I am the happiest man to run under two hours to inspire people', said the 34-year-old Kenyan (looking as if he'd just strolled around the block rather than run 26 miles), 'to tell people that no human being is limited'.
To paraphrase another history-maker we have been celebrating this year: Kipchoge's run was several thousand small steps for a man, one giant leap for mankind. His time of one hour, 59 minutes and 40 seconds might 'only' have broken the legendary two-hour barrier by 20 seconds. But it was one of those rare moments when a few seconds (or, as when Roger Bannister broke the four-minute-mile, a hundredth of a second), can write a whole new chapter of human history.
Kipchoge's mammoth feat will not be recognised as the new marathon world record because it was not achieved in an open athletics competition, and he used 41 rotating pace-makers – many of them world-class athletes – to keep him up to speed. Fair enough, rules is rules. It was not, strictly speaking, sport. But it was nevertheless an uplifting, earth-shattering achievement that had viewers around the world reportedly cheering and weeping in front of their screens.
Whatever the official record books say, we should have no truck with those who want to denigrate Kipchoge's historic run. Cynics protest that it was merely a marketing stunt. The chemical company Ineos, owned by Britain's richest man Jim Ratcliffe, spent a reported £15million on the event. They relaid the road, with a pace car projecting a green laser beam on to it to ensure a perfect speed, and employed a small army not only of world-class pacemakers, but also meteorologists, nutritionists and road-sweepers to ensure conditions were perfect. Meanwhile, Nike provided special prototype running shoes that no mere mortals have ever set foot in.
All very impressive, and no doubt 'unnatural'. But so what? Complaints of 'technical doping' are historically naive. Humans have been using whatever they can find to enhance their performance since the original games of Ancient Athens. At the 1904 Olympic games in St Louis, American Thomas Hicks won the marathon gold medal on a cocktail of brandy and strychnine. Every record-breaking effort since has been facilitated by advances in athletics kit, supplements and technology. Even Usain Bolt's jaw-dropping 100-metres run in Beijing 2008 owed a little to the new poly track surface the Chinese installed.
Like Bolt's record-breaking sprints, however, Kipchoge's marathon was no techno-fix. In the end, it comes down to the raw ability, training and human spirit of the athlete. Kipchoge is, after all, already holder of the official marathon world record, at two hours one minute and 39 seconds. No matter how fancy those Nike running shoes might be, they are not magic slippers. They could not make me (or, I venture, you) run the marathon in under two hours.
Nevertheless, as a champion of the human spirit, Kipchoge was surely right to tell us that his achievement showed 'You can do it. If you believe in something and put it in your mind and heart, it can be realised.'
It is the grumbling cynics who are truly debasing sporting achievement with their self-righteous fantasies of 'pure' athletics, where presumably all will run on an old-fashioned cinder track in bare feet, vest and pants, while drinking tap water from a non-plastic container. No wonder some reported their culture-absorbing children reacting to the news of the historic sub-two hour marathon by objecting that 'he must be taking drugs'.
In reality, Eliud Kipchoge's run should restore anybody's faith in humanity. His marathon was certainly not a sporting spectacle; watching a team of black-clad pacemakers form a wind-blocking wall around him while running at a uniform pace for almost two hours could hardly have quickened the spectators' heart rate. But the moment when he broke free and joyously crossed the finish line, obliterating the two-hour barrier, will live in the memory of millions.
As retired British marathon hero Paula Radcliffe (whose own women's world record was broken at the weekend) said of Kipchoge's achievement: 'It's superhuman, really. I can't believe he did it. Remarkable that we've actually pulled it off.' We've pulled it off. A gold medal for the collective human spirit – and, no doubt or shame, for our achievements in sports science.
No paywall. No subscriptions.
spiked is free for all.
Donate today to keep us fighting.
Donate online
To enquire about republishing spiked's content, a right to reply or to request a correction, please contact the managing editor, Viv Regan.