Hands off Smithfield Market!
Extinction Rebellion's occupation of London's famous meat market is pure middle-class elitism.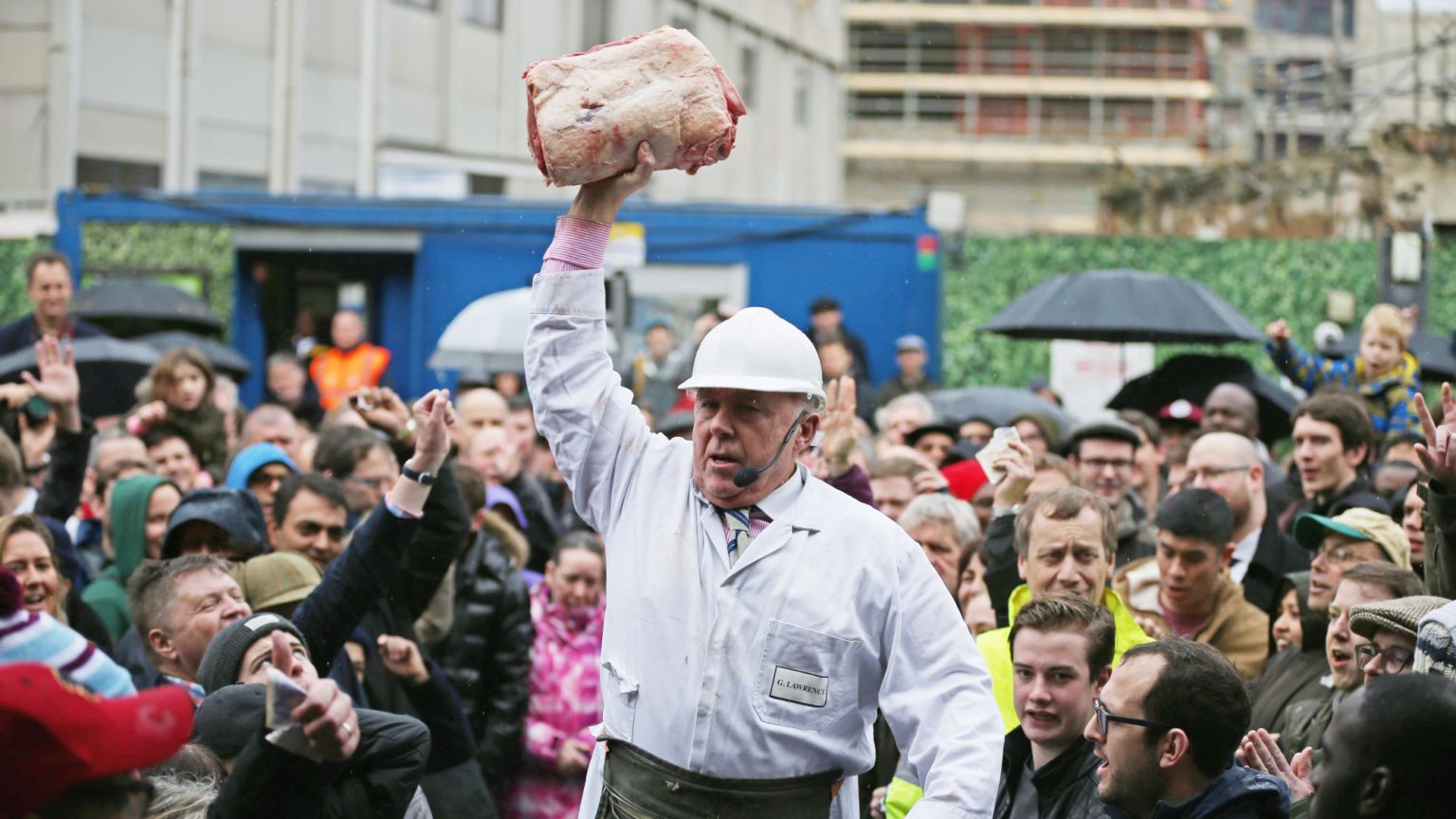 'Privileged' is an overused word these days. White privilege, male privilege, cis privilege, yada yada. But if you want to see real privilege, look no further than the smug, whiffy occupation of Smithfield meat market in London by middle-class vegans from the Extinction Rebellion cult. This is privilege in action. This is time-rich, well-connected green activists sneering at working people and preventing them from doing their jobs. It sums up the elitism inherent in environmentalism.
Smithfield has been trading in meat for 800 years. It has long attracted the ire of middle-class moaners. In the Victoria era, posh people frequently complained about the Smithfield traders' treatment of animals and, even worse, their use of foul language. 'Of all the horrid abominations with which London has been cursed, there is not one that can come up to that disgusting place… Smithfield Market', said one snotty observer. The 'cruelty, filth, impiety, horrid language' and all in 'the very heart of the most Christian and most polished city in the world' – Smithfield and its traders horrified the great and good.
And clearly they still do. Today's equivalent of Victorian moralists – the eco-puritans of the green movement – have descended on the 'horrid abomination' that is Smithfield Market and effectively shut it down. Calling themselves Animal Rebellion (God help us), they're part of Extinction Rebellion. They have replaced the 'cruelty' and 'filth' of Smithfield's meat stalls with their own locally sourced vegetable stalls. In the eyes of these vegan extremists, these food moralists, meat is evil and veg is great. So cast out the nasty meat traders and replace them with well-brought-up, socially aware people who not only eat plums but also speak in plummy accents.
This posh invasion of Smithfield is causing serious problems for the many working-class men – they are mostly men – who work there. Some of these men's families have worked there for generations. They make a good, honest living selling quality meat to Londoners. The Bone Man of Smithfield – that is, the man whose job is to clear out the bones each day – has said the XR occupation of his workplace is 'disgraceful'. 'Why are they coming to demonstrate against us, possibly putting us out of work?', he said to LBC. Because of this 'happy-clappy mob… I'm not going to be able to pay my bills', he added.
His son works in Smithfield, too. His father once worked there. Smithfield is full of families like this who have a long history of serving this part of London. Who do XR think they are blocking these people's trade and publicly shaming them for what they do? As the Bone Man put it, these protesters just 'want to go backwards'.
That's exactly right. These are anti-modernity, anti-progress middle-class moralists who look with contempt upon working people who eat meat, drive cars, have more than one child, and fly off on holiday once or twice a year. Their occupation of Smithfield Market sums up the class dynamic that has always been a key part of green activism. Snooty, self-satisfied activists from the leafy parts of London trekking to Smithfield to mock working people and prevent them from making a living – this is a tiny snapshot of the kind of world XR wants to create.
Brendan O'Neill is editor of spiked and host of the spiked podcast, The Brendan O'Neill Show. Subscribe to the podcast here. And find Brendan on Instagram: @burntoakboy
No paywall. No subscriptions.
spiked is free for all.
Donate today to keep us fighting.
Donate online
To enquire about republishing spiked's content, a right to reply or to request a correction, please contact the managing editor, Viv Regan.