Golden Dawn: this is what fascism looks like
It is absurd to call the Brexit Party 'fascist' when real neo-Nazis are plaguing Greece.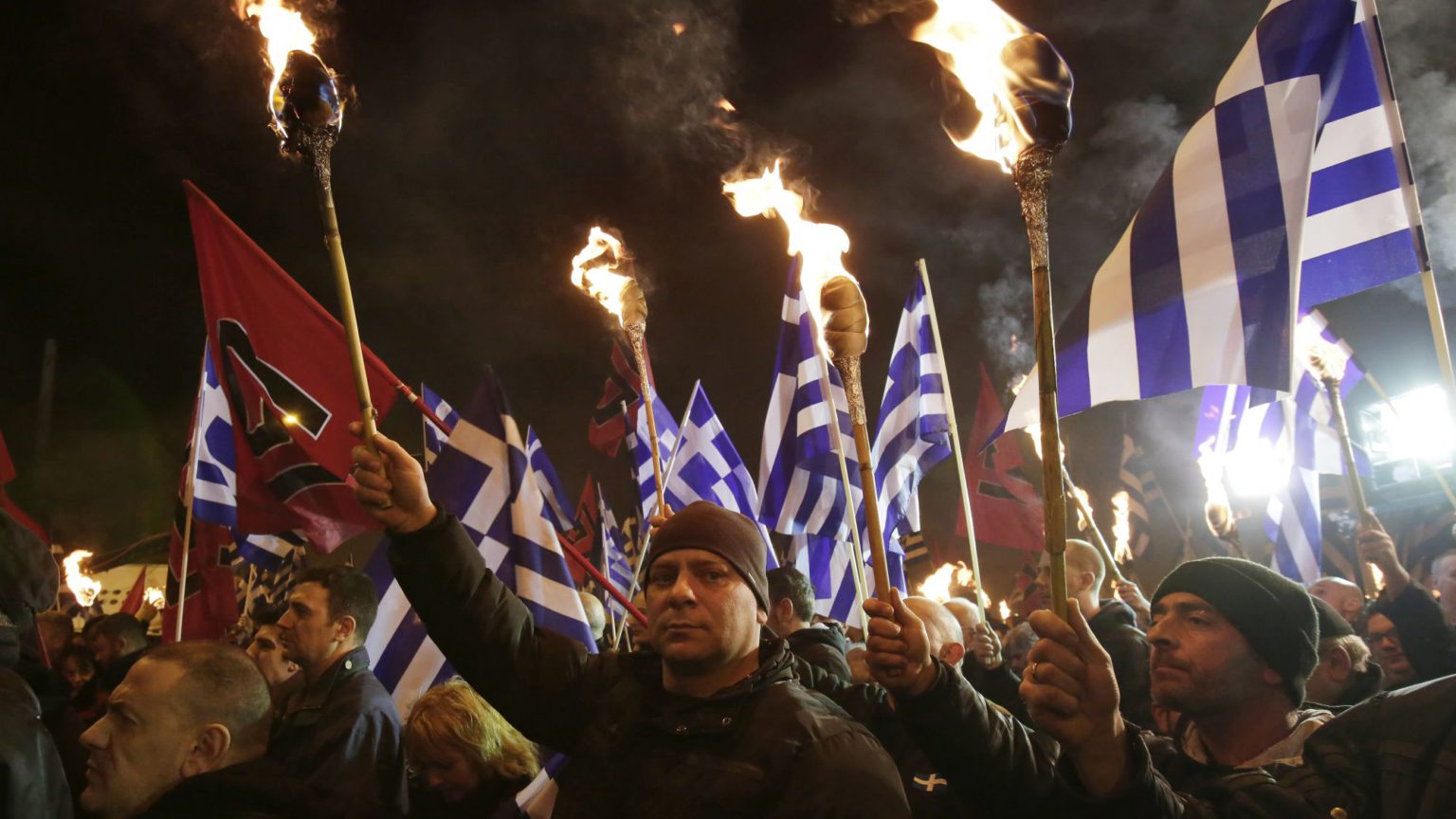 The word 'fascism' has been used to describe two recent events in Europe.
Last week, when Brexit Party MEPs turned their backs on the EU anthem at the opening of the European Parliament, commentators made the ludicrous accusation that they were behaving like Nazis in the Reichstag in the 1930s.
Meanwhile, on Sunday, in the Greek elections, the neo-fascist party, Golden Dawn, failed to enter parliament for the first time since 2012.
That the term 'fascism' can be used to describe two totally distinct phenomena shows how much language is losing its meaning in today's political atmosphere.
Golden Dawn is what fascism actually looks like. It is a party whose leading members used to openly celebrate Nazi Germany. They have posed with swastikas and have performed the Nazi salute. It has a history of organised militias going back three decades. It has carried out numerous attacks that have left political opponents and immigrants with severe injuries.
In its modern incarnation, despite attempts to broaden its appeal, Golden Dawn has still retained many fascistic elements. In recent years, its leading members and MPs have committed acts of violence out in the open. In 2012, an MP physically assaulted two female politicians while being filmed by Greek television. The party organises training retreats that teach recruits how to use weapons. Its members engage in street fights and pogroms. In 2013, the anti-fascist rapper, Pavlos Fyssas, was murdered by a Golden Dawn member. The attack was allegedly ordered by the higher echelons of the party.
Have we experienced any such behaviour – anything close – by anyone connected to the Brexit Party? Of course not. The idea that the Brexit Party is of a kind with fascist groups like Golden Dawn is clearly ridiculous.
'But', our 'anti-fascist' friends might add, 'we have to be vigilant, because fascists do not show their true colours until it is too late'. Actually, this is not true. Hitler published Mein Kampf in 1925, articulating a lot of the monstrosities that he put into action in the following two decades. During the same period, Joseph Goebbels was writing texts that put forward the main tenets of national socialism. Anyone who had eyes knew what the Nazis were about before they got into power.
Similarly, Golden Dawn's national socialism is openly presented in its political manifesto. It includes unpaid forced labour for non-Greek prisoners, criminalising abortion, criminalising any perceived threat to national cohesion, revoking freedom of religion, extended military conscription for men and national service for women, state control on education and the economy, basing nationality solely on 'blood', and many other ideas of that kind. Can the Brexit Party be accused of anything remotely similar?
For anyone confused about whether your political opponent is a fascist, or just someone you disagree with, let me offer a quick guide. Is he or she advocating the militarisation of society and compulsory conscription, imperialist expansion, the banning of opposition parties and trade unions, the imprisonment of political opponents, state control of the economy and culture, or explicitly racist policies?
If the answer is yes, then you have indeed spotted a fascist. If the answer is no, then please don't use the term. We need to stop abusing the word fascism.
To enquire about republishing spiked's content, a right to reply or to request a correction, please contact the managing editor, Viv Regan.