German politicians want to make it a crime to burn the EU flag
Everyone should have the right to 'denigrate' EU symbols.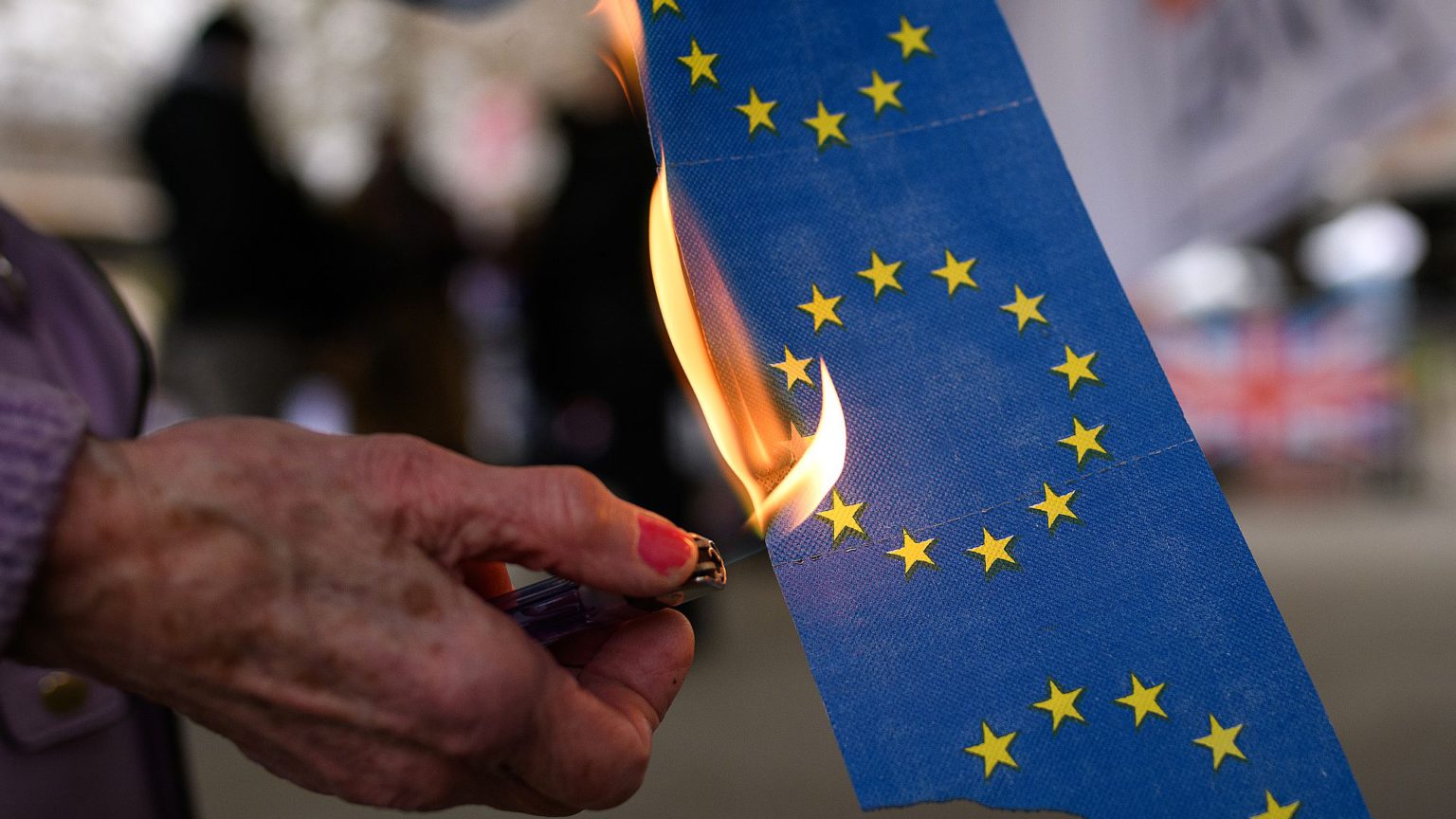 The European Union flag is omnipresent in Germany. Since 2011, it has even been flying over the Reichstag – a sign, as one newspaper put it at the time, of the strength of the German political class's commitment to the EU.
But not everyone in Germany shares this commitment. And so German politicians, in the east German state of Saxony, are now trying to use the law to force people to respect EU symbols. Saxony state's justice minister has drafted a bill that, if passed, would mean that anyone who denigrates the EU anthem or 'removes, destroys, damages, or makes useless or unrecognisable' the EU flag could face up to three years' imprisonment or a hefty fine. Such is the desire of the Federal Republic of Germany, as the proposed bill puts it, to protect the EU against malicious contempt.
Officially, Saxony's justice minister is merely reacting to a gap in existing legislation. As it stands, Section 104 of the German criminal code prohibits the violation of flags and emblems of foreign states, and Section 90a bans any insult or damage to the German flag. The EU, as neither a foreign nor a home state, falls outside existing law.
But this new draft bill is more than an attempt to correct existing legislation. It is also a belated response to the strong showing of Eurosceptic parties in the European Parliament elections in Germany in May, and a pre-emptive move against these parties ahead of the state election in Saxony in September.
It is no coincidence that it is Saxony's state government that has proposed the bill. Saxony has long been viewed as problematic by the German political establishment. After all, this is where the right-wing Pegida movement began, and where the Alternative for Germany (AfD) party has celebrated its biggest successes. The AfD's Saxony wing – which is much more critical of the EU than its leadership in Berlin – won the EU elections there, with 25.3 per cent of the vote. Now the AfD has overtaken the ruling Christian Democratic Union (CDU) in the latest Saxony state-election polls.
But resorting to censorship, which is what this new bill represents, is not only deeply authoritarian – it is also a confession of failure. Only a few months ago, Saxony's incumbent president, the CDU's Michael Kretschmer, declared that he was going to beat the far right by fighting for rather than against something. He was going to fight for democracy, for an open culture of discussion and social cohesion. Voters who doubted his sincerity will now feel vindicated.
State symbols like flags have always been targets of political protest. In August 2017, a group of demonstrators at an anti-Islamic Pegida rally in Saxony carried and wore German flags, adorned with the image of a giant banana (a reference to the West German accusation that East Germans only celebrated the fall of the Berlin Wall because they wanted the benefits of a consumer society, as symbolised by the banana, which was then very rare in East Germany). The demonstrators were charged with insulting the German flag; the public prosecutor's office in Dresden later dropped the charges.
Whether we like it or not, flag-burning is a free-speech issue. Germany's anti-flag-burning laws are intended to control public discussion and behaviour. So, in December 2017, after a group of young Arabs reacted to US President Donald Trump's decision to move the US embassy in Israel to Jerusalem by burning the Israeli flag outside the Brandenburg Gate, Berlin's Social Democratic government responded by demanding tougher laws on flag-burning. As Frank Furedi has explained on spiked, anti-Semitism is a growing problem in Germany, but coming down harder on those who desecrate the Israeli flag will do nothing to combat it.
In a free and liberal state, demonstrators must have the right to express their anger or frustration, even if others think they are being rash or offensive. Any law prohibiting political expression, including flag-burning, should be vigorously opposed. Everyone in Germany and across Europe should have the right to denigrate the EU flag.
To enquire about republishing spiked's content, a right to reply or to request a correction, please contact the managing editor, Viv Regan.