Germany must confront Muslim anti-Semitism
Jews are being told not to wear their skullcaps in public – that is dreadful advice.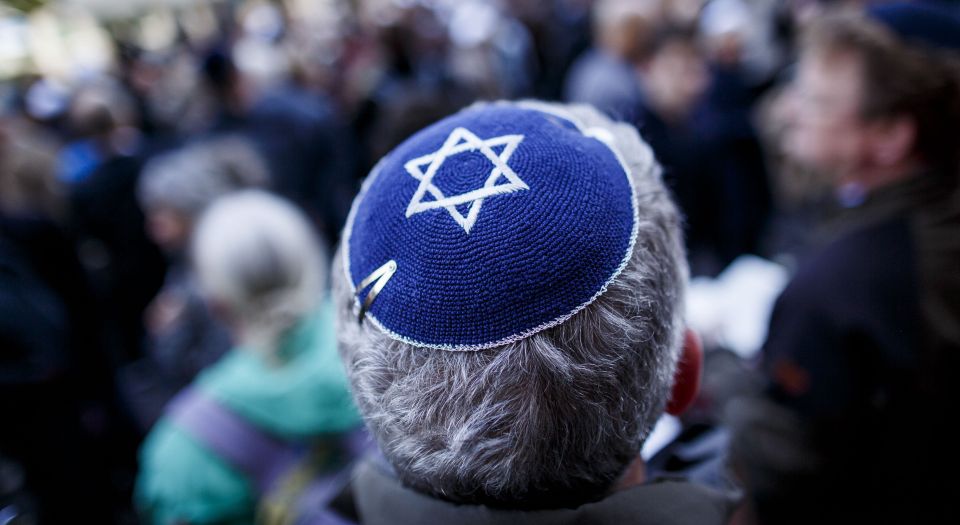 Despite all the rhetoric about 'Never Again', too many people in positions of authority are ready to ignore and even acquiesce to displays of anti-Semitism. This cowardly behaviour was strikingly illustrated recently by Felix Klein, the German government's anti-Semitism commissioner.
Last week, Klein told the media that due to a spike in anti-Semitic crimes, he 'cannot advise Jews to wear the kippah everywhere all the time in Germany'. That's another way of saying that Germany has become a dangerous no-go area for people who look Jewish.
Thankfully, Klein's call to capitulate to anti-Semitic scum was greeted by a storm of outrage from inside and outside Germany. For many Germans the call to render Jewish people invisible was a step too far. In response to this pressure, Klein backtracked. And on Monday he called on all citizens to wear the kippah next Saturday, to coincide with the annual Al-Quds Day in Berlin.
Al-Quds Day is an annual worldwide event to register opposition to Israel's control of Jerusalem. Some of its participants have on occasion directed their hostility not only towards Israel, but towards Jewish people in general.
Part of the reason why the German political establishment finds it difficult to deal with anti-Semitism is because it is wary of talking about where it is coming from. According to official accounts, the rise of anti-Semitism in Germany is a consequence of the growth of the far right. The mainstream narrative is that old-school German nationalists and the new Alternative for Deutschland (AfD) party are responsible for recent spikes in attacks on Jewish people.
The interior ministry says anti-Semitic hate crimes rose by nearly 20 per cent between 2017 and 2018, while the number of physical attacks against Jews rose from 37 in 2017 to 69 in 2018. And according to interior minister Horst Seehofer, 90 per cent of reported anti-Semitic incidents were perpetrated by supporters of far-right groups.
This narrative, which associates populism with the rise of anti-Semitism in Germany, is constantly reproduced by the media throughout the West. But like most officially sanctioned narratives about populism, this one distorts some of the issues at stake.
The leaders of the Jewish community and many German Jews dispute the claim that almost all anti-Semitic attacks are perpetrated by the far right. More than half of German Jewish respondents to a 2018 EU survey indicated that they had experienced anti-Semitic harassment during the previous five years. Of these respondents, the plurality – 41 per cent – believed that the perpetrator of the most serious incident they experienced was 'someone with a Muslim extremist view'.
So why do official German statistics paint such a different picture? The answer is very simple. As James Angelos recently uncovered in the New York Times Magazine, German officials have adopted a procedure whereby, when the perpetrators of an anti-Semitic incident are unknown, they are automatically classified as far right. This point was acknowledged by Klein when Angelos asked him about the reliability of the official statistics. Klein admitted the methodology was 'flawed' and said he had 'already started the discussion within the government to change that'.
But the problem here is not just a methodological one. The German political establishment is neither prepared nor willing to deal with manifestations of anti-Jewish hatred within Muslim communities. Klein's readiness to instruct Jewish people not to wear skullcaps is symptomatic of this wider dishonesty and cowardice within official circles.
No doubt far-right anti-Semitism exists and constitutes a real problem. But it is a problem that has been made far worse by officialdom's acquiescence to Islamic anti-Semitism. Arguably, the hostile attitudes directed at Jewish people by sections of the Muslim community have emboldened old-school German anti-Semites to feel free to express their sentiments.
The takeaway message of the 'don't wear a kippah' scandal is that the real threat facing Jewish people in Germany is not the attitudes and behaviour of old-school, nativist anti-Semites, but the acquiescence of German officialdom to new forms of anti-Jewish hatred.
Frank Furedi's How Fear Works: the Culture of Fear in the 21st Century is published by Bloomsbury Press.
To enquire about republishing spiked's content, a right to reply or to request a correction, please contact the managing editor, Viv Regan.