Joe Biden: undone by wokeness
Biden needs to stop kowtowing to the identitarian left.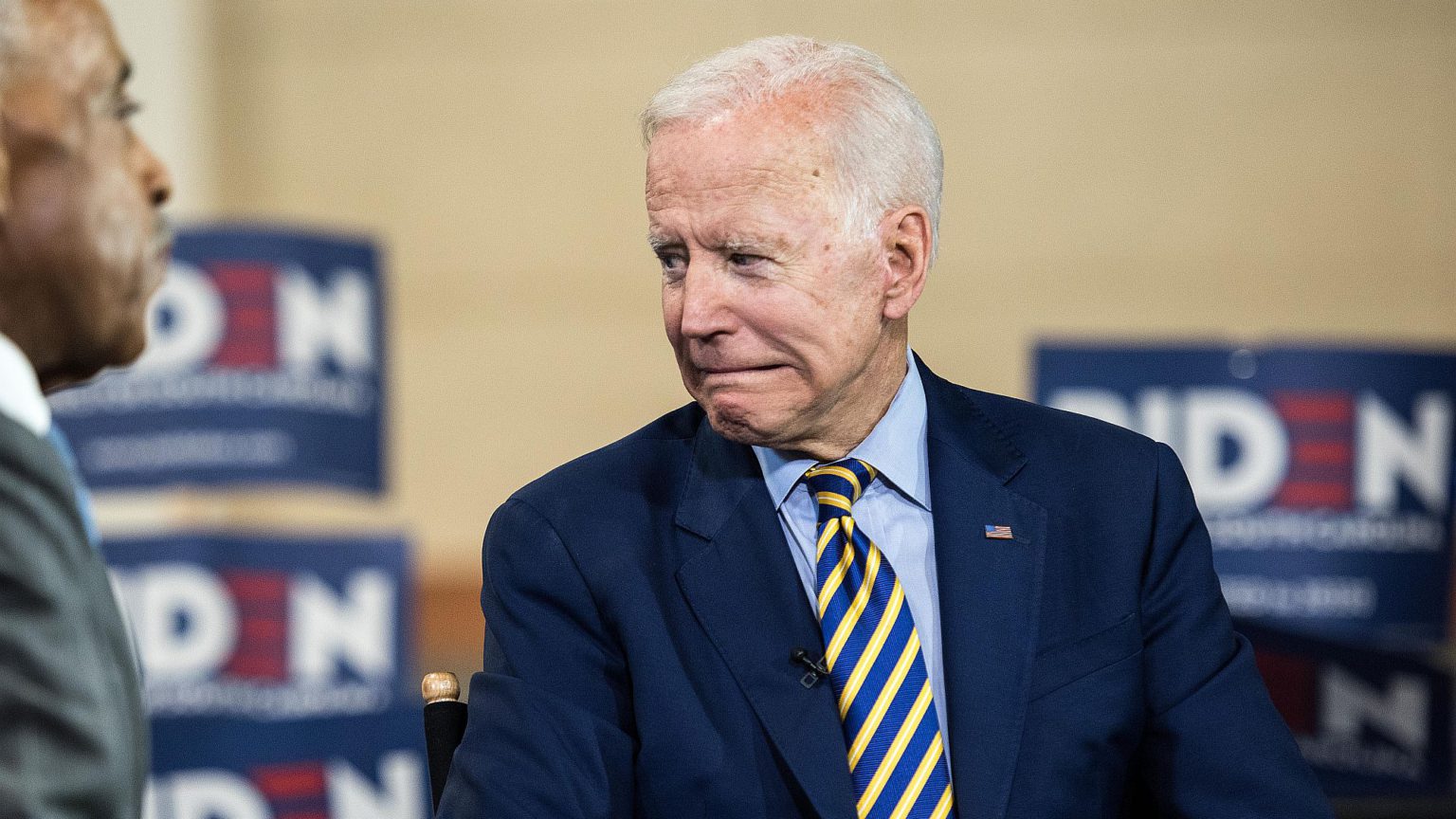 At this moment in time, Joe Biden should be feeling pretty good about his chances of unseating Donald Trump as president of the United States. According to Real Clear Politics' average of polls, Biden leads Bernie Sanders, his next nearest rival for the Democratic Party nomination, by a wide margin – 32 per cent versus 15 per cent. And a recent Fox News poll had Biden beating Trump handily, by 10 percentage points.
Of course, polls do not tell the whole story in politics, and the 2020 US presidential election is a long way off. But there are some solid reasons why Biden leads the large pack of 23 Democrats (I think it's 23 – it's hard to keep count), and why his candidacy looks promising against Trump. For a start, there is his name recognition, which is related to his 44 years in American politics. Biden benefits, in particular, from his years working with Barack Obama, for whom he served as vice-president – Obama remains very popular among Democrats.
But Biden's lead is too large to be explained by his experience alone. That same Fox News poll also found that three quarters of likely Democratic voters want a candidate 'who will provide steady, reliable leadership', and only about a quarter supported 'a bold new agenda'. Biden, as the only prominent Democratic candidate with a moderate reputation, appears to be in tune with his party's voters. In contrast, while rivals like Sanders and Elizabeth Warren offer trillion-dollar programmes like Medicare for All, free college and the Green New Deal, and have become the darlings of activists and commentators, they are less popular among the Democratic electorate.
Most Democrats are focused on a simple objective – returning politics to pre-Trump sanity. Three quarters, according to Fox News, want to 'unite Americans', not fight a war with right-wing extremism. They do have policy disagreements with Trump, and they do worry about his impact on democracy. But, above all, they seem simply exhausted by the way Trump has disrupted normal political life, from his boorishness and poor character to his non-stop Twitter wars. Against Trump, Biden is the Make America Normal Again candidate.
Most of all, Democrats want to win, and Biden's strongest card is that they perceive him to be the candidate who has the best chance of defeating Trump. Biden's middle-of-the-road positioning is appealing to Democrats who want to unite the party, and win back Democrats who switched to Trump in 2016. Personality-wise, they like that Biden shares some similarities with Trump – for an establishment politician, he appears to speak his mind, to the point of not being afraid of making frequent gaffes, and then laughing them off. To some, Biden's 'Uncle Joe' persona is not only endearing — it also means he has the best chance of going toe-to-toe with the crude, low-road Trump.
And yet, for all of Biden's early-lead advantages among Democrats and his possible strengths versus Trump, his road to the Democratic nomination is far from guaranteed. His many rivals have their knives out for him, the progressive activists despise him, and the media are starting to turn from non-enthusiasm to active opposition (as evidenced by the digging up of his son Hunter's shady business dealings in Ukraine and China).
In a Democratic Party that is increasingly identitarian, Biden's profile is all wrong: he's male, white, old and his gender is anything but fluid. His 'handsy' ways with women are deemed creepy and disqualifying by #MeToo vigilantes. In progressive activist circles, offence archaeology is all the rage, and Biden has a long political record that is ripe to be exposed and denounced.
So far, Biden's response to his many critics has been inept and defensive. His preferred approach seems to be to apologise and flip-flop on his previous positions. Indeed, it seems like Biden has been on one long apology tour since the start of this year, even before he officially announced his candidacy in April.
In February, he felt obliged to apologise for saying US vice-president Mike Pence was a 'decent guy', after actress-turned-political candidate Cynthia Nixon called him out on Twitter. 'You're right Cynthia', he said. 'There's nothing decent about being anti-LGBTQ rights, and that includes the vice-president.'
Following attacks from some of his 2020 Democratic rivals, Biden apologised for chairing the 1991 judiciary committee hearings into Anita Hill's accusations against Supreme Court nominee Clarence Thomas. In April, he said he 'shared his regrets' with Hill in a private discussion. Biden also blamed a centuries-long 'white man's culture' for sexist treatment of Hill and other women.
Then, in April, Lucy Flores, a former candidate for office in Nevada, said that, before a campaign event in 2014, Biden put his hands on her shoulders from behind, smelled her hair and kissed her on the head. Of course, that wasn't really news – we have all seen photos of Biden doing something like that. But his rivals pounced on that, with Elizabeth Warren saying, 'I believe Lucy Flores'. Biden released a statement, saying he never, 'not once', believed he behaved inappropriately towards women. 'If it is suggested I did so, I will listen respectfully.'
And earlier this month, following criticisms from Democratic candidates and party members, Biden abandoned his support for the Hyde Amendment, the bipartisan legislation that bans federal funding for most abortions. This was a law he has supported for four decades, often citing it as proof of his 'middle of the road' policy on abortion.
Biden found himself under pressure again last week, after remarks made during a fundraiser. He talked about working as a young senator with James Eastland and Herman Talmadge, both segregationists from the South. 'We didn't agree much on anything', he said, before adding: 'At least there was some civility. We got things done.' He was trying to make the point that, if elected, he will be effective because he knows how to build consensus with people with whom he disagrees.
But he was naive in thinking this would go unnoticed by the race-obsessed Democrats, including his rivals. Cory Booker demanded that Biden apologise, while Kamala Harris said, '[Biden] doesn't understand the dark history of our country'. Warren scolded him, saying 'it's never OK to celebrate segregationists'. This time, however, Biden stood his ground. 'Apologise for what?', he said. 'There's not a racist bone in my body.' He was correct. He was not trying to defend segregation, he was simply defending civility and compromise. Members of the Congressional Black Caucus rose to Biden's defence, but some damage to his image has been done.
Biden may have refused to apologise for working with Eastland and Talmadge, but he has invited more attacks by responding defensively up to now. We can expect to hear his opponents use the race-identity card more in the future, in the hope of eroding his support among black Americans, which currently gives him a decisive advantage over his rivals for the Democratic nomination. He will no doubt be called upon to apologise for his opposition to forced school busing in the 1970s, and to say why he opposes reparations for slavery today.
Biden does himself no favours by apologising so much. Self-abasement is not a good look: it makes him appear weak and indecisive. When he recants his previous positions, he seems to validate those who say he is a man of the past. It is a no-win game for him. Everyday, the woke left is inventing a new party orthodoxy – whether it's on abolishing US Immigration and Customs Enforcement (ICE), or support for reparations, or pro-transgenderism – and inevitably Biden falls foul of it. By making concessions, he announces that others have the moral authority, and he's just catching up.
Biden should be more concerned about securing his own base of support, rather than kowtowing to the woke left. His greatest potential advantage is that his political views are aligned with the majority of his party, and he has a chance of winning back some Democrats who jumped ship and voted for Trump in 2016 (even though his working-man persona is not backed up by populist policies). But his defensiveness risks turning off his core supporters, who he needs to turn up to the Democratic primaries.
Most of all, if Biden starts to appear incapable of putting his Democratic opponents in their place, he will look like potential mincemeat in a future contest with Trump. And once Biden loses his 'most electable' aura, he will have lost his greatest asset with Democratic voters, who will take almost anyone who can beat Trump.
Sean Collins is a writer based in New York. Visit his blog, The American Situation.
Picture by: Getty Images.
To enquire about republishing spiked's content, a right to reply or to request a correction, please contact the managing editor, Viv Regan.