Rorymania: the latest establishment malady
The commentariat's love affair with this former colonial governor is deeply revealing.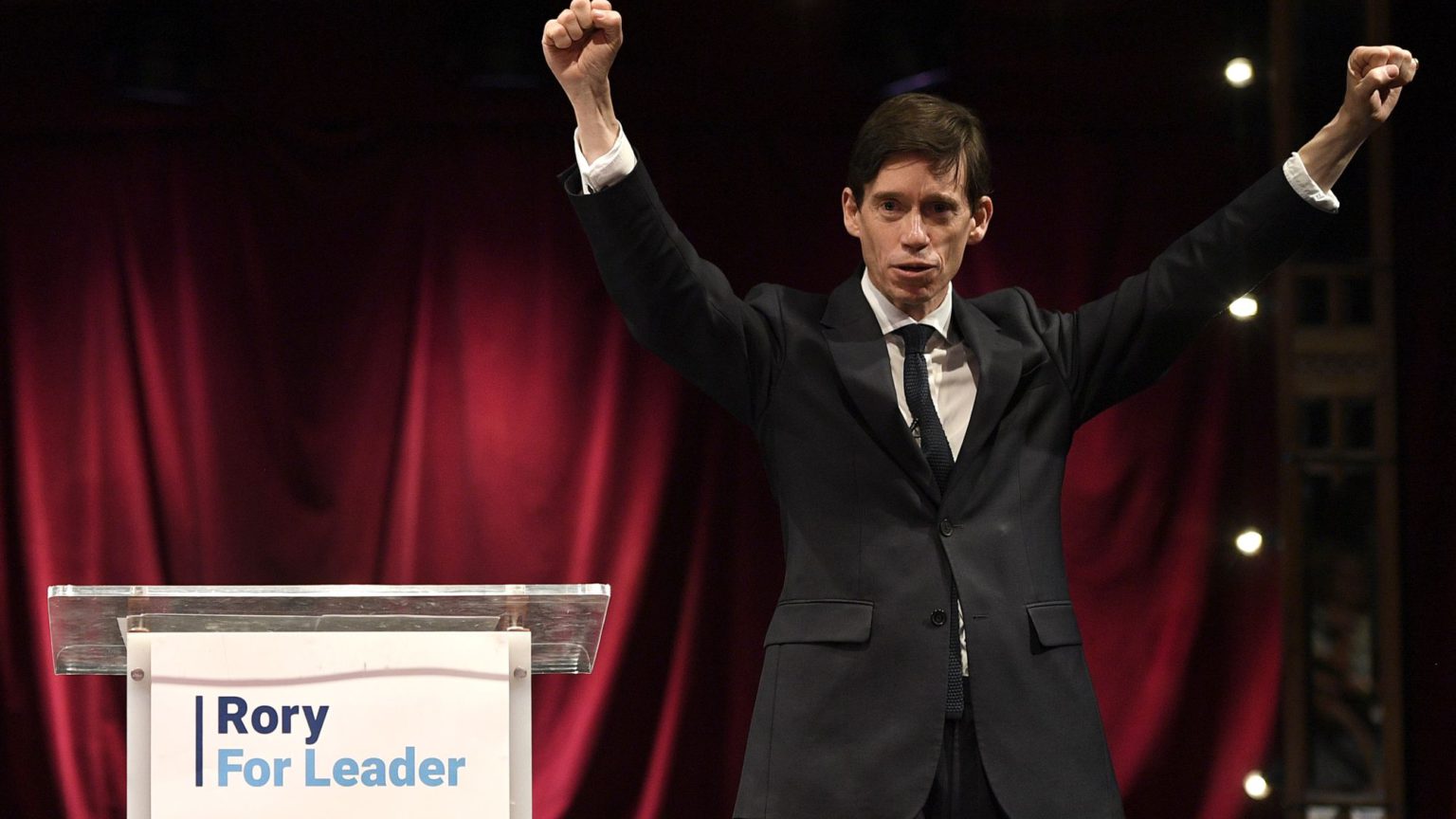 I regret to inform you that the commentariat is doing that thing again, that thing where it gets as giddy as a teeny-bopper about some shiny new 'moderate' and starts believing that the country has found its champion. I'm talking of course of Rorymania, the bizarre borderline creepy love affair commentators have developed with Rory Stewart, one of the more interesting no-hoper candidates in the Tory leadership election. It is touch and go as to whether he'll make it through the first round, which will be announced later today, but he seems to have fixed himself in the comment writers' hearts forever.
We've been here before. For all their supposed cold reason, evidence-based insights and political nous, commentators have suffered a number of bouts of groupthink-bred delusion in recent years. First there was Cleggmania. After one strong showing from Lib Dem leader Nick Clegg in a 2010 election leaders debate, writers insisted he had 'transformed the campaign'. But Cleggmania turned out to be a disorder mercifully confined to the denizens of SW1. (They may have joined a coalition with the Tories after the 2010 result, but the Lib Dems actually lost seats.) More recently, there was the Change UK debacle, which many are quietly trying to pretend didn't happen.
But the enthusiasm among the chattering classes for Stewart, MP for Penrith and the Border and international development secretary, proves they haven't learned their lesson. David Aaronovitch has even piped up again about a new centrist party, barely weeks after the last new centrist party collapsed. And while some are madly claiming Stewart is the leader the Tories need to win the next election – ignoring the fact that his Soft Brexit approach will go down like a cup of cold sick with Tory voters – others have clocked that he has no chance but just don't seem to care. They know it won't last long but they want to enjoy him and gush over him while he's here.
And gush they have. After Stewart's leadership launch this week, in a circus tent on the Southbank, ITV's Robert Peston declared that 'the Tories have found a proper star', even if they don't know it, adding that his 'coherent and lyrical speech' 'electrified the tent'. He's right to say the audience lapped it up, but the question is: why? Stewart is an engaging speaker, but largely because he is quite odd, given to quasi-spiritual flourishes that never quite make sense. His speech focused on the 'four energies' he wants to bring to No10 – the energies of 'prudence', 'shame', 'seriousness' and 'action'. One minute he was admonishing his rivals for promising outlandish tax cuts and indulging in the 'fairy story' of No Deal, the next he was rhapsodising about the 'love' and 'energy' of the British people. It was schoolmarmish Toryism with a New Age twist.
What Stewart believes in – beyond stopping No Deal and fiscal prudence – is not entirely clear, in terms of policy or principle. He chides both the empty suits with messages honed in 'think tanks' and the ideologues putting dogma before 'detail'. He spoke a lot in his launch speech about public services. (In a funny slip-up, he said he wanted to put the question 'Would you be proud to put your mother, or your brother, or your self, in this hospital, in this school, in this prison?' over every civil servants' desk.) But he's not set out how he would go about making prisons fit for our mothers. Even his position on Brexit – that a citizens jury should give recommendations to break the deadlock – came apart in his fingers the other week when Channel 4's Jon Snow asked what would happen if the jury suggested we either Remain or leave with No Deal, two positions Stewart has explicitly ruled out.
What he does represent to my mind is a kind of high managerialism (no pun intended), with a neocolonial flavour. Stewart is the son of a diplomat and colonial official, and an alumnus of Eton and Oxford. He famously worked as a governor of a region in Iraq after the 2003 invasion. In a 2010 New Yorker profile, he spoke of his then belief that 'if only I worked really hard, and spent a lot of time sitting with sheikhs, and got my politeness right, and understood the culture, and got out in my boat in the marshes, and used my personality, I could build a state'. There seems to be a whiff of that same mentality to his leadership campaign. His much-lauded walks through British towns and cities, rubbing shoulders with the locals for the delectation of social media, evinces less a democratic instinct than a sense of noblesse oblige.
Given his thoroughly upper-crust credentials, the enthusiasm for Stewart among the liberal-left is particularly revealing. It's almost as if there is some deep-seated desire among the intelligentsia to be ruled by aristocrats and the upper middle-classes. Amid the populist tumult, they hope this kindly colonial official will sort us all out. The kneejerk rejection of posh Etonian Tories has been suspended now that one of them has captured their hearts. He's the woke Jacob Rees-Mogg. And the Remoaner sleb set, from Gary Lineker to Eddie Marsan, continue to coo over him despite the fact that he is in favour of May's deal, which Remoaners tend to decry as a shameful capitulation to 'Brexshit', and he has ruled out their precious second referendum.
Rorymania seems yet more proof that these people care less about the EU than they do about restoring the supposed natural order of things, in which our well-bred betters rule over us, and we are eternally grateful.
Tom Slater is deputy editor at spiked. Follow him on Twitter: @Tom_Slater_
To enquire about republishing spiked's content, a right to reply or to request a correction, please contact the managing editor, Viv Regan.