No, Trump is not about to privatise the NHS
The latest scare story is just another means to bash Brexit.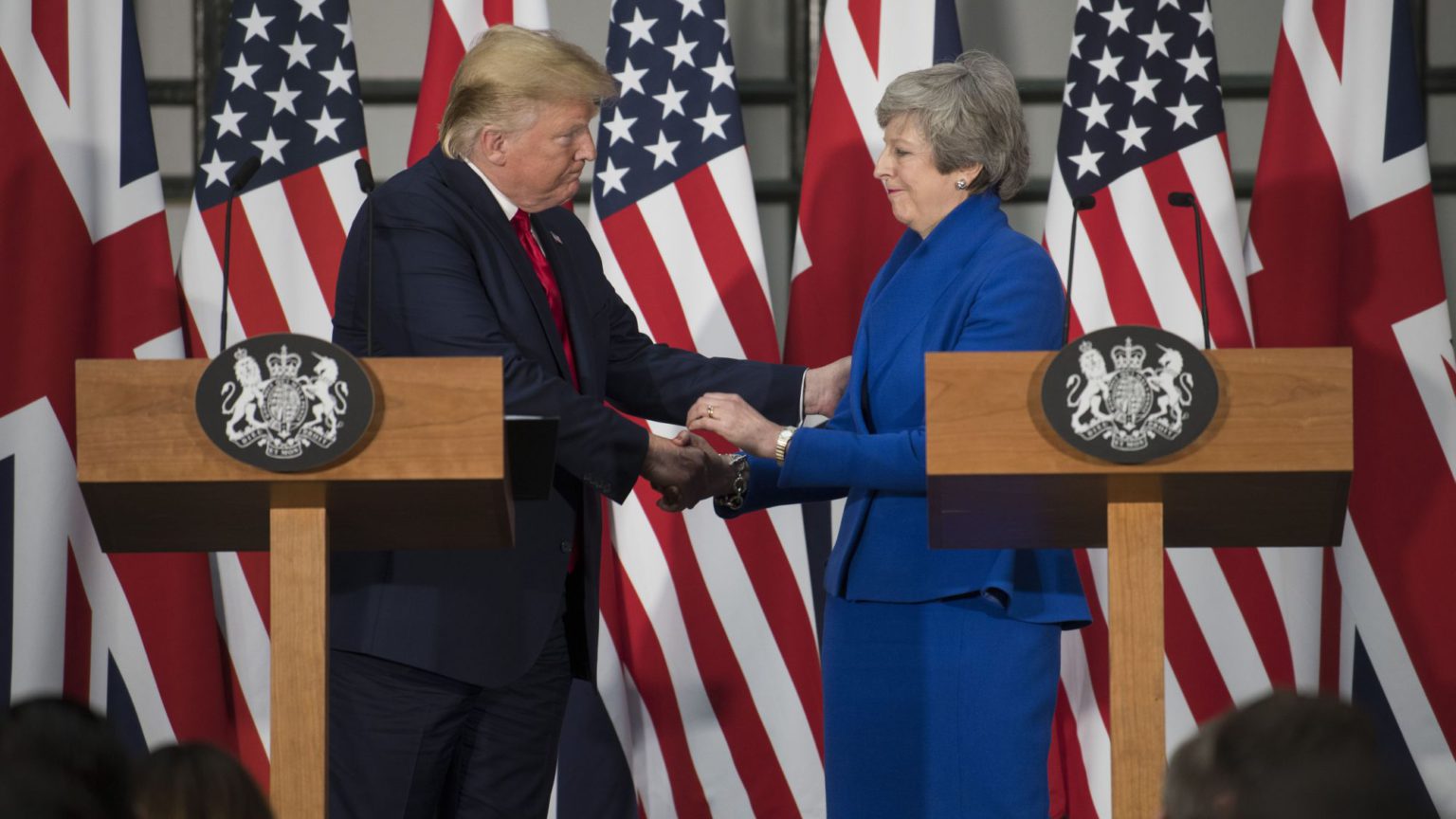 Donald Trump is in town and says he's ready to do a deal. And as you'd expect with anything to do with Trump, a chorus of shrill condemnation has followed.
In a few short years, the prospect of a post-Brexit free-trade deal with the US has gone from being desirable but impossible (think Obama placing Britain at the 'back of the queue') to morally unconscionable. With Brexit around the corner, Trump is apparently poised to flood our green and pleasant land with 'chlorinated chicken' and force a bargain-basement sale of our beloved National Health Service.
Woody Johnson, Trump's ambassador to the UK, when pressed on The Andrew Marr Show on Sunday, said that 'all things that are traded would be on the table' in any future trade deal, which he admitted could include healthcare. This has naturally been seized upon by Remainers as further irrefutable proof that the NHS would be carved up and sold stateside post-Brexit.
'It's obvious why Donald Trump wants a No Deal Brexit', warns Labour MP David Lammy: 'Our NHS is on the line.' Labour MEP Seb Dance claimed that 'the Trump administration wants the NHS privatised and broken up' and that 'outside the EU, we'll be helpless to resist'. Trump protesters gathered in Trafalgar Square yesterday and unfurled a 'hands off the NHS' banner in front of the Trump baby blimp. Celebrity doctor Rachel Clarke tweeted: 'I can't think of anything worse than our precious NHS in the clutches of American capital.'
In response to all the noise, Matt Hancock, health secretary and Tory leadership no-hoper, told The Donald to keep his small, wandering hands off the health service: 'My American friends, know this: The NHS is not for sale.' Rest assured, the health secretary is saying, the NHS will be largely free from the clutches of evil, rapacious American capitalists. What he fails to mention is that the NHS has been on offer to cuddly British and European capitalists for some time.
It should be news to nobody that private healthcare providers have been operating within the NHS for years, in a variety of sectors. Virgin Care, Care UK, the Practice and United Health provide NHS community-care services, GP practices and more. Mental-health services are often run by private firms, too, such as Partnerships in Care and the Priory Group. Even entire 'NHS' hospitals are run by private providers like Circle, General Healthcare and Spire. And that's just clinical services: procurement, IT, estates and payroll services are often outsourced to private firms.
Not only that, but private firms have made huge sums from the NHS for not providing healthcare. Remoaner billionaire Richard Branson's Virgin Care has been accused by anti-privatisation campaigners of 'dragging the NHS through the courts' to claim compensation for contracts the company was not awarded.
For a long time now, talk of a 'National' Health Service, as if it were a nationalised industry of yore like steel or coal – symbolising either the last bastion of British socialism or the last expression of communitarian solidarity in a cold, individualised society – has been nonsense. The biggest changes came with the Health and Social Care Act of 2012 under the Tory-Liberal coalition. But the groundwork for marketisation was laid under New Labour, who first opened up elective procedures to private providers.
Clearly, the momentum towards NHS privatisation comes from within, not without. In fact, the US negotiating objectives for the future UK-US trade deal, as set out in February 2019, make no explicit mention of either healthcare or the NHS.
Shanker Singham, who worked as a trade adviser to the US government for six years and was involved in US trade policy for 25 years, insists it is largely a myth that the US wants to mount a hostile takeover of our health service. Singham told spiked earlier this year that 'I have never once heard in any room, anywhere, that the US wants to do a deal with either the EU or the UK in order to force the privatisation of the NHS'. What the US wants, in his view, is more 'transparent rules on government procurement on drugs'. There is some debate as to whether this would bring the cost of drugs for the NHS down or force them up. But this has nothing to do with any US 'sell-off' of NHS assets, beyond what has already been scalped under successive British governments' own reforms.
Given that privatisation is already a reality for the NHS, is there any substantial reason why American firms should be expected to do a better or worse job? Are American capitalists inherently more greedy or corrupt than their British cousins?
Of course not. The real reason for the crocodile tears over the NHS is that the US-UK trade deal is yet another means to bash Brexit.
Fraser Myers is a staff writer at spiked and host of the spiked podcast. Follow him on Twitter: @FraserMyers.
Listen to the latest spiked podcast:
To enquire about republishing spiked's content, a right to reply or to request a correction, please contact the managing editor, Viv Regan.