Can the Brexit Party break into Westminster?
spiked takes the temperature ahead of the Peterborough by-election.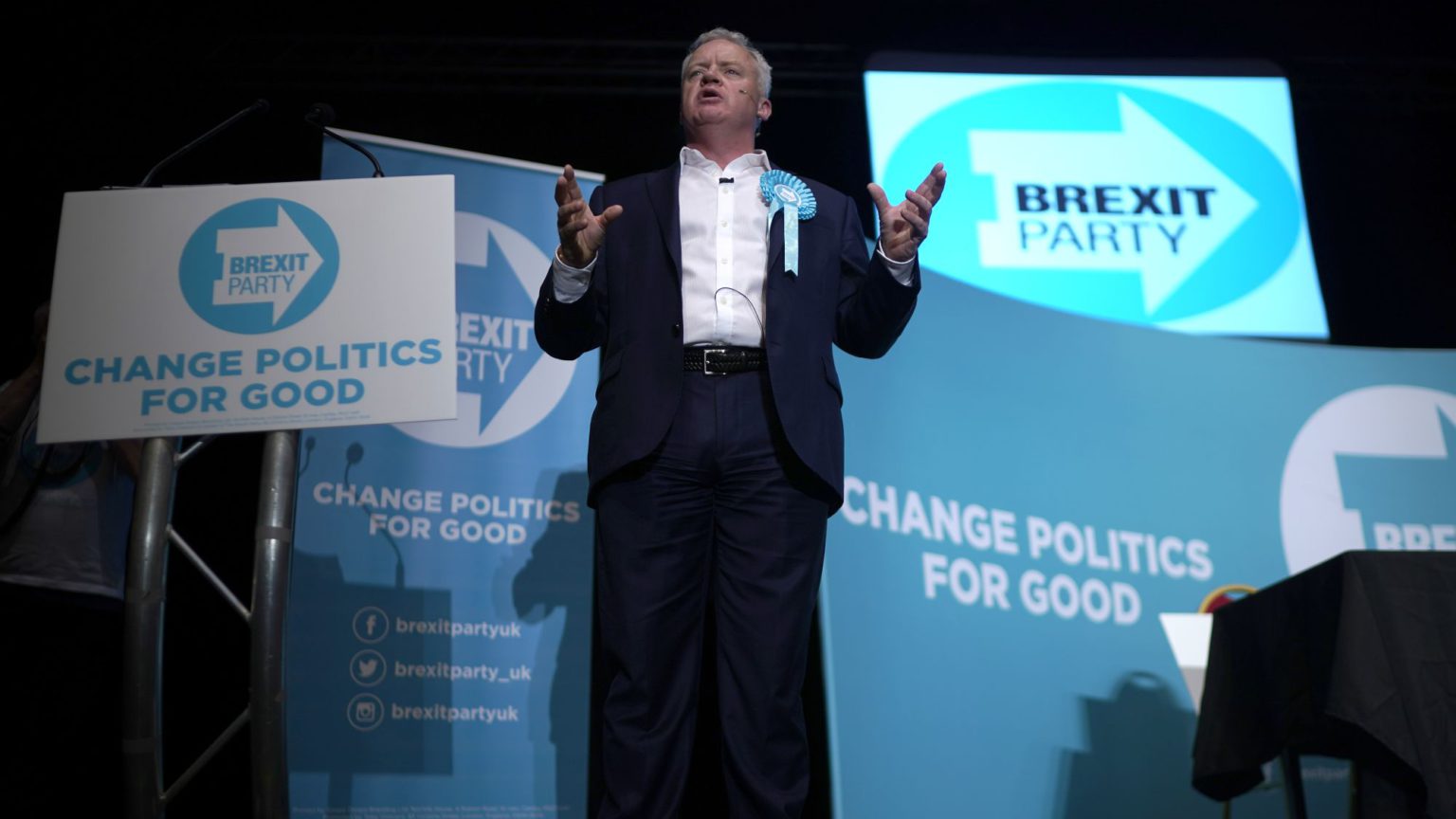 This Thursday, the eyes of the nation will be firmly on the Peterborough by-election. In the past week, the city has been treated to visits from former PM Gordon Brown and wannabe PMs Boris Johnson and Jeremy Corbyn.
Peterborough is about as marginal a seat as it gets. Labour's Fiona Onasanya took it from the Tories in the last General Election with a majority of just 607. The disgraced MP was jailed for perverting the course of justice when she lied about a speeding offence. She was expelled from the Labour Party but she refused to stand down as the constituency MP. After 19,000 constituents signed a recall petition, she was ousted from her seat, triggering this week's by-election.
This time around, the Labour-Tory duopoly faces a serious challenge. On Saturday, Nigel Farage was in town with his upstart Brexit Party. Following the party's decisive win in the European elections, it is hoping to make its first mark on Westminster in Thursday's by-election. Peterborough is heavily pro-Leave: 60.9 per cent voted for Brexit in the 2016 referendum and 38 per cent voted for the Brexit Party in the EU elections. Could Peterborough be where the Brexit Party breaks into Westminster?
Farage hosted two rallies that day, packing out the 1,000-seat Broadway Theatre in the morning and the afternoon. Some in the audience were local. Simon, from the outskirts of Peterborough, was a lifelong Tory voter, but thinks the Conservatives are now 'dead'. 'Trust is hard earned and easily lost', he told me. Others had come from all over the country. Adam, who had travelled from the north-west, had taken two weeks off work to campaign for the Brexit Party during the Euro elections. In fact, there were so many Brexit Party activists in town that they were in danger of leafleting each other. In contrast, on the same day, Corbyn held a rally full of out-of-town activists, which was sparsely attended, to put it generously.
For most of the locals I met, the political and media circus around the by-election hadn't exactly stirred them. Many were not sure who to vote for – or whether they would vote at all. Carl was typical in this regard. He voted for Brexit but is not planning to vote on Thursday. A Brexit Party activist made every attempt to persuade him, but her pleas fell on deaf ears. 'We'll all be dead by the time they actually let us leave', he said. Colin, a lifelong Labour voter, who didn't vote in the referendum, told me in no uncertain terms that he would not be voting for anyone. Nigel, his friend, said that politicians of all parties are 'useless' and that he is fed up with the past three years of indecision. He voted Remain in 2016, and is considering the Lib Dems on Thursday.
Brexit is clearly the dominant theme of the by-election. Nevertheless, the Labour Party's strategy was to avoid Brexit entirely. An elderly Labour activist handed me a leaflet, which focused largely on bin collection. I asked him what the party's policy was on Brexit and he started sidling away from me. 'I think it's to Leave', he said, under his breath, his back now fully turned.
At the Brexit Party rally, alongside Farage, we were introduced to the local candidate Mike Greene. Greene is an entrepreneur and local champion, we heard. He was pitched as a generous donor to charity and an effective fundraiser. He even appeared in Channel 4's Secret Millionaire in 2011. For Greene, Brexit would provide the foundations for a new politics. But those hoping for radical change might have been disappointed. Greene didn't have a manifesto, because 'manifestos mean lies'. But he did have five non-Brexit pledges – a manifesto, in other words – for the local area. This involved making education 'relevant' and building homes on brownfield land – all of which is in line with current establishment thinking. Perhaps the Brexit Party is playing it safe for its first Westminster test.
There were some encouraging signs amid the apathy. The Brexit Party, only seven weeks old, has assembled an impressive array of committed activists. There was a very genuine and sincere hope that something new could come out of the party.
Some locals were greatly enthused by all this, too. I met a group of young men in their twenties – mostly Leave voters but some former Remainers – who are all voting for the Brexit Party on Thursday. Dane, who works in ingredients development, said politics is no longer about 'left and right'. The 'only divide' worth thinking about is 'Leave and Remain', he said. His friend Stephen, an electrical engineer, said that 'everyone our age who voted Leave will support the Brexit Party'. He and his friends were 'fed up with the identity politics' of the established parties and couldn't stand to see 'the way the Tory party has failed us' over Brexit. 'The Brexit Party are the first people we can actually vote for.'
Whatever happens in Thursday's by-election, for the Brexit Party truly to break through to Westminster, on a nationwide scale, it will have to break through the apathy and despondency that has started to set in after three years of Brexit betrayal. To do so, it will have to make good on its promise of a genuinely new politics.
Fraser Myers is a staff writer at spiked and host of the spiked podcast. Follow him on Twitter: @FraserMyers.
To enquire about republishing spiked's content, a right to reply or to request a correction, please contact the managing editor, Viv Regan.