Trump's dangerous Iran obsession
America's withdrawal from the nuclear deal will stoke tension in the Middle East.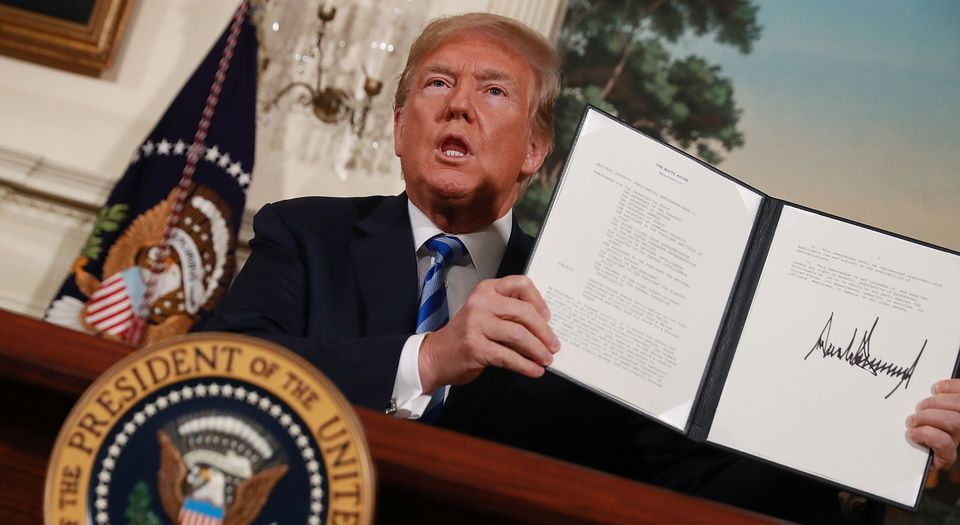 When Trump finally announced that the US is to withdraw from the Iran nuclear deal and reimpose the 'most severe' sanctions possible, it was hardly a surprise. His speech was even chock full of the same stock phrases he and his team have been using to describe Iran over the past year, from it being a 'murderous regime' to 'the leading state sponsor of terrorism worldwide'. It is also 'caus[ing] havoc throughout the Middle East and beyond', Trump added, seemingly oblivious to the post-Cold War US-led interventions in Iraq and now Syria. But sober assessment or reflection was never the point here. Rather, Trump's speech was an exercise in nightmarish projection, complete with a nuclear coda. And it revealed what Iran is to the current US administration: the threat, the evil, the demiurge of terror. It is to Trump et al what Saddam Hussein's Iraq was to Blair and Bush all those years ago.
Trump and pals even have that same myopic determination. Because that is what they are: determined to confront Iran, and to affirm their sense of American mission. This has been clear right from the start of Trump's presidency, and even before. Prior to the US, UK, Russia, France, China and Germany putting pen to paper on the nuclear deal in 2015, Trump was busy attacking it. 'Laughable', 'the worst', 'a very bad deal', were just some of the insights offered by the then reality-TV star about the Joint Comprehensive Plan of Action (which waived longstanding economic sanctions against Iran, in return for it agreeing to suspend its nuclear programme until 2025).
And since he became president, his tune has not changed. Last summer, he was spitting feathers about Iran's compliance with the terms of the accord, urging intelligence analysts to find evidence somehow and somewhere of Iran builiding nukes on the sly. It was all to no avail, as even secretary of defence Jim Mattis, who has himself advocated military strikes on Iran in the past, insisted that Iran really was not violating the terms of the deal, a claim backed up by the International Atomic Energy Agency and the United Nations atomic agency.
But Trump is nothing if not brain-crushingly stubborn, especially when his opponents are right. So, surmising that if you can't change minds, change the people, he replaced Rex Tillerson, as secretary of state, with Mike Pompeo, a man who believes that Iran is 'the greatest sponsor of terrorism in the world'; and appointed, as national security adviser, John Bolton, a longstanding hater of Iran who, just weeks before his new job, had written an op-ed saying withdrawing from the Iran deal 'should be the highest priority' for the Trump administration. And, in the absence of evidence of Iranian violations of the nuclear deal, Israeli prime minister Benjamin Netanyahu, who has long desired US-backed military action against Iran, kindly provided his own evidence of Iran's perfidy, which Trump cited in his nuclear-deal withdrawal speech
But Team Trump's obsession with the Iran nuclear deal is not really about the Iran nuclear deal. It is not even really about Iran's putative nuclear programme. Rather, it is about America's role in the chaos in the Middle East; it is about sections of the US political establishment's decades-long animosity towards Iran (an illiberal, anti-Western theocracy that, lest one forget, the US and the UK did much to pave the way for when they organised a coup against Iran's democratically elected prime minister Mohammad Mosaddegh in 1953, paving the way for the Iranian Revolution two decades later); and it is about demonstrating America's moral mission, an ambition that has seduced Western leaders far less vain than Trump.
Trump's supporters will still claim it is about the technicalities of the deal. They say that the deal only suspended Iran's nuclear programme for a period of seven more years; that it has allowed Iran to benefit economically from the relaxation of sanctions; and that it only focuses on nuclear armament, rather than Iran's military capability as a whole. It is a bad deal, 'the worst', they say. But when you think about what they are suggesting – that Iran should terminate its nuclear programme (civilian or otherwise); that Iran should not benefit economically from relaxed trading relations (what on Earth is it meant to do?); and that Iran must be militarily eviscerated – then it is clear that the problem is not the nature of the deal, but Iran itself. Trump and Co don't want to do a deal with the Iranian regime; they want to change it. First time in tragedy…
This is not to suggest the Iranian state is a passive victim in all this. It has taken full advantage of the post-2003 unravelling of the Middle East to consolidate its power outside its borders, first in Iraq, where the Revolutionary Guards and assorted Shia militias filled in the vacuum where the Iraqi state used to be, and later in Syria, where the state had also disintegrated, although not to the same extent as Iraq's had. Iran has not actually sent in thousands of Revolutionary Guards. Rather, it does what its rivals do, indeed what the US has done from the Mujahideen-cum-Taliban to the other Islamist rebels in Syria: that is, it has cultivated and backed proxy militias, much as it did most famously with Hezbollah in Lebanon. As the New York Times noted of Iran's role in Syria: 'Estimates of the number of Iranian military personnel in Syria today range from the high hundreds to the low thousands. While some directly participate in combat, most are trainers, commanders or experts who advise the Syrian military and oversee militias. It is these militias, which could have as many as 20,000 fighters, that give Iran its true muscle.'
Yet as active as Iran has been in the region, it has been merely responding to, not driving, the collapse of the Iraqi and Syrian states. It didn't prompt the disastrous interventions of the US and its allies since 2003; it took advantage of them. It did not invade Syria; it was dragged in.
Yes, Iran now has military positions from Aleppo in the north-west, down the western side of Syria towards Jordan and, of course, Israel. This is why we have seen an escalation of military engagement between Israel and its Iranian counterparts over the past few years, with Iranian military sites bombed and drones shot down; and in return, the shooting down of an Israeli F-16, and continued drone incursions into Israeli territory. And, yes, the Israeli state is perhaps understandably perturbed by what it perceives as an anti-Israel alliance marshalling forces nearby.
But under Trump, the US, rather than seeking to mollify Netanyahu, has instead encouraged him and has also solicited the support of Israel, alongside Saudi Arabia, in its growing conflict with Iran. This seems to be Team Trump's approach to the Middle East as a whole: to stoke tensions, emboldening America's allies, and antagonising its enemies. And in doing so, it is turning every local struggle in the Middle East into a regional and increasingly an international conflict. It is working with its allies against Iran and its allies, including Russia, pitching them into increasingly militarised conflict with one another. Which is why Trump and his court have been cosying up to that bastion of democracy and tolerance, the Kingdom of Saudi Arabia, backing the Sauds in the destruction of Yemen (a military operation which again is about combating perceived Iranian influence on the Houthi rebels), and encouraging them, alongside the UAE, and potentially Egypt, to introduce an 'Arab' proxy force in Syria to fight… Iran.
The problem with America's continued approach to the Middle East, writ large in the abandonment of the Iran nuclear deal, is that not only does it inflame existing antagonisms, dragging in an ever more toxic mix of international actors into conflict; it also does nothing for the people who actually live in Damascus, or Aleppo, or indeed, Tehran. This, in a sense, is what is most dispiritingly farcical about the current ratcheting up of anti-Iran pressure – it will only embolden and strengthen the Islamic Republic's powerholders, giving them the opportunity to blame Iran's economic and social problems, which are a source of significant discontent in Iran, on the US and the West. And what is even more depressingly ironic, given Trump's sententious appeal this week to the 'Iranian people', is that it will be precisely the Iranian people, just as it was ordinary Iraqis in the 1990s, who will be hurt most by US-imposed sanctions.
Before his election, Trump promised a different kind of presidency, one in which the US would not embark on interminable military escapades overseas. Yet it seems that for all his bluster and bombast, Trump is indulging in the same interventionist folly in the same arena as his predecessors.
Tim Black is editor of the spiked review.
To enquire about republishing spiked's content, a right to reply or to request a correction, please contact the managing editor, Viv Regan.