Labour leaders: 'We're all Remainers now'
Forget Corbyn's equivocating – take his top MPs at their word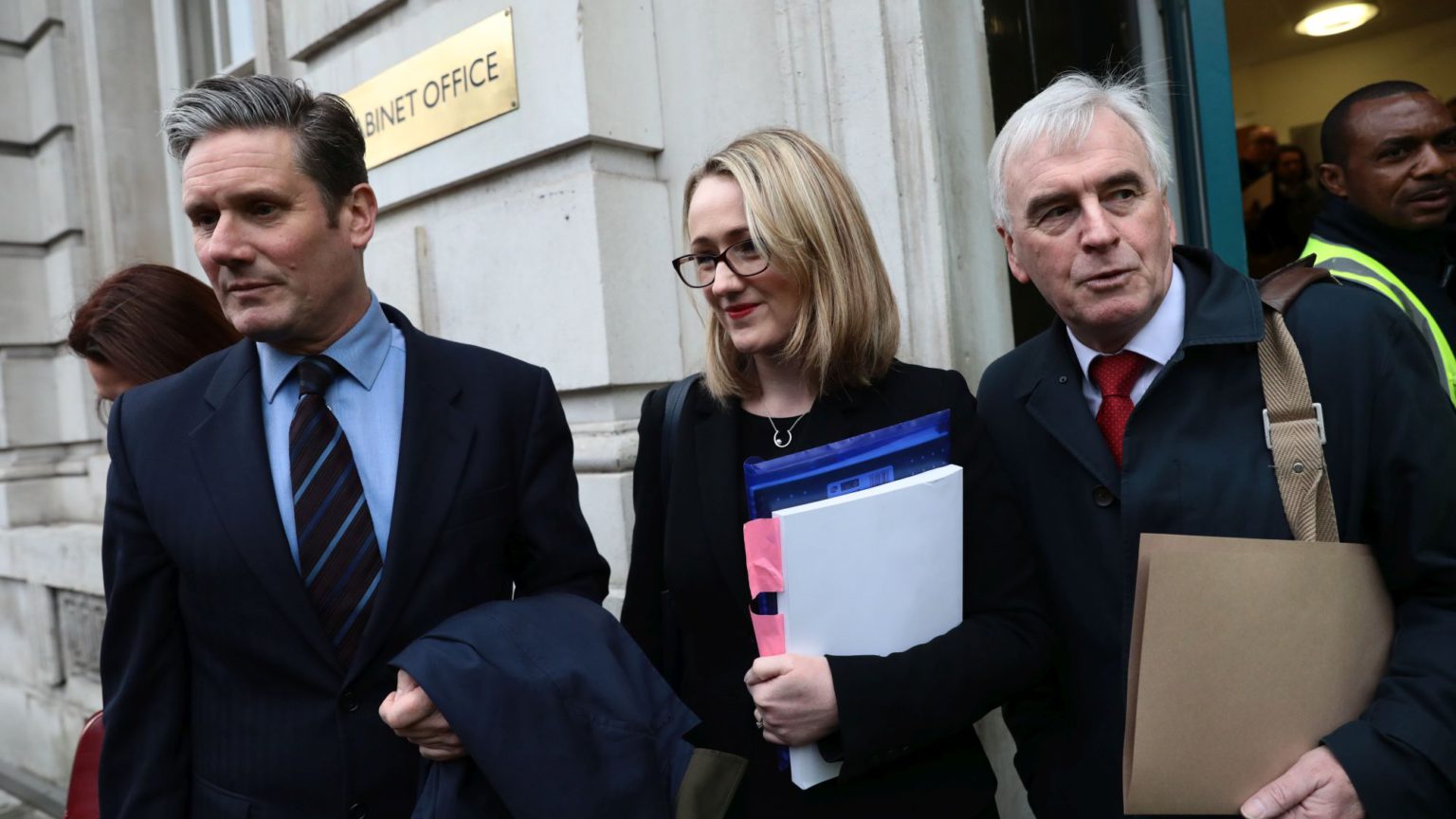 The idiom 'trying to be all things to all people' is generally used as a term of political abuse. Labour Party leader Jeremy Corbyn, however, appears to want to wear it as a badge of pride. Accused of attempting to sit on the fence between Leave and Remain this week, Corbyn retorted that he is indeed 'trying to offer something to everyone over Brexit'.
Translation: the Labour leader is desperate to satisfy his Remainer-dominated MPs, party members and metro middle-class voters, yet still dreams of hanging on to Leave-voting traditional Labour supporters in the Midlands and the North. The fact that this is about as meaningful as supporting both sides in a battle or a cup final seems beyond Jeremy's fantasy-fuelled imagination.
The Labour leader's generals, however, now appear rather less reticent about declaring which side they are on. They want it to be known that Labour is a Remainer Party, and happy to be the party of a second referendum in order to further that aim. We should take them at their word.
Take Keir Starmer, the former director of public prosecutions-turned-Labour Remainer-in-Chief. Starmer is the 'shadow Brexit secretary' – the sort of through-the-looking-glass job description Orwell might have invented, like calling a government's fake-news department the Ministry of Truth.
This week anti-Brexit secretary Starmer warned Corbyn that no Brexit deal he might cook up with Theresa May would pass through parliament, unless it promised a 'confirmatory referendum'. He also sought to reassure Remainer Labour voters tempted to switch their support to the Liberal Democrats or Chuka Umunna's Change UK that, in the supportive words of the Guardian, 'only Jeremy Corbyn's party could deliver a fresh referendum'.
Or listen to Tom Watson, Labour's deputy leader, speaking on BBC Radio 4's Today programme. Asked directly if Labour was now a Leave or Remain party on the EU, Watson gave a surprisingly direct answer. 'We are a Remain and reform party.' Which is a longhand way of saying 'Remain'.
Then there was Emily Thornberry, Labour's shadow foreign secretary, discussing what should be on the ballot paper for a second referendum on LBC radio on Wednesday. When Thornberry began to talk about asking the public to vote on Mrs May's (non-)withdrawal deal, presenter Iain Dale interjected to ask, 'If you have Remain versus the deal we all know that that would be a rigged referendum, wouldn't it? You've got to have No Deal on the ballot, surely?'
Labour's Thornberry was having none of that. 'I couldn't agree to No Deal – I don't think it should be on the ballot paper, that's my view.' In other words, the public should be offered a choice between outright Remain, and Mrs May's plan for Remain-by-another-name. The clean-break Brexit that 17.4million actually voted for in the real people's vote would be erased from the ballot paper, and from history. But what does it matter what millions want, if Emily 'couldn't agree' to giving them that choice?
And what of John McDonnell, Labour's shadow chancellor and the power behind Corbyn's bicycle-saddled throne? Surely this veteran left-wing Eurosceptic still shares his leader's alleged inner attachment to Brexit? Not according to McDonnell's own words at a Wall Street Journal event, reported in the UK press on Wednesday. Questioned about his feelings on Leave versus Remain, the alleged Marxist McDonnell confessed to his business audience that 'Deep in my heart, I'm still a Remainer'.
The shadow chancellor added that, during talks with the Tory government over a possible deal, 'we have been saying to our Conservative colleagues that to get something through parliament, you may well have to concede that there is a public vote of some sort'. So, McDonnell came out as a Remainer who supports a second referendum and calls Tories 'colleagues'. Surely that must reflect a split with Corbyn the supposedly lifelong Eurosceptic? Apparently not. Asked if Mr Corbyn was 'also a Remainer at heart', the Labour leader's key ally replied simply: 'Yes.'
There we have it. A cross-section of Labour's front bench, from 'Blairites' to Corbynistas, all declaring that they back Remain and support a second referendum designed to overturn the democratic mandate of the first one. The final giveaway was that most of these shadow ministers ended their interventions by denouncing Nigel Farage and the Brexit Party as the real enemy in next week's European elections.
To enquire about republishing spiked's content, a right to reply or to request a correction, please contact the managing editor, Viv Regan.