Why I'm standing for the Brexit Party
The establishment parties have abandoned democratic politics.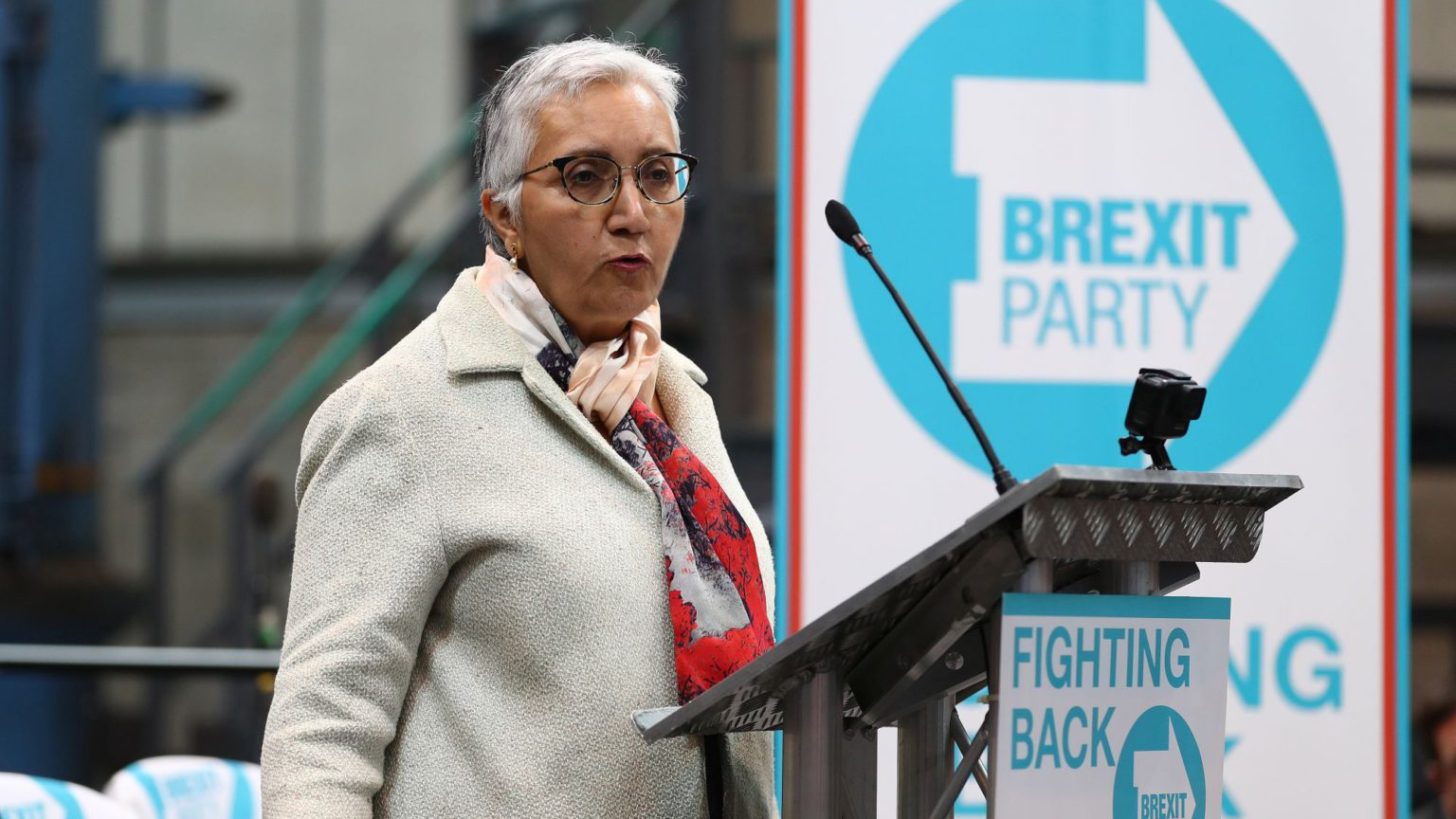 I am standing as a candidate for the Brexit Party in the upcoming European elections. I can see how it might be a bit of a surprise to my friends and family. I'm Indian, I have a doctorate from Cambridge, I've lived in Barcelona, and I like to travel. Surely I'd be more at home in the supposedly progressive EU?
But the EU is not the institution some make it out to be. While I love European culture, I do not feel at home as a member of the EU.
The EU is not a haven of social justice – it is a thoroughly racist institution. In order to maintain EU free movement, it has to ensure its borders are kept tightly sealed against non-EU people – as Belgian MEP Guy Verhofstadt gleefully tweeted recently. Furthermore, the EU has seen fit to send large amounts of money to governments in Libya and elsewhere to keep people away from Europe by any brutal means necessary.
That poster, or anything else Brexit Party leader Nigel Farage may have said, pales into insignificance compared with the egregious racism of the EU. (And that is not even counting the deleterious effects of the Common Agricultural Policy on agricultural development in Africa.)
Another reason I'm standing as a candidate for the Brexit Party is that, unlike the other mainstream parties, it openly affirms the importance of democracy – the most important aspect of which is the majority vote. Without this, anyone without access to the levers of political or cultural power remains more vulnerable to the whims of the ruling political class.
In the past, the Labour Party, and the political left in general, aspired to represent the interests, beliefs and ideas of the majority of citizens: the working class. This representative function was an important part of social-democratic governance in Britain in the postwar era. It helped form the basis for a social contract between competing interests in society.
Political representation via parties was the means by which the political ruling class could win the consent of a majority of its citizens for its policy decisions, and the citizens could hold their leaders accountable. This political order was expressed through public institutions that afforded varying levels of professional trust, autonomy and human judgement. These ethical values inflected the norms of everyday social life.
This is what has been undermined by our membership of the European Union. Everyday life in the social-democratic era may not have been great for everyone all the time, but nor was it a sea of racism just waiting for ethical purification via the EU, as some Remainers would have us believe.
When my parents were looking for their first house in a London suburb in the early 1960s, the owners were told by the neighbours not to 'sell the house to the Pakis'. Being Welsh, with their own anti-English predilection, the owners did exactly that (except that my parents are Indian, not Pakistani). A year later, the same neighbours were telling my mother to hand over her dirty washing so they could wash it in their washing machine for her.
My mother had just had my younger brother, and we couldn't afford a washing machine. A neighbour had spotted my mother hanging out nappies shortly after giving birth, and asked her why she wasn't resting. They offered to wash the dirty nappies. They never became best friends, but they didn't need to. They tolerated each other as fellow humans and lived peaceably for decades after.
People like those neighbours, as well as industrial workers in other parts of the UK, are the people who the Labour Party and the left have abandoned. After it lost their support during the 1980s, when the Thatcher government effectively tore up the established social contract, Labour and the left decided the working class was a lost cause. They became increasingly focused on the middle class and began to see ordinary people as a cultural and political problem in need of increasing regulation by enlightened leaders, either in Westminster or Brussels.
The delegitimisation of the working class led to the delegitimisation of democracy. Politicians began to draw their authority not from citizens, but from their European peers. And as nation states have turned themselves into member states, supra-national legislative systems and policies have bypassed established national democratic processes.
While governance definitely needs expertise and specialised knowledge, politics per se doesn't. What it needs is an ethical idealism to underpin political realism. Our established political parties are bereft of both, and stand painfully exposed. That is why I am standing as a candidate for the Brexit Party – a party which has the unique aim of making itself redundant. It has a certain dialectical as well as democratic appeal.
Dr Alka Sehgal Cuthbert is a candidate for the Brexit Party in the European Parliament elections. She is an educator, researcher and writer. She is also co-editor of What Should Schools Teach? Disciplines, Subjects and the Pursuit of Truth.
To enquire about republishing spiked's content, a right to reply or to request a correction, please contact the managing editor, Viv Regan.