Why Tommy Robinson should not be banned
Facebook and Instagram's ban confirms that corporate censorship is out of control.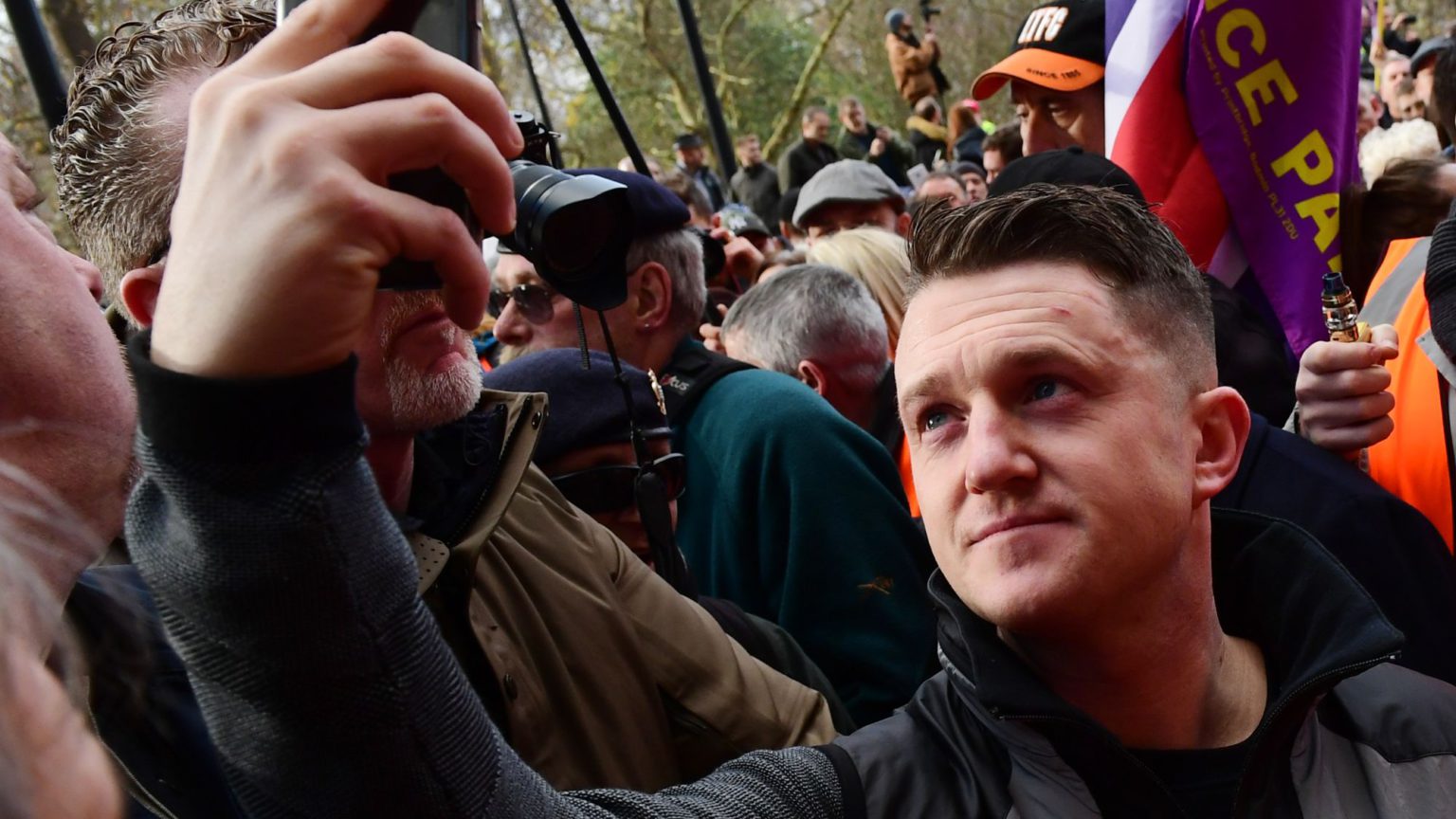 Only a fool would cheer the banning of Tommy Robinson by Facebook and Instagram. It doesn't matter if you like or loathe him. It doesn't matter if you think he's a searing critic of the divisive logic in the politics of diversity or Luton's very own Oswald Mosley in Jack Wills clobber. The point is that his expulsion from social media confirms that corporate censorship is out of control. It speaks to a new kind of tyranny: the tyranny of unaccountable capitalist oligarchs in Silicon Valley getting to decide who is allowed to speak in the new public square that is the internet.
Robinson, having already been thrown off Twitter and Patreon, was unceremoniously cast out from Facebook and Instagram yesterday. He had one million followers. So we are not talking about some bedroom-bound imbecile who says mad things to 27 fellow losers on Twitter, but about a public figure, someone who commands an audience and enjoys political influence. His crime, in the eyes of Facebook's and Instagram's community-standards cops, was to nurture 'organised hate' towards Muslims. He used 'dehumanising language' and made 'calls for violence', the social-media giants decreed. And therefore he had to go.
There are many disturbing things about this latest act of Silicon Valley silencing of an awkward public voice. The first is the apparent involvement of Mohammed Shafiq, CEO of the Ramadhan Foundation. Yesterday Shafiq boasted about having met with Facebook representatives to encourage them to ban Robinson over his 'brainwashing' of his followers into feeling 'racism' towards Muslims. This is the same Mohammed Shafiq who once attended an event with Hassan Haseeb ur Rehman, a Pakistani cleric who praised the murder in 2011 of the governor of Punjab, Salman Taseer, by a radical Islamist who despised Taseer for his opposition to Pakistan's blasphemy laws and his calls for the Christian 'blasphemer', Asia Bibi, to be released from jail. Shafiq also called for the anti-extremist campaigner Maajid Nawaz to be dumped as a parliamentary candidate for the Liberal Democrats after Nawaz committed the speechcrime of tweeting a cartoon of Jesus & Mo. All of which raises a question: why is Facebook reportedly taking advice from someone like that? Does it also meet with campaigning Christians and jot down which critics of Christ they would like to see removed from its website?
The other disturbing thing is the growing power of internet corporations to police public speech. Not content with banning the likes of Alex Jones and Milo Yiannopoulos, and feminists like Meghan Murphy who criticise the politics of transgenderism, and various white nationalists, now the social-media giants are going after right-wing political activists whose views they don't like. Alongside Robinson it has been reported that some leading UKIP activists have had their Facebook accounts suspended. This has a very strong whiff of political censorship.
It is perverse and dispiriting to see ostensible leftists and progressives whoop with delight as corporate tech giants suspend or censor political undesirables. First because since when was the left in favour of the exercise of property rights against people's rights? In their applauding of Silicon Valley's censorious rampage these left-wing anti-fascists sound an awful lot like right-wing libertarians. They are effectively saying, 'Hey, these are private companies, so they can ban whoever they want to'. Suddenly their traditional concern with reining in the unaccountable power of big business goes out the window and they find themselves standing with the bosses against the individual.
And the second reason it is crazy to take delight in Robinson's ban is because once you green-light corporate censorship there is no telling where it will end. Indeed, antifa groups have also recently been banned by the internet's new guardians of morality. Last year left-wing campaigners said it was 'unfair' for PayPal to close the accounts of antifa groups as well as far-right groups like the Proud Boys. Many of these left-wing campaigners actively called for the closing of the Proud Boys account and were then shocked to see the same tactics turned against them. The moral illiteracy is staggering. They failed to learn the first lesson of freedom of speech: to enjoy it for yourself, you must defend it for all others. When you approve the censorship of your enemies, you unwittingly okay the censorship of your friends, and even yourself.
The internet is a revolutionary invention. It allows the free exchange of ideas on a scale that no generation before ours could have dreamt of. To sully that dream of freedom just to get one over on a right-wing bloke you don't like very much is an act of colossal and dangerous idiocy. We should be heaping pressure on the tech giants to allow freedom of expression for all ideas and opinions, not pleading with them to cast out those we disagree with.
To enquire about republishing spiked's content, a right to reply or to request a correction, please contact the managing editor, Viv Regan.