Seven Labour MPs quit! Who gives a sh*t?
Both Corbynites and their critics have split from voters over Brexit.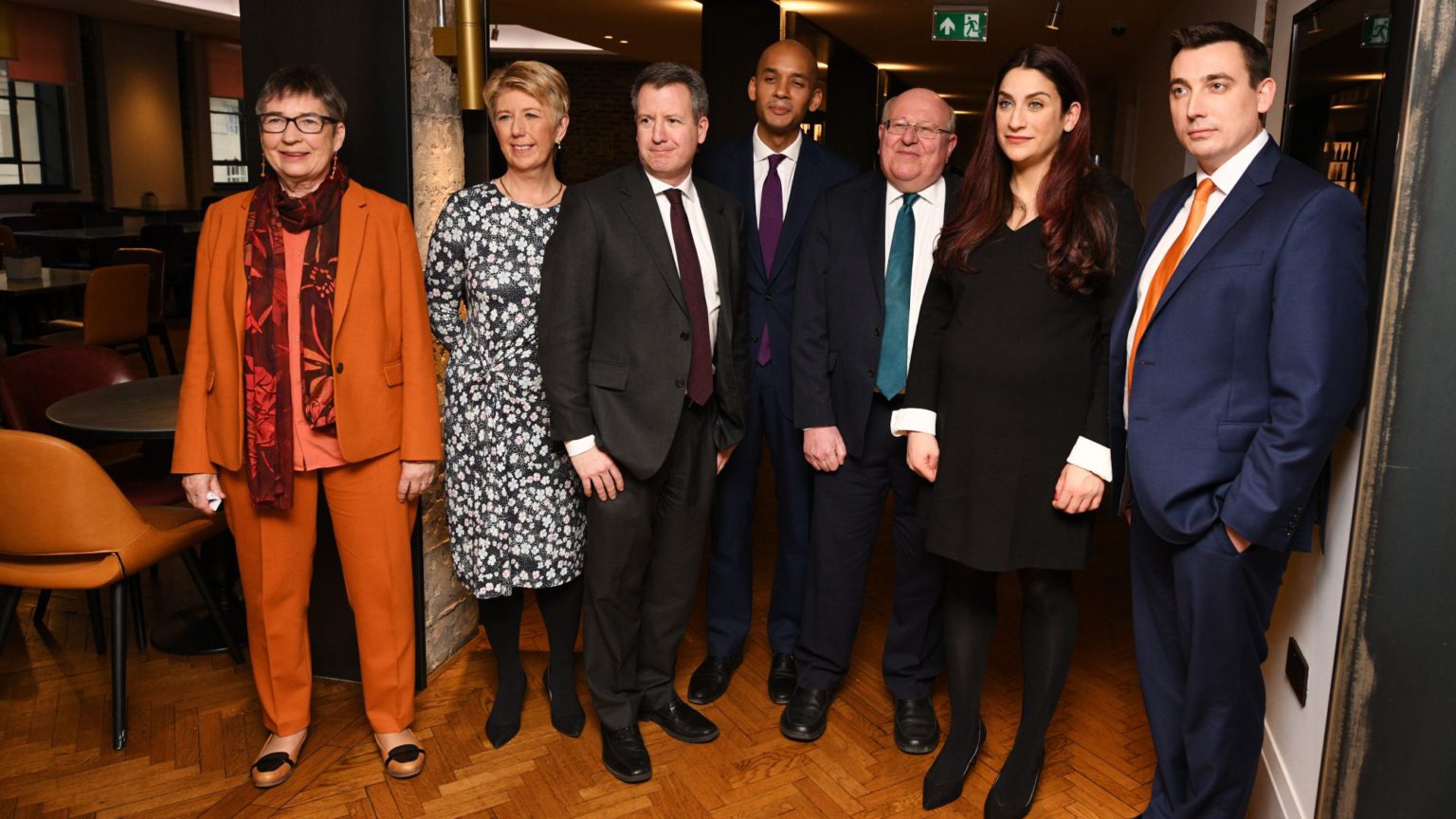 Despite reports of an 'historic' split, there is no fundamental divide over Brexit in the Labour Party. Jeremy Corbyn's leadership, his left-wing supporters and the MPs who have defected from Labour are all committed to scuppering the democratic vote to leave the EU in one way or another. The divide that matters in this is the one between all wings of Labour and the millions of working-class Leave voters betrayed by what is now a Remainer party of the metro middle classes. We would be better off if they would all bugger off.
The resignation of seven Labour Party members of parliament, we are told, marks an 'historic schism' and 'the biggest split in British politics in 40 years'. The Labour MPs who quit Jeremy Corbyn's party have been labelled 'the Gang of Seven', drawing parallels with the famous Gang of Four who quit Labour to form the Social Democratic Party (SDP) back in 1981. That split helped to consign the party to almost 20 years in the political wilderness.
It all sounds dramatic and important. But behind the cacophony across the media and social media, what has happened and what might it mean? So far, not much.
Seven MPs entirely unknown to most outside the Westminster bubble – Luciana Berger, Chuka Umunna, Chris Leslie, Angela Smith, Mike Gapes, Ann Coffey and Gavin Shuker – held a press conference on Monday morning to announce that they had quit Labour to form the Independent Group in parliament.
The Gang of Four they ain't. Those Labour heavyweights were all former senior cabinet ministers and national figures. Roy Jenkins had been Labour's most successful home secretary, who played a key role in getting the liberalising legal reforms of the 1960s on abortion, homosexuality and divorce through parliament. David Owen was Britain's ex-foreign secretary and a posh political pin-up. Shirley Williams had been secretary of state for education and fronted her own BBC talkshow. And even 'the other one', Bill Rodgers, had run Britain's transport system as secretary of state.
Moreover, the Gang of Four quit Labour in 1981 on a clear set of alternative policy principles. They refused to support new left-wing party leader Michael Foot's manifesto, which committed Labour to unilateral nuclear disarmament and leaving the European Economic Community (as it was then called). Foot's Labour was subsequently crushed by Margaret Thatcher's Tories in the 1983 General Election, when it was almost overtaken in the popular vote by the new SDP-Liberal Alliance.
By contrast, the comparatively faceless 'Gang of Seven' MPs were all elected standing on Corbyn's manifesto in 2017 when, as the leader never tires of boring on about, Labour 'increased our vote by the largest share since 1945'. So what alternatives to Labour are the new divorcees of the Independent Group standing on now?
Alternative political principles are noticeable by their absence from the group's founding 'Statement of Independence'. The 'Our Values' section is full of familiar-sounding empty platitudes about 'a diverse, mixed social-market economy' creating 'fairer, more prosperous communities', etc. Little wonder, perhaps, that the seven seem reluctant to resign as MPs just yet and offer their waffle to the voters in by-elections.
In their press conference, the MPs cited Labour anti-Semitism, Corbyn's left-wing leadership and his stance on Brexit as reasons for the split. But all is not as it seems here, either.
There is no doubt that Corbyn's Labour has a serious anti-Semitism problem, as evidenced by the vile abuse Jewish MP Luciana Berger has received from party members. Under the sway of identity politics, which dictates that what you are counts for more than what you think, left-wing criticism of Israeli and Zionist politics has often descended into outright anti-Semitism, with the Jewish State singled out for condemnation. It is hard to imagine why any Jew would want to support Labour.
Yet if anti-Semitism was the main reason for resigning, why now? After all, Labour's internal crisis over the issue has been going for a few years, with no dramatic new developments. Anti-Semitism does not even warrant a mention in the Independent Group's founding statement of principles. No doubt they are all sincere in their condemnations. Yet the emphasis on fighting such racism at the seven's press conference might look more like a rhetorical bid for the moral high ground, to provide some principled ethical cover.
We can be sure their complaints over Corbyn's leadership of the party are equally heartfelt. But unlike 1981, this is not about political principles. As noted, the seven were all elected on Corbyn's manifesto, and have put forward no clear alternatives of their own. Meanwhile, Corbyn's leadership team has been at pains to make as few decisive or divisive policy statements as possible; one reason the anti-Corbyn media have had to trawl the archives to unearth his controversial speeches is that, since becoming party leader in 2015, he has said almost nothing to upset anybody.
What Corbyn's Labour critics really object to is the way that the empty shell of the Labour Party is now run by what the seven called the 'machine politics of the hard left'. Corbyn's supporters have taken advantage of rule changes and the lack of opposition to take command of Labour's rotting hulk, rather as the Blair-Brown New Labour clique exploited the party's exhaustion to seize control in the 1990s. In the process, many non-Corbynite MPs have been frozen out of influence and some, such as Chuka Umunna, have seen their own barely concealed leadership ambitions decisively thwarted. Seeing that they now have little chance of winning, the seven have opted to pick up their ball and leave. Whether that is an expression of public duty or personal pique remains a matter for debate.
Which leaves us with their protests over Corbyn's Brexit policy. This, the biggest issue in UK politics, is supposed to be the cause of Labour's big divide. The seven MPs are all supporters of the campaign for a 'People's Vote' – newspeak nonsense to describe a second referendum intended to overturn the people's decision in the first one, if possible by fixing the question in favour of Remain.
They say they have become frustrated by Corbyn's refusal to throw Labour's official weight behind the campaign. Mike Gapes MP (no, me neither) protested at the Independent Group's press conference that it has become 'increasingly clear that prominent figures in the Corbyn Labour leadership do not want to stop Brexit'; if so, some might think that unsurprising, given that the increase in Labour votes they boast about was won on a manifesto which committed the party to honouring the referendum result.
But in fact this alleged great Labour divide over Brexit is largely a figment of the IG's limited imagination. They all effectively want to 'stop Brexit' one way or another.
The ardent Corbynites of the Momentum lobby are also passionate Remainers, as committed to the campaign for a Brexit-reversing second referendum as any of their 'Blairite' opponents in parliament. Corbyn himself is a long-time left Eurosceptic whose opposition to the anti-democratic EU was learned at Tony Benn's knee. Yet as Labour leader, Corbyn the 'man of principle' shelved his anti-EU principles at the one moment when it mattered, during the 2016 referendum, and signed up to the establishment's Remain campaign.
Since then, Corbyn has said that Labour will deliver the Brexit the majority voted for, but through a deal which would include membership of a customs union and access to the EU's Single Market. Those are not just economic bodies, but political institutions. As Brussels has always made clear, signing up to them means bowing to EU rules on, for example, freedom of movement, whether you like it or not. What Corbyn's fantasy 'Lexit' deal would mean is a version of Remain-by-another-name, no more the sovereignty-and-democracy-boosting Brexit we voted for than Theresa May's (non-)Withdrawal Agreement.
Most tellingly, Corbyn has been crystal clear that Labour will do all it can to prevent a 'catastrophic' No Deal Brexit on 29 March. Yet No Deal is the only option currently on offer that comes close to the democratically expressed demand for a clean break with the EU and its institutions. By insisting that No Deal be 'taken off the table', Corbyn's Labour would sweep a meaningful Brexit off the table and into the waste paper bin of history.
It is notable that the Independent Group of MPs was immediately shunned by the very 'People's Vote' campaign it claims to support – because that elitist lobby is still focused on persuading Corbyn and Co to come over formally to their side. In other words, the 'People's Vote' campaign is basically one wing of Labour's Brexit-stopping movement.
As Corbyn tries to keep most of his party together and exploit the Tories' own Brexit mess for party advantage, it remains to be seen exactly where Labour policy will end up. What is certain, however, is that whatever else divides them, the Labour Party is united in its unwillingness to see through the Brexit that 17.4million voted for. Corbyn is no more an ally of those millions of working-class Leave voters than the Tory Remainer May. The 'split' that really matters is the divide between Labour's elites and the traditional Labour voters they claim to represent.
Now Chuka Umunna has the nerve to offer 'change politics' as the slogan for his new clique. This from the conservative politicians who detest and reject the biggest democratic vote for change in British political history, and demand that we Remain locked in the stultifying, conformist status quo of the EU. 'Orwellian' doesn't begin to cover their corruption of political language.
At the Independent Group press conference, a BBC microphone picked up somebody in the room saying, 'Not gonna lie, with this and Brexit, we're actually fucked!'. We assume the unknown speaker was a frustrated Labour insider. Yet a similar sentiment might well have been expressed by a frustrated Brexit voter — if any of Westminster's Remainer factions remain in control of the process, we're fucked, and so is our democracy.
Mick Hume is spiked's editor-at-large. His latest book, Revolting! How the Establishment is Undermining Democracy – and what they're afraid of, is published by William Collins.
Picture by: Getty
To enquire about republishing spiked's content, a right to reply or to request a correction, please contact the managing editor, Viv Regan.