Sex Education: warm, witty and a little wise
The Netflix show is teen drama in the best 1980s tradition.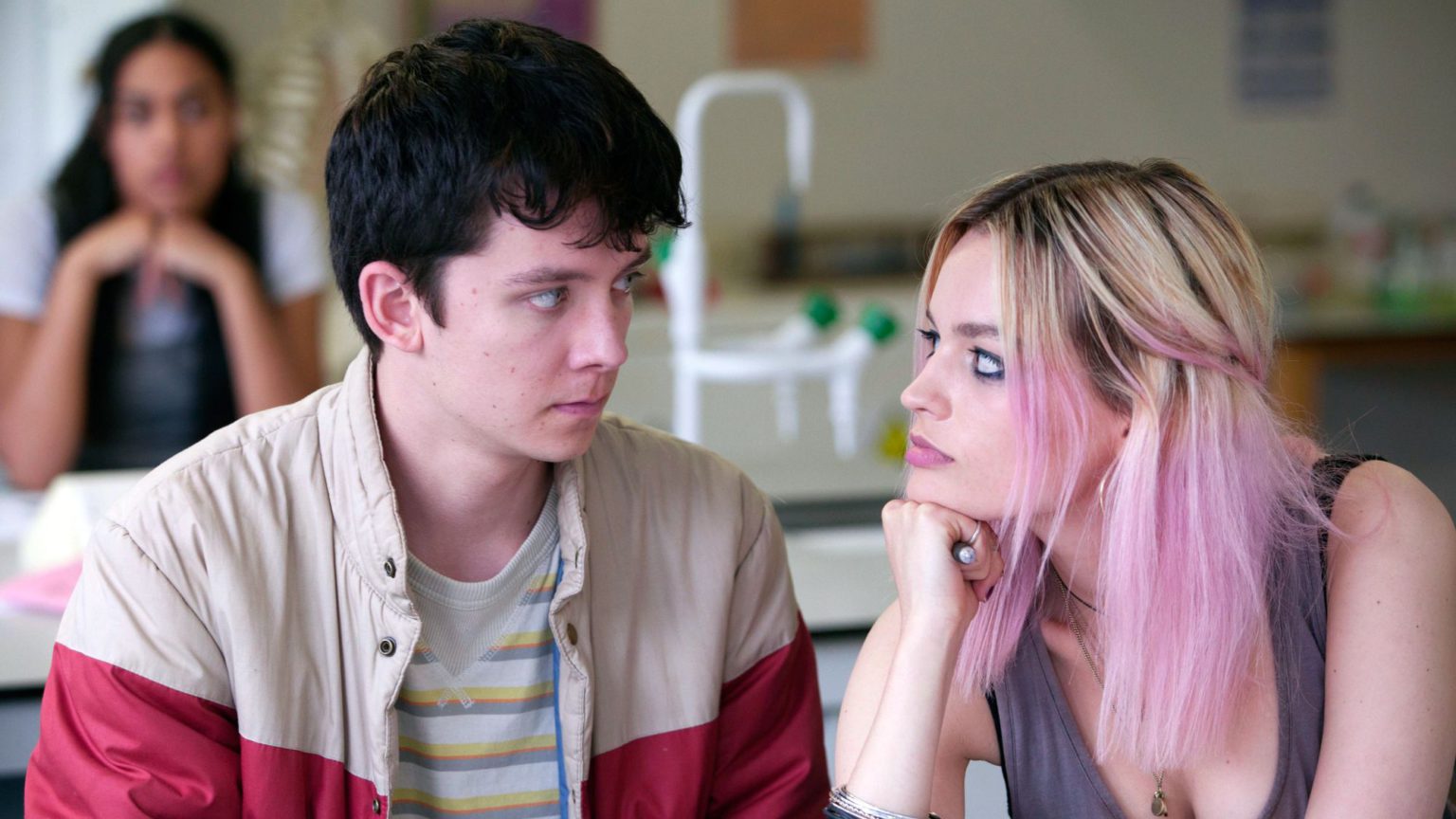 Netflix's British teen comedy Sex Education shouldn't work. There's the achingly issues-led premise for a start – a chance to explore consent, revenge porn, coming out, etczzz – and the resulting plot contrivance – the son of a sex therapist starts dispensing sexual advice about said issues to his peers.
Then, on top of its potential for dreary didactics, there's the sheer cultural inauthenticity to cope with – the American, high-school aesthetic layered over a nominally British setting. In the first episode, as the camera follows teen sexpert Otis and his best friend Eric through the centre of the implausibly grandiose Moordale School, every shot is drenched in Californian sun. We meet a group of Mean Girls, aka 'The Untouchables', exiting a convertible BMW. Then there's Maeve, the Girl from the Wrong Side of the Tracks, and Jackson the Jock, a cocky swim champ who is rarely without his varsity jacket.
Where in Blighty is this? It is unlike any state school in England, let alone one in a small town in the Wye Valley, south Wales, where Sex Education is filmed. There's not a George Asda uniform in sight. But then it's clearly not meant to be realistic, let alone gritty. Everything we're watching belongs to the fictional universe of the American high school, that stage on which a particular middle-class suburban mythology has been re-playing itself, with increasing irony, ever since the early 1980s.
The format has long dramatised the sensitive, witty outsider's coming-of-age – his or her triumph over wealth- and status-obsessed conformists, whose inherited social ascendancy is usually toppled at, or immediately after, the school Prom. It's a post-Sixties reworking of the American Dream, through the eyes of Holden Caulfield.
Sex Education shamelessly revels in this universe, nodding and paying homage to its chief poet-architect, filmmaker John Hughes, and drawing deep on his movies' tropes, laws and character types. Ncuti Gatwa's Eric, Otis's gay sidekick, is as defiantly flamboyant and thanklessly sympathetic as Jon Cryer's Duckie in Pretty in Pink. Emma Mackey's Maeve is a heavily eyelinered riff on Mary Stuart Masterson's Watts from Some Kind of Wonderful. And main man Asa Butterfield's Otis could be a tribute act to every role Andrew McCarthy played during his 1980s Brat Pack pomp.
Even the eclectic soundtrack leans heavily towards those late 1980s icons, like the Smiths or New Order, beloved of Hughes himself. No hip-hop. No R&B. Definitely no drill. It sounds anything but contemporary. Indeed, so indebted is Sex Education to Hughes-era teen dramas that the occasional WhatsApp message appearing on screen seems almost anachronistic.
And yet, Sex Education works. It is funny, it is warm and, at moments, it is even a little wise. And it works precisely because of its artifice, its studied inauthenticity. Everything that in more earnest hands could have been tiresome is refracted through creator Laurie Nunn's clear love of the all-American teen romcom. The generic form brings the zeitgeisty issues to ironic life, the characters becoming more than issue-ciphers. Maeve is not just a victim of slut-shaming and snobbery – she is a Hughes anti-hero, super bright and sharp-tongued. She's like John Bender in The Breakfast Club, only female.
Besides, Sex Education could never really be too preachy or worthy, even in the much-praised 'I am Spartacus' / 'That's my Vagina' episode. It is too in love with the cruel verbal gymnastics of teen insults – 'cock-biter', 'el pervo', 'tromboner'. It is too irreverent to succumb to anything so pompous as awareness-raising. It revels in its American Pie meets Carry On… vibe.
And despite creating a world teeming with metrosexual diversity, it skewers wokeness more than it embraces it. Hence the mean, vain Untouchables, occupying the apex of the school social structure, are the leading purveyors of political correctness, chastising bullies for using the word 'fag' ('You know homophobia is so 2008 – totes passé'), or slapping a ham sandwich out of a girl's hand in the name of vegan virtue. It's an update on the Hughes high-school universe. The Untouchables draw their authority and status not only from fashionable clothes and cars, but also their fashionable views. Their wokeness reinforces their status and exclusivity.
Above all, Sex Education soon ceases to be about something as drearily loveless as sex education. Not just because no one is really any more expert than anyone else – not Otis's mum (played by Gillian Anderson), whose compartmentalised sex life precludes intimacy, nor Otis himself, who can't even 'jack his own beanstalk'. But also because it turns out to be less a sex education than a sentimental education – and it's all the better for it.
Tim Black is a spiked columnist.
Watch the trailer for Sex Education below:

To enquire about republishing spiked's content, a right to reply or to request a correction, please contact the managing editor, Viv Regan.