Speaker of the House of Anti-Brexit
John Bercow is no 'brave rebel', but an agent of the Remainer establishment.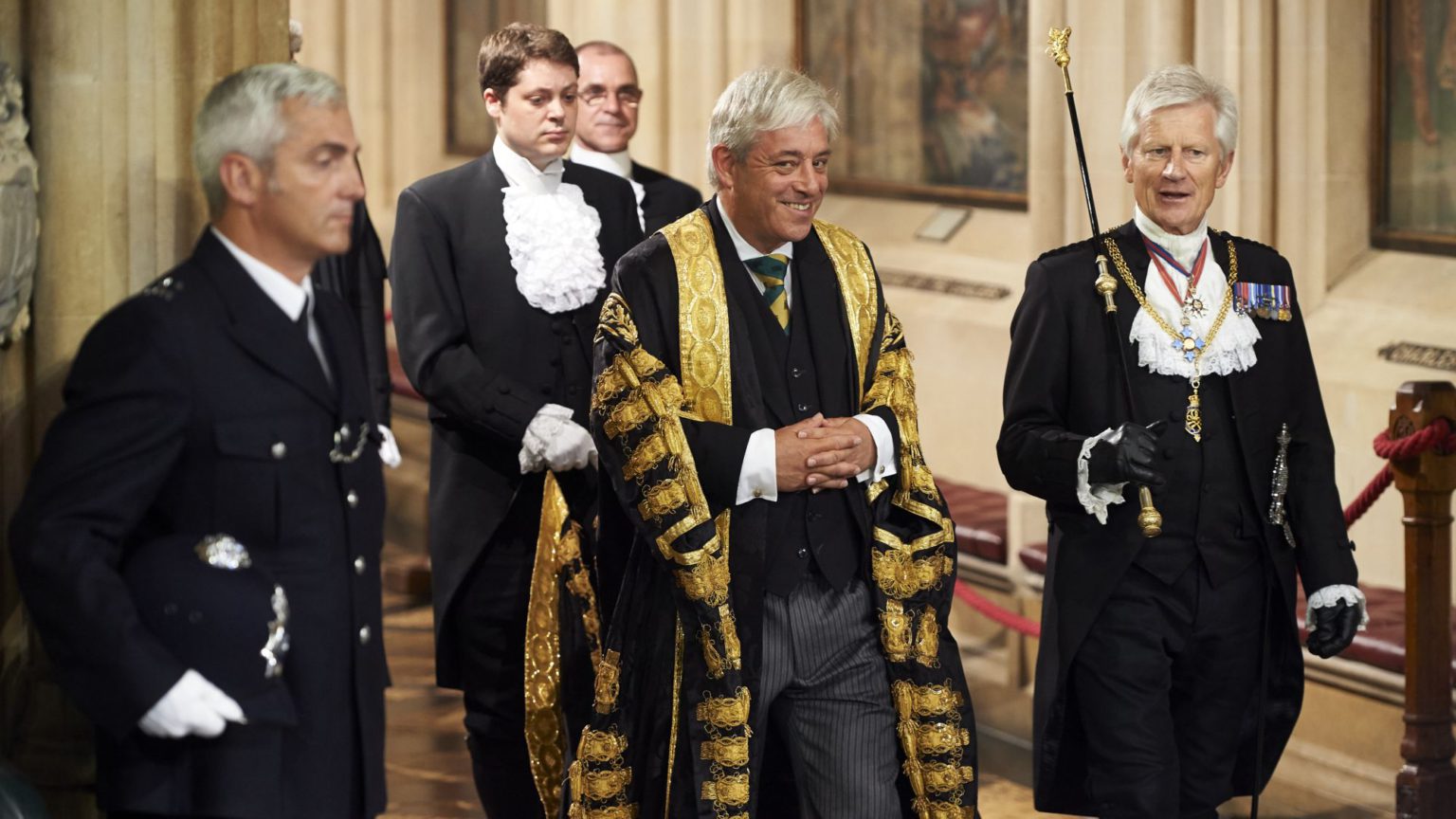 If we were to believe most media coverage of this week's carry-on in the House of Commons, you might think it was a rerun of a scene from the English Civil War between parliament and the king. Just as in the 17th-century struggle, we apparently witnessed an heroic Speaker of the Commons (the chair of the debating chamber), bravely defying autocratic government and ministers of the Crown to uphold the rights of MPs and defend parliamentary democracy.
In this case, the unlikely hero was the oft-derided Mr Speaker John Bercow. He insisted that MPs could vote on an amendment to a government motion, against the advice of his expert clerks that this would flout parliamentary rules. And when they voted, the Commons inflicted another telling defeat on Theresa May's Tory government, advancing the parliamentary 'rebellion' over Brexit.
These events have been excitedly reported as key moments in MPs 'taking back control' over the Brexit mess from May's beleaguered regime, all thanks to Bercow the Bold. One over-excited senior Guardian columnist called it 'the great political struggle of our times' and gushed that 'Bercow took a brave stand to empower Britain's parliament against Britain's government on Brexit', which apparently makes him 'the most radical holder of his office in generations'.
Only a proper berk-ow could believe that politics-through-the-looking-glass version of events. The reality is pretty much the opposite of such distorted newspeak nonsense.
Those 308 MPs were not voting to take back control of Brexit from the government, but from the 17.4million people who voted to leave the EU. They are not 'rebels' but the cross-party political wing of the Remain-backing UK establishment, determined to thwart the democratic vote for Brexit at all costs.
Far from defending democracy, Bercow was acting as the agent of this elitist 'coup'. The supposedly neutral Mr Speaker has revealed himself as Mr Remainer who is even prepared to rip up the rules he is meant to uphold – in effect, to rewrite the supposedly neutral role of the Speaker – in order to block Brexit.
Of course these Brexit votes in parliament are serious setbacks for May and her dreadful draft Withdrawal Agreement. But that is not their primary aim. Everybody agrees that May's deal will be defeated in the Commons next week anyway, without the need for any of these shenanigans. This week's extraordinary parliamentary manoeuvres are aimed at a somewhat bigger target – stopping Brexit altogether.
The MPs claim that they simply want to prevent May from leading the UK into an allegedly disastrous No Deal Brexit at the end of March. But if you reject the government's deal – the only one on the table from the EU – and you close down the option of a No Deal, clean-break Brexit, the alternative you are conveniently left with is… no Brexit at all.
It is hardly a coincidence that the amendment Bercow controversially allowed, designed to tie the prime minister's hands over No Deal if her deal is rejected, was proposed by Dominic Grieve – top Tory Remainiac, former attorney general, member of Her Majesty's Most Honourable Privy Council and all-round pillar of the pro-EU establishment. This is not about 'empowering Britain's parliament against Britain's government'. It is about parliament disempowering the majority of voters who gave it clear instructions to leave in the 2016 EU referendum
A glance back at the heroic role of the Speaker in the parliamentary revolt that led to the Civil War suggests that Bercow's anti-democratic 'rebellion' belongs not only to a different century, but also another political planet.
On 4 January 1642, King Charles I marched into the chamber of the House of Commons with a force of armed soldiers, seeking to arrest five MPs who had defied his authority by insisting that parliament have authority over his ministers. The king took the Speaker's chair at the front of the House, demanding that Speaker William Lenthall tell him the whereabouts of the five hunted MPs (they had already left Westminster).
Speaker Lenthall's reply was to become a famous landmark in the advance of parliament's power against autocratic government: 'May it please Your Majesty, I have neither eyes to see nor tongue to speak in this place, but as the House is pleased to direct me, whose servant I am here, and I humbly beg Your Majesty's pardon that I cannot give any other answer than this to what Your Majesty is pleased to demand of me.'
Despite the somewhat obsequious-sounding language, and the fact that Lenthall spoke while on one knee before King Charles, the Speaker's defiant message was clear enough: 'Your Majesty is not in charge here, and I am the servant of the House, not the Crown. So no, I will not help you arrest those MPs, and may it please Your Majesty to get out of my chair.'
That humiliating failure of Charles' military assault on parliament – the last time a monarch set foot in the House of Commons – effectively began the Civil War. Parliamentarians moved to form their own army to resist further royalist oppression, and the king fled from London to prepare for battle. Seven years later the Civil War ended in the revolutionary overthrow of the monarchy and loss of the king's head. Speaker Lenthall's defiance of the Crown's power lit that popular flame.
By contrast, there is nothing inspiring or democratic about Speaker Bercow's defiance of Her Majesty's Government this week. On his knee before the Remainer elites, he has acted as the agent of an underhand plot to defy the largest popular vote for anything in British political history. Bercow is no heroic rebel against autocracy, but the toadying Speaker of the House of Anti-Brexit.
As democrats, our instinct might be automatically to defy executive authority and side with MPs voting against an unrepresentative government. We certainly do not want to defend a prime minister who, as I have argued before on spiked, is acting more like Her May-jesty than a (barely) elected leader in trying to force through her grisly deal. It is important, however, to put these events in a wider context and realise that those MPs are really 'rebelling' against the people.
By the same token, we may not much care about the arcane rules and dusty procedures of parliament. But the way in which Bercow and Co were prepared to ditch centuries of their own rules in a moment reveals their underlying contempt for parliamentary democracy and determination not to let anything as petty as a constitutional crisis get in the way of blocking a genuine Brexit.
That Remainer MPs can now pose as defenders of democracy only reflects the extent to which they have taken over the language of the Brexit debate. Thus defying an historic democratic vote to Leave becomes 'upholding democracy', respecting the referendum result through a clean-break Brexit becomes 'crashing out of Europe off the cliff edge', those conniving to reassert elite control become 'rebel MPs', and a Speaker genuflecting to the establishment can be transformed into a 'brave radical'.
The final outcome of all this remains uncertain. But the latest parliamentary carry-on has helped to make clear what is at stake. When angry Tory MPs this week accused Bercow of having a 'Bollocks to Brexit' sticker displayed in his car, Mr Speaker insisted that was on his wife's car windscreen. Whatever, we now know that 'Bollocks to Brexit' is effectively the slogan of the majority of MPs – which translates as 'Bollocks to 17.4million Leave voters'.
Unlike the revolutionary parliaments of the 17th century, today's MPs can at least claim to be elected by universal suffrage. Yet they have managed the considerable feat of being less representative of the people than that unaccountable old assembly. What is 'representative' about our representative democracy when more than 90 per cent of Labour MPs are Remainers, yet more than 70 per cent of their seats voted Leave, and the only party in the Commons led by Leavers is the little Democratic Unionist Party of Northern Ireland?
Deluded Tory Remainiac Anna Soubry MP tweets that, 'After two and half years parliament is finally taking back control of Brexit on behalf of all the people of the United Kingdom'. That is 'all' the people except the 52 per cent of UK voters who voted to Leave – and the 54.6 per cent who voted Leave in Soubry's own Broxtowe constituency.
If there is a political civil war brewing, it is not parliament rebelling against autocratic government, but parliament defying the democratically expressed will of the people. The House of Commons has shown itself to be against the 'common people'. I know which side I'm on in that battle for Brexit.
Mick Hume is spiked's editor-at-large. His latest book, Revolting! How the Establishment is Undermining Democracy – and what they're afraid of, is published by William Collins.
Picture by: Getty
To enquire about republishing spiked's content, a right to reply or to request a correction, please contact the managing editor, Viv Regan.