How her May-jesty still rules on Brexit
Invertebrate critics have allowed the PM to act like Queen Theresa.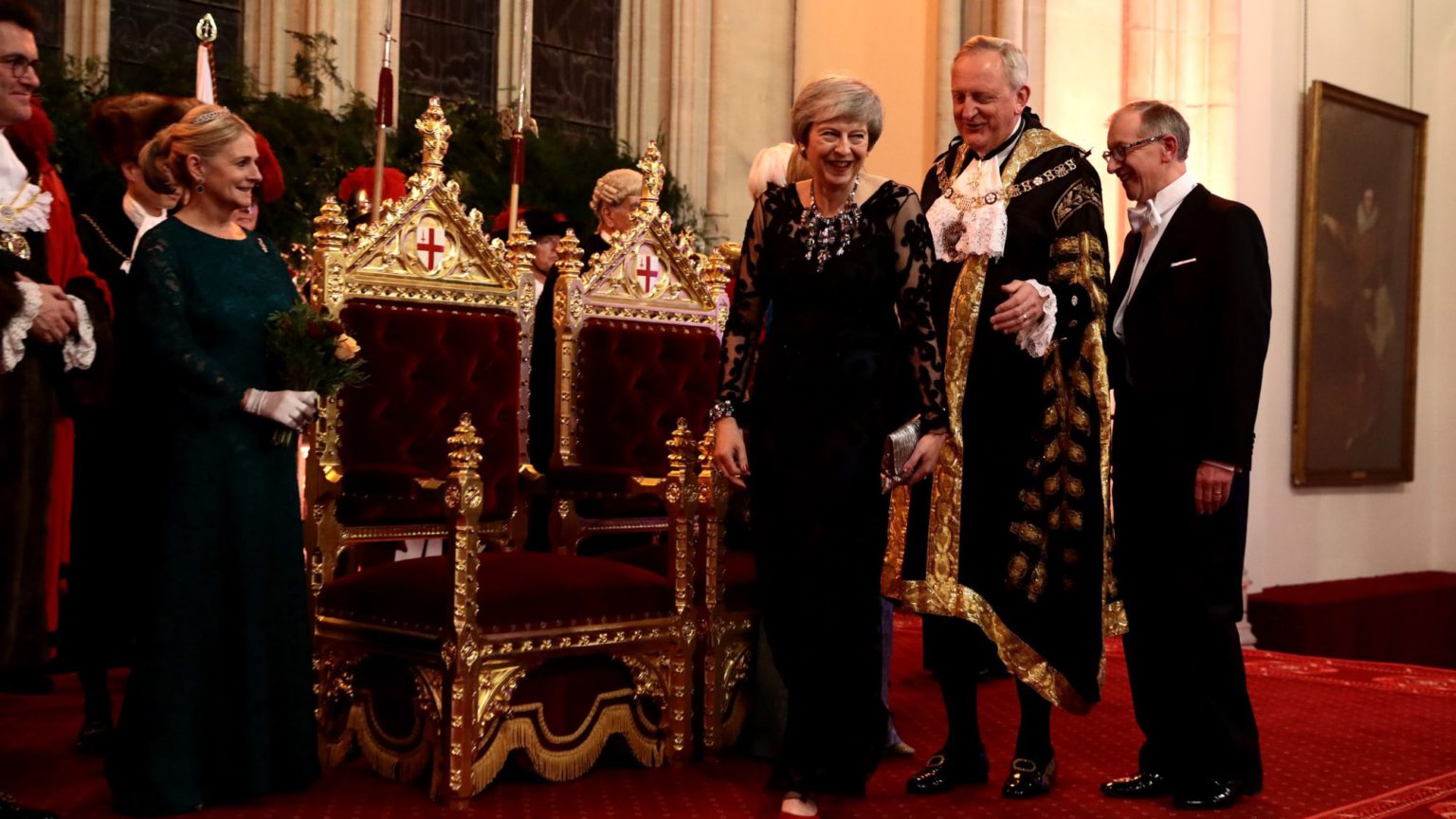 Who appointed Theresa May as absolute monarch? The Tory prime minister appears to believe she can press on with her plan for Brexit betrayal, regardless of what the British people or parliament might think. Perhaps, like the kings and queens of old, she believes she has been ordained to do what's Right by some higher power, be it God in Heaven or Jean-Claude Juncker in Brussels.
Back on Earth, like those supreme monarchs of yore, Her May-jesty has only got away with the absolutist act so far because of the subservience of others – in her case, the spineless UK political class.
May and her courtiers might seem almost delusional in their belief that they can and will press ahead with signing the UK up to be a neo-colony of the European Union. Next week MPs are due to debate her cabinet's proposed Brexit deal. With many on both the Leave and Remain sides opposed to her proposals, predictions of how parliament's 'meaningful vote' will go for the government range from 'badly' to 'really bloody badly'.
Yet so what? Queen Theresa is apparently plotting to carry on regardless. Buzzfeed reported on Monday that her 'crack team' has 'already priced in' losing the vote scheduled for 11 December. Apparently, if May 'loses the meaningful vote by fewer than 100 MPs, government aides believe they are "still in the game" and have a chance of winning a second vote before Christmas', possibly after getting the EU to make some illusory concessions.
If you think the idea of a prime minister losing the most important parliamentary division of their tenure by, say, 99 votes and surviving appears unprecedented and surreal, you'd be right. But think again. On Tuesday the Sun reported rumours that May's government 'could suffer a 200-vote defeat when the Commons decides on her Brexit deal – dealing a fatal blow to her premiership'. Yet even if that worst-case scenario happened, the paper's well-informed political editor wrote, 'No 10 has warned that the PM will not ditch the deal – and will keep pushing it through parliament until it passes'.
Her May-jesty is trying to justify this by repeatedly insisting her deal is 'in the national interest'. It might be a very good thing if we did have a government prepared to stand up for Britain's national sovereignty against the EU. But 'national interest' has long ceased to mean what it did when the likes of Machiavelli coined the phrase during the Renaissance, to suggest that sovereign nations could break with the power of Rome or empire and pursue their own interests. Politicians such as May now invoke the 'national interest' to suggest that they are acting for the good of us all, whether we know or like it or not – sitting on a sovereign cloud above the tawdry bunfight between petty political interests below. So she must be right, even if by 'national interest' she means selling out our national democracy.
Political insiders all seem to agree that May has 'no chance' of getting her deal through parliament on 11 December. By any historical standard that should mean the end not only of her proposal, but also of her premiership. But who knows, these days? May has been allowed to carry on like this so far because of the political cowardice of most of her opponents. Even as the moment of 'truth' nears, fortitude and backbone appear to be in strikingly short supply among May's critics.
Several top Tory Brexiteers have remained in the cabinet – where, according to a No10 spokesman, May was 'congratulated' for securing her deal. News reports even suggest that some cabinet members have been won over to backing the deal by ridiculous Remainer scare stories about how the UK will run out of fresh water if it isn't passed. If such fairy tales can turn Tories' blood to water, what won't they swallow?
Even May's allegedly staunch Tory critics outside the cabinet, while denouncing her deal, generally stop short of calling for her to go. Asked directly if they want a change of prime minister, they will most often mumble something about a 'change of direction' instead. Yet how could they ever expect a Remainer like May to deliver a meaningful Brexit?
The terrible truth is that even May, the politics-free technocrat's technocrat, now appears almost principled compared to her opponents. She has stuck to her guns, ignored the will of the people, and got the deal she wants – Remain by another name – and that suits her allies in the EU elites. By contrast, who is standing up for Brexit, the 17.4million Leave voters, and the millions of other UK voters who want to live in a democracy?
In the not-so-distant past, even Queen Theresa acknowledged that 'No Deal is better than a bad deal'. Now, as push comes to shove, accepting the possibility of No Deal is the line that few of our spineless politicians are prepared to cross – Labour least of all. Yet No Deal is now the only available option that comes anywhere near to delivering the real, clean-break Brexit we voted for. Whatever uncertainty it may involve would be better than the certain doom of a Remainer-backed deal.
That the reign of Her May-jesty has gone on so long is testament to the pathetic state of our invertebrate political elites. 'Taking back control' must mean not only escaping the clutches of the anti-democratic EU, but also deposing all the demos-fearing forelock-tuggers at home.
Mick Hume is spiked's editor-at-large. His latest book, Revolting! How the Establishment is Undermining Democracy – and what they're afraid of, is published by William Collins.
To enquire about republishing spiked's content, a right to reply or to request a correction, please contact the managing editor, Viv Regan.