This is the death of the Tory Party as we knew it
Theresa May's survival speaks to the stasis and cowardice of the Conservative establishment.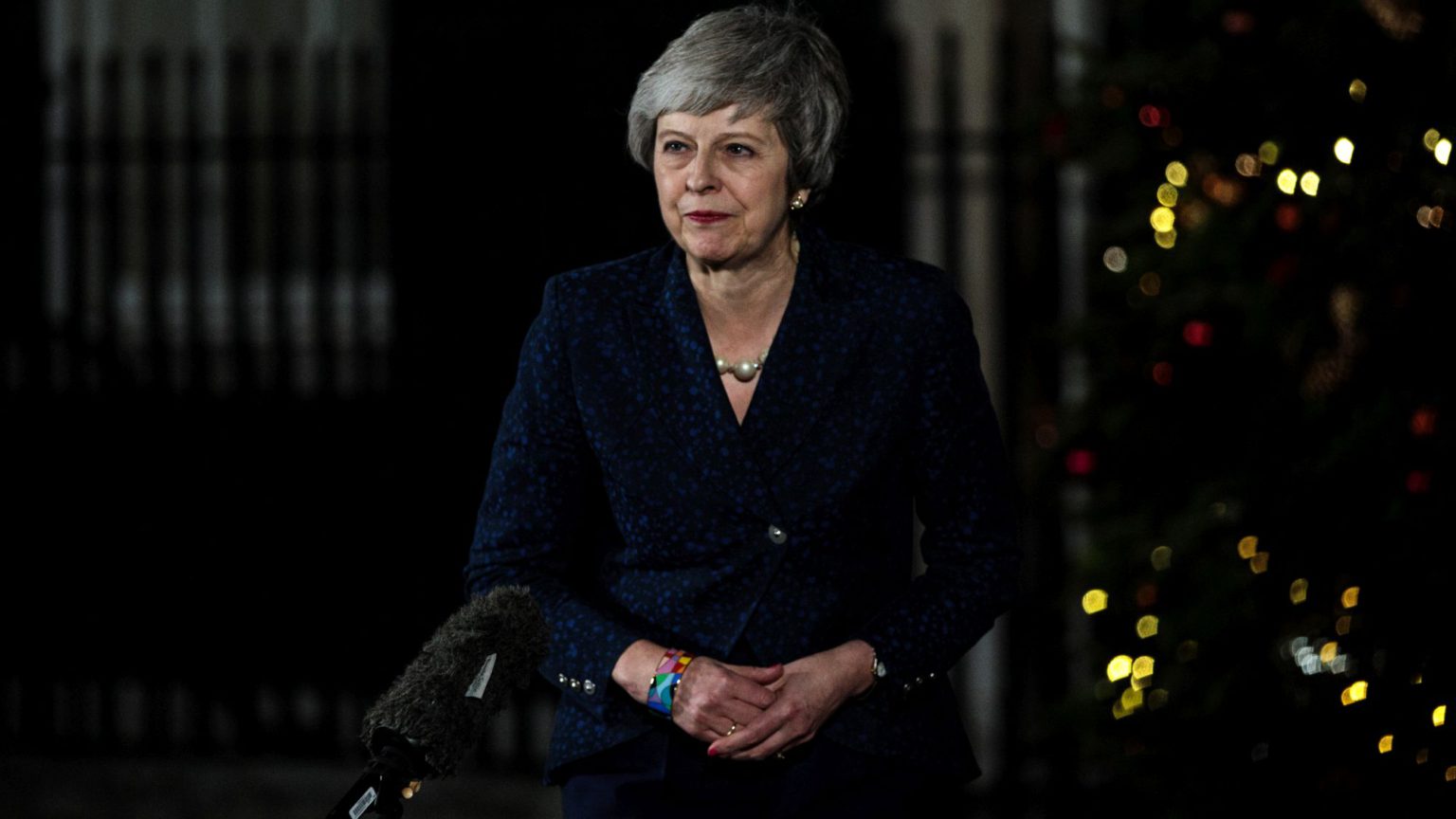 We couldn't have asked for clearer proof of the Conservative Party's political disarray and intellectual paucity than Theresa May's survival of the confidence vote. Her victory, by 200 votes to 117, is not down to any vision or decisiveness on her part, but rather speaks to the absence of ideological dynamism and even basic courage in any other wing of the Conservative Party. May survives by default – the default being Tories' supine unwillingness to do anything that might shake up politics for fear that it would expose their own internal, existential confusions.
May's survival speaks to the Tory Party's death. This is a PM who has clearly betrayed the largest democratic vote in British history, and most of her party colleagues, Leavers and Remainers, know this. And still they cannot muster up the courage to push her aside. This is a PM who is reneging on the Tories' own manifesto promise to leave the Customs Union and the Single Market, and her MPs know this. Yet still they cannot bring themselves to utter the words, 'No confidence'. This is a leader so bad at leading that only 19 per cent of the public think her Withdrawal Agreement is faithful to the referendum result of 2016, and she even had to pull a Commons vote on her agreement to save it from defeat at the hands of MPs. A PM that cannot bear the scrutiny of parliamentarians is a PM that has no political or moral authority. Again, her party knows this. Yet it cannot bring itself to do anything decisive to resolve it.
May survives because the Conservative Party lives in dread of what might happen post-May. It is not faith in May that drives them; it is fear of life after May, of the debates and tensions that would ensue and the decisions that would have to be made. This is a party opting for stasis over a shake-up; for bad, uninspiring leadership over change; for the safe, deadening rule of the technocratic May over the political endeavour of choosing a new leader and a new direction. It is telling that May played precisely on those fears in her address outside Downing Street earlier today. Ousting her would be a 'risk', she said, and would unleash 'uncertainty'. She knows her party. She knows its cowardice. She fed off her MPs' preference for the semi-stability of an indecisive PM over the unpredictability of having to think and act to change things.
Many say the Tories are divided. This isn't quite right. Of course the party contains both Remainers and Leavers (though many of its Leavers are really BRINOs – backers of Brexit In Name Only). But it would be more accurate to say the Conservative Party is disintegrating. The most alarming thing in recent months has been the absence of any clear ideological factions, and of any individual with the moral authority or political nous seriously to challenge May. People talk up Boris or David Davis or Dominic Raab – but it is striking how much even individuals like these come off like spectators of the Tory Party's zombie-like staggering onwards, rather than as potential authors of a new direction. No one appears decisive, or authoritative, or brave; they're like those bystanders who film a car crash on their mobile phones rather than doing something to help.
Many will say, 'So what? Tory disarray is not something I am going to lose sleep over!' The problem is this: at precisely a time when Britain needs courageous, ideal-driven politicians, we have cowardly technocratic ones. In the wake of a mass democratic vote that requires confident leaders to see it though, we have leaders who rule by default and compromise on command. It is hard to remember a time when the disparity between the public's political energy and the political class's moral lethargy has been so pronounced. We vote for radical political and national change and they can't even even bring themselves to change party leader. The political elite is not up to the momentous task of Brexit. They can disguise that fact for a while, by keeping the technocratic lid of Theresa May's rule on the boiling pot of public displeasure with the status quo, but not forever.
To enquire about republishing spiked's content, a right to reply or to request a correction, please contact the managing editor, Viv Regan.