The campus-censorship hypocrites
They oppose Prevent but cheer No Platforming, even though both threaten liberty.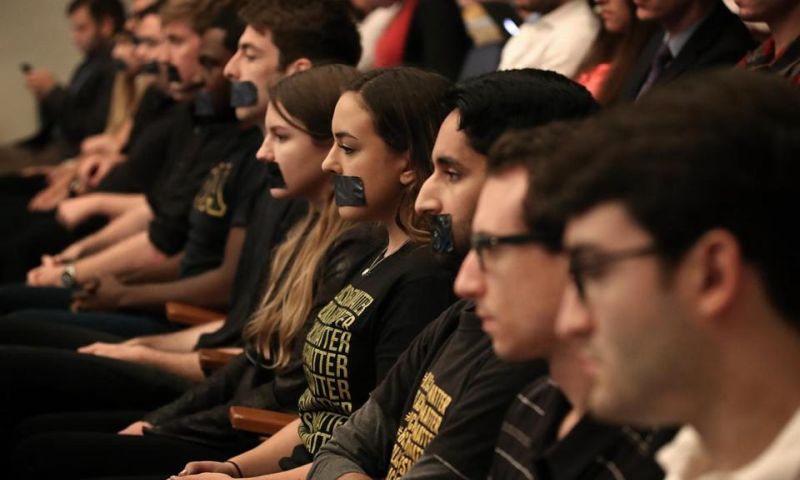 Campus censorship, a certain type of radical academic rushes to tell us, simply does not happen. Apparently, free speech is alive and well at a university near you and to suggest otherwise is 'hysteria' that fuels a moral panic 'whipped up' by a politically motivated minority intent on besmirching students and sullying hallowed institutions. Except, of course, when it's not.
It emerged this week that a book listed as 'essential' for third-year politics students at the University of Reading came with a warning telling them 'to take care'. Norman Geras's 'Our Morals: The Ethics of Revolution' was flagged up as potentially falling foul of the government's Prevent Duty. Students were told not to access it on personal devices, to read it only in a secure setting, and not to leave it lying around where it might be spotted 'inadvertently or otherwise, by those who are not prepared to view it'. Rarely has an examination of the ethics of socialist revolution sounded more exciting!
Geras argues that violence can be justified in cases of grave social injustice. This was more than enough for one member of staff to tip off university officials, who in turn agreed it was 'sensitive' and issued the stark warning. This lot could clearly have taught the Stasi a thing or two about surveillance and reporting.
It is utterly appalling that anyone could think it appropriate to issue an essay with a warning like this. No work should be considered so dangerous that it is only suitable for those 'who are prepared to view it'. A university course cannot function if some texts, some ideas, are considered too hot to handle, too risky for students to access. Where Prevent flags up essays today, academics and institutions self-censor tomorrow to avoid bureaucratic hassles and bad publicity.
Rightly, there has been a swift and angry response from many in higher education, both to the warning issued by Reading and the impact of the Prevent Duty on universities more broadly.
Of course, threats to free speech on campus don't just come with a heavy-handed Prevent-stamped 'Warning!'. Elsewhere last week, at the University of Oxford, it wasn't a book that was being issued with a warning but a speaker, and it wasn't university officials raising the alarm but students.
Dame Jenni Murray, presenter of BBC Radio 4's Woman's Hour and as much a part of the establishment as Professor Geras, was scheduled to speak at Oxford as part of a series organised by the history society on 'Powerful British Women in History and Society'.
But, it seems, even mainstream feminists are now a danger on campus. Students from the students' union's LGBTQ campaign denounced Murray as 'transphobic' for once having said that it takes more than wearing make-up and a dress for a man to become a woman.
In a statement calling for her invite to be rescinded, student officials declared that Murray's comments had contributed to 'the harassment, marginalisation, discrimination, and violence' faced by trans people. They said 'the decision to offer her a platform is not apolitical or neutral' because 'her views cause tangible harm to vulnerable members of our society'. Unsurprisingly, Murray withdrew from the event.
Whether it is a talk by Murray or a book on revolutionary ethics, whether it is Prevent or students, the language of censorship is the same: danger, harm, risk, safety, protection. Yet only one of these incidents prompted an Observer column and outrage from academics themselves. Lecturers and students' union officials have been quick to denounce the inappropriate use of Prevent. What happened at Reading has rightly been described as 'hugely concerning' and an example of anti-terrorism legislation 'being applied far beyond its purview'. But where is the outcry about what happened at Oxford?
Where is the outrage from academics at students threatening to close down a debate? Where are the lecturers queueing up to be quoted in the Guardian expressing disgust at the censorious student members of the LGBTQ campaign? Why get angry at one but not the other?
Those determined to present campus censorship as a figment of the imagination like to get pedantic. Calling for a speaker to be No Platformed is not an attack on free speech, they say; it is actually a demonstration of free speech in action – it is a form of protest. It is only censorship, they say, if students are actually prevented from reading a book or hearing a speaker – and with YouTube and social media students can still encounter a range of ideas, just not in the campus Safe Space. And, despite calls for No Platforming, speakers are rarely banned — they simply withdraw, which was what Murray did.
Well, if we are going to be pedantic, Murray did not get to speak. Those who wanted to hear what she had to say – perhaps even to challenge her – were denied the opportunity. On the other hand, students can still read Geras's book, it just comes with a warning.
This is not to condone the Prevent warning being issued. No one – not other academics, librarians, Prevent officers or external officials – should be policing reading lists. It is not the inappropriate use of Prevent that is the problem: the legislation itself should have no place in a university. But to express outrage about Prevent while staying silent about the hounding of speakers or, indeed, of lecturers who question the direction trans ideology is taking us in, is not just hypocritical – it is futile.
Censorship today comes from students, staff and government: the same rhetoric of risk and safety is used by all concerned. A partial, politically selective response simply further entrenches the notion that some ideas are too dangerous for students to deal with.
To enquire about republishing spiked's content, a right to reply or to request a correction, please contact the managing editor, Viv Regan.