Who will speak for the Huddersfield girls?
The political class's silence on Muslim grooming gangs is shameful.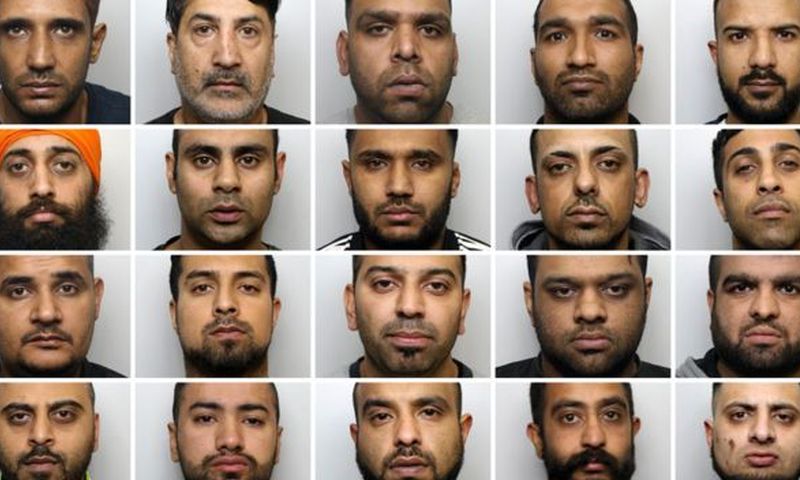 Britain is a country where a politician putting his hand on a middle-class woman's knee causes more outrage than the sexual abuse of scores of working-class girls by men from Pakistani backgrounds.
This is the conclusion we must draw from the #MeToo scandals of the past year. Or rather from the striking disparity between what becomes a #MeToo scandal and what doesn't. A posh journalist having her knee brushed by a politician causes media meltdown, Twitterstorms about 'the patriarchy', and soul-searching in parliament about men's wicked behaviour, while the exploitation and rape of working-class girls in towns like Huddersfield provokes little more than an awkward tut of disapproval.
The guilty verdict delivered in the trial of 20 men at Leeds Crown Court on Friday confirms the British political class's ongoing reluctance, or outright inability, to confront the problem of Muslim grooming gangs.
In response to the verdict, which found that 20 men from mostly Pakistani backgrounds had committed 120 offences against 15 girls in the West Yorkshire town of Huddersfield over a period of seven years, there have been a few perfunctory condemnations. But there haven't been any hashtags, or gatherings outside parliament, or pained newspaper columns, as there were following far less serious cases of sexual misdemeanour in recent months.
The Kate Maltby incident – she's the journalist who had her knee touched by then first secretary of state Damian Green – became a cause célèbre among feminists, columnists and the Twitterati. But the Huddersfield outrage has not. On the contrary, it is more likely to induce an embarrassed grimace, an awkward silence, than Twitterfury or letter-writing to MPs. Even though it involves far graver acts of depravity than the botched come-on 'suffered' by Maltby, such as men driving teenage girls to remote moorlands late at night and threatening to abandon them there if they did not acquiesce to certain sexual demands.
Indeed, there has been more controversy over the home secretary's response to the Huddersfield crimes than there was over the crimes themselves. Following the verdict, Sajid Javid tweeted, 'These sick Asian paedophiles are finally facing justice'. Cue media meltdown. How dare he mention the men's ethnic background? As the Guardian reported, Javid has been 'lambasted' and 'rebuked' by 'MPs and human-rights campaigners'. There was more fury in the denunciations of Javid for referring to the men's heritage than there was in any of the commentary on the men themselves. What a pass we have come to when a politician's anger about paedophilic behaviour disturbs the chattering classes more than the paedophilic behaviour itself.
This follows a pattern. Discussion about Muslim grooming gangs is constantly being shushed, made suspect, demonised. Consider the fate of Labour MP Sarah Champion. She was elbowed out of her role as an equalities shadow minister in Jeremy Corbyn's Labour Party last year after she committed the speechcrime of writing a piece for the Sun on the problem of Pakistani grooming gangs in Rotherham, where she is MP.
Champion has since been subjected to a campaign of vilification by local Muslim activists and their allies in the Corbynista Momentum movement. Again, people are angrier at an MP for speaking about the phenomenon of Pakistani men abusing white working-class girls than they are about the actual phenomenon.
What is behind this moral cowardice, where even in an era when virtually every instance of bad male behaviour hits the headlines the opinion-forming set still doesn't want to discuss the problem of Muslim grooming gangs?
Rotherham, Oxford, Rochdale, Derby, Telford, Newcastle, Huddersfield… across England, often in 'poorer neighbourhoods on the edge of town, around the minicab ranks and fast-food joints', as the BBC put it, men mostly from 'immigrant communities' (the BBC's words again) have been exploiting and raping girls mostly from white working-class backgrounds.
And yet, as the BBC says, these crimes have not been subjected to the 'disinfectant of public scrutiny'. Instead, discussion is shut down. The crimes themselves often are not taken seriously by the authorities until it is too late. No one campaigns for these girls. Indeed, I guarantee you that, while it has become respectable for political and media figures to campaign on behalf of wealthy women who've had bad come-ons, if anyone marched for the girls of Rotherham or Huddersfield they would be called 'neo-fascists' in a heartbeat.
The lingering awkward feeling around these crimes speaks to the dishonesty and evasiveness of the ideology of multiculturalism.
First there's the fact that these crimes involve the 'wrong' sort of victim. Our elites can empathise with a posh journalist who's had her knee touched because she looks and sounds like them. But a 17-year-old girl with a Yorkshire accent who fell in with bad people and couldn't find a way out? They aren't interested. Such 'ruffians' elicit no sympathy or solidarity.
And secondly there's the fact that these crimes involve the wrong sort of perpetrators: mostly Muslim men. A chattering class that is perfectly happy to condemn White Men, whom they hold responsible for every bad thing, balks at having to condemn men from ethnic-minority backgrounds. Isn't that Islamophobic? More importantly, won't it stir up mob-like behaviour among the masses? Very often, the reluctance to condemn Muslim grooming gangs is driven by an ugly and prejudiced view of ordinary Britons as being a pogrom in waiting, biting at the bit to attack Muslim communities. The elites frown upon frank discussion about these sexual crimes for fear that the unpredictable little people will turn mad and racist in response to them.
The political and media classes have elevated the protection of multiculturalism from analysis and debate above the safety of white working-class girls. This is the trade-off they have made. And it's an unforgivable one. It is time we had a reckoning, not with diversity, which is no bad thing, but with the institutionalisation of separatism and communal tension that has been unleashed by the divisive outlook of multiculturalism.
Because it seems increasingly clear that a multiculturalist worldview that encourages people to live in their own ethnic and religious bubbles, and which also encourages them to look with suspicion upon 'institutionally racist' mainstream society, has nurtured a situation where some members of certain ethnic groups appear to harbour a profound contempt for certain white people. Especially the poorer ones, the female ones, the 'bad' ones. A fractured society fractures communities and people's lives – this is what we need to face up to now.
To enquire about republishing spiked's content, a right to reply or to request a correction, please contact the managing editor, Viv Regan.