Jeff Flake and the power of victimhood
That elevator protest was the low point of the Kavanaugh saga.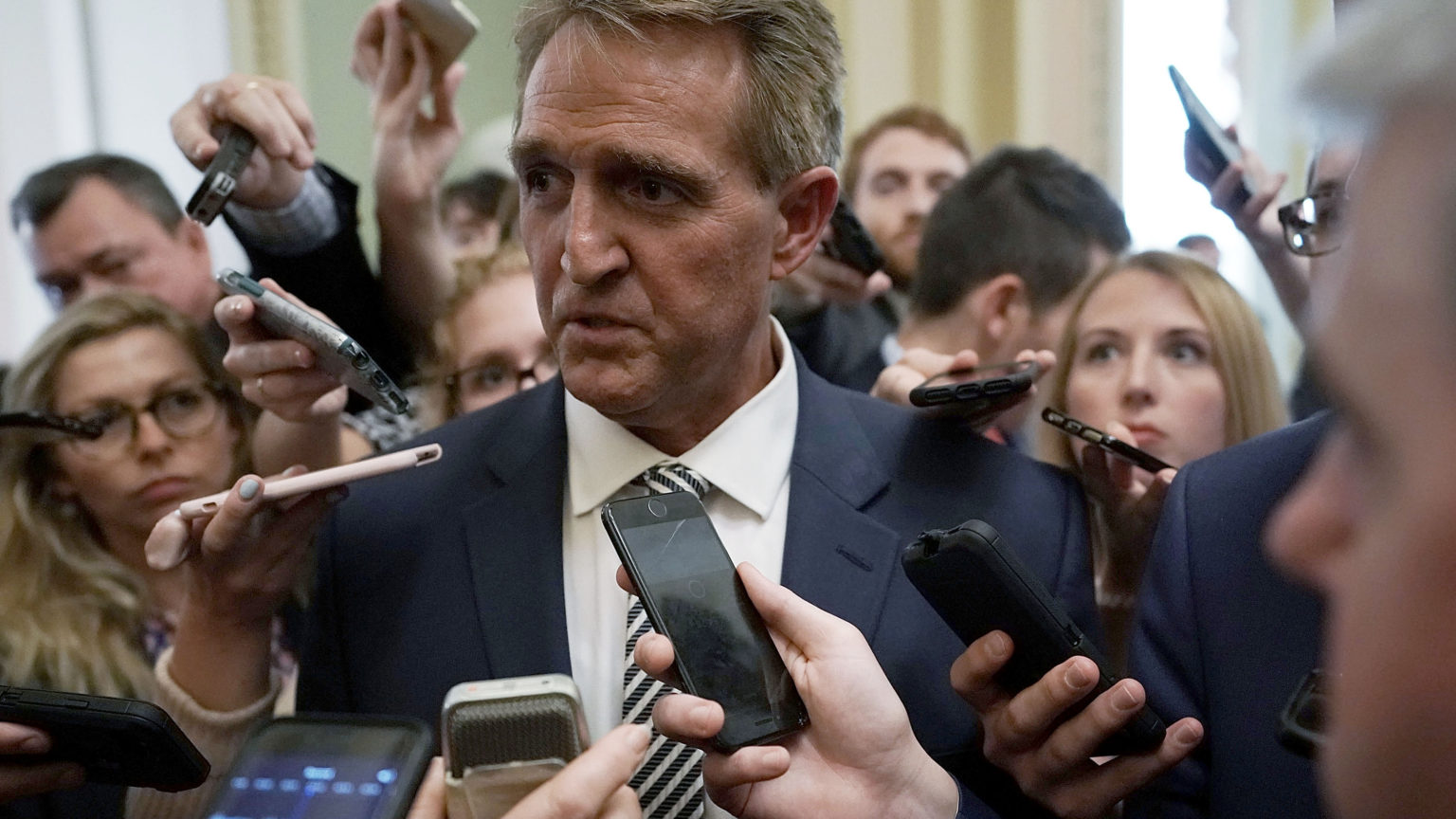 Before last week, it was widely thought that the vote in the Senate Judiciary Committee, which is currently reviewing an allegation made by Dr Christine Blasey Ford that Kavanaugh attempted to rape her when they were teenagers, would be split down partisan lines: Republican senators would vote to confirm Kavanaugh and Democrats would vote against.
But all of that appeared to change when Jeff Flake – Republican senator for Arizona – was accosted by protesters in an elevator on Friday. They demanded that he change his mind. Though he was considered a swing vote on the committee, he had said he intended to vote for Kavanaugh.
Ana Maria Archila, who was later revealed to be the director of a liberal advocacy group called the Center for Popular Democracy, approached Flake as he was leaving the hearing and screamed: 'What you are doing is allowing someone who actually violated a woman to sit on the Supreme Court. This is not tolerable. You have children in your family. Think about them.'
Another protester, Maria Gallagher, told him that if he voted to confirm Kavanaugh, he would be telling 'all women that they don't matter'. Both protesters claimed they were victims of sexual assault. Flake stood in the elevator, repeating the words 'I'm sorry', without ever specifying exactly what he was sorry for.
The worst thing about this stunt was that it worked. Following the incident, Flake voted for Kavanaugh's nomination to move out of the committee, but said he would not vote to confirm him when it went to the entire Senate without a fresh FBI investigation into the allegation. His decision to do this was not based on any new evidence, but on being screamed at by two women in a lift. Quite what this new investigation would resolve is unclear, given Dr Ford has been unable to offer any corroborating evidence so far.
Of course, no US senator – or any other politician – has the right to a peaceful life. As public figures, politicians should expect public agitation and protest. But the Flake incident was not really a protest. It was not a demand for political change. It was not an attempt to argue with Flake, to get him to change his mind.
It was a tantrum accompanied by demands. And it showed us how powerful victimhood has become. Today, it is enough merely to assert – or scream – that you are the victim of something and major public figures and institutions will bend to your will.
The message of the #MeToo movement has been that no one pays attention to victims. In fact, the complete opposite is true. Being a victim today, especially an alleged victim of sexual misconduct, means taking on an apparently inviolable moral status that has the power directly to influence political and social affairs.
In the UK, the justice system has been increasingly reformed in recent years to take account of the needs of victims. Actors like Kevin Spacey have had their careers taken from them on the word of alleged victims alone. No one knows who Archalia or Gallagher are. We have no idea about the truth – or even the specifics – of what they are alleging happened to them. Jeff Flake especially didn't know. But he changed his mind about confirming Kavanaugh on the basis of four words: 'I am a victim.'
This is dangerous, because victims are not always right. In fact, when it comes to discussing that which they are victims of, victims are rarely right. If you are the victim of something like sexual assault, you should not be expected to retain the kind of objectivity and impartiality required to make decisions about how to deal with it. This isn't inhumane, it is common sense. If I were attacked in the street I would not expect to be asked to adjudicate on a fair and impartial trial, because I would be more concerned with getting revenge. Victims do not always behave appropriately or in the interests of society. We do not, and should not, expect them to.
Jeff Flake's change of heart marked a low point in the Kavanaugh affair – it confirmed how powerful, and potentially destructive, the mantle of victimhood has become.
Luke Gittos is a spiked columnist and author of Why Rape Culture is a Dangerous Myth: From Steubenville to Ched Evans. (Buy this book from Amazon(UK).)
To enquire about republishing spiked's content, a right to reply or to request a correction, please contact the managing editor, Viv Regan.