Corbyn's Labour is morphing into a potty students' union
Now it has banned Julia Hartley-Brewer for making fun of its Safe Space.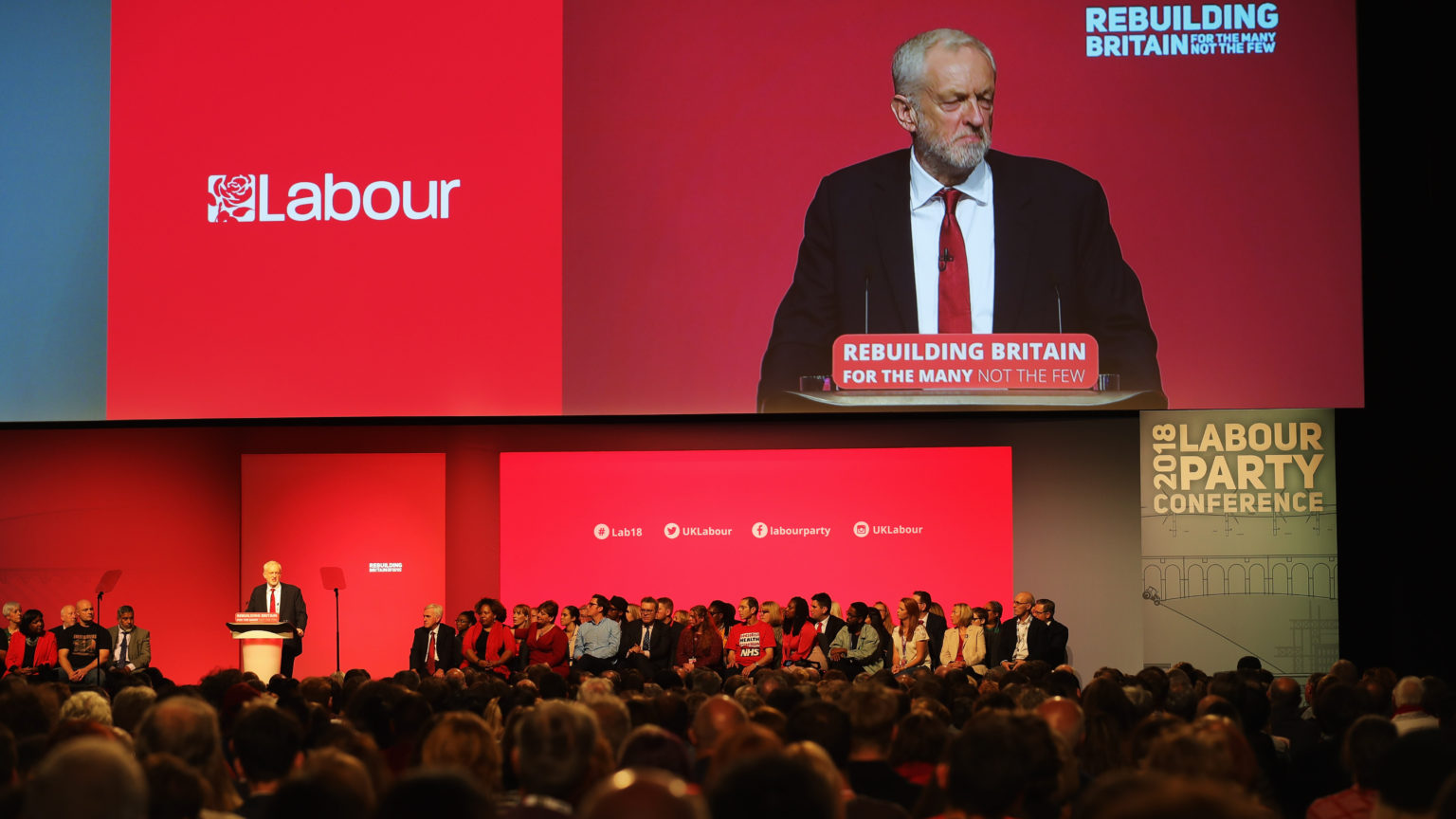 TalkRADIO presenter Julia Hartley-Brewer has been banned from attending future Labour Party conferences for tweeting a joke about Safe Spaces.
Hartley-Brewer's tweet contained a clip of her in a room that had the words 'Safe Space' on the door at the Labour conference last week. As the cameraperson walks in, Hartley-Brewer is revealed, and says 'boo'. She says her tweet was about 'gently mocking the idea of Safe Spaces for people who are "triggered" and can't cope with hearing alternative opinions'. Labour claims the Safe Space was for people with autism who might want to escape the conference buzz, though that wasn't clear from the signage.
Having received a deluge of complaints about Hartley-Brewer's tweet, the chair of Labour's Conference Arrangements Committee has now decreed that she will not be accredited for next year's conference. Apparently her lighthearted tweet caused 'considerable distress' to 'vulnerable groups'. One Labour member felt sufficiently 'humiliated and violated' by the joke to report it to the police as a potential hate crime.
Comrades, if you're feeling triggered at the Labour Party conference, don't worry, we've found the official #SafeSpace… #Lab2018 @talkRADIO pic.twitter.com/ssoJRpfvrJ
— Julia Hartley-Brewer (@JuliaHB1) September 24, 2018
Numerous angry tweeters piled in to insist that because the 'Safe Space' was reserved for delegates with disabilities, to mock it was akin to insulting those delegates. As Hartley-Brewer points out, however, the sign on the door said the room was for everyone. As the fashion for Safe Spaces has spread across Britain, particularly in universities, where often entire campuses are labelled Safe Spaces, it is pretty clear that they do not exist to cater to the needs of disabled people. The only safety they offer is to shelter people from difficult and controversial ideas. Some students expect to be 'triggered' by everything from fancy dress to radical feminists. As the bar for what is considered offensive or unacceptable gets ever lower, it is unsurprising that questioning the Safe Space itself has become an act of heresy.
Labour's ban on Hartley-Brewer shows that campus-style censorship has graduated to mainstream politics. The cult of the Safe Space is no longer limited to campus 'social-justice warriors', but has been adopted uncritically by a political party that aspires to government. Even some of the craziest campus concoctions are now spouted by senior figures within the party. MPs Dawn Butler and Rosie Duffield have railed against cultural appropriation – a bizarre, narrow-minded notion that suggests cultural mixing is a cultural crime. Kate Osamor MP has suggested Labour could join the cultural boycott of Israel (aka BDS), a campaign that is popular on campus. Then there is Labour's disdain for the tabloids. Many students' unions have banned the Sun and the Mail, and Jeremy Corbyn's threat to regulate the popular press drew some of the loudest cheers during his conference keynote.
'This decision to ban a journalist from Labour conference for making a joke is a blatant attack on freedom of speech and the freedom of the media in this country', says Hartley-Brewer. She describes the decision as 'Orwellian', adding that 'it would be laughable if it wasn't so sinister'.
'If Jeremy Corbyn becomes prime minister, will we only be allowed to make jokes that have been pre-approved by him?', she asks. There are no doubt some in Labour who would wish to turn the entire nation into a Safe Space. Silencing dissenting voices in the name of safety is the truly dangerous idea here.
Fraser Myers is staff writer at spiked and host of the spiked podcast. He is hosting a day of debate on race and identity at the Battle Of Ideas on Sunday 14th October. Book your tickets here. Follow him on Twitter: @FraserMyers
To enquire about republishing spiked's content, a right to reply or to request a correction, please contact the managing editor, Viv Regan.