Trans activists have declared war on free speech
Censorship and violence are used to shut down debate about gender recognition.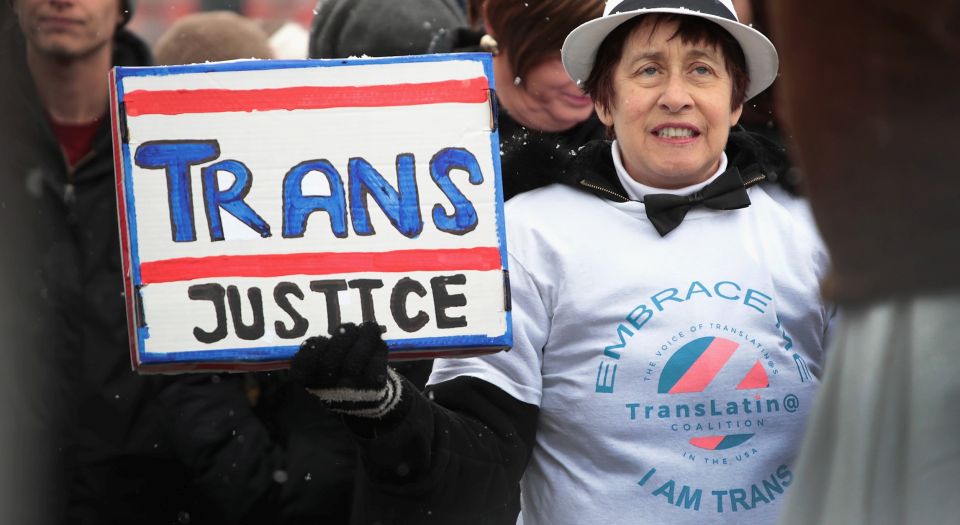 Over the past year, trans activists in the UK have repeatedly shut down debate about the British government's proposed changes to the Gender Recognition Act – a change in legislation that will make it considerably easier for people to self-identify officially as male or female, regardless of their birth sex.
In September 2017 an attendee at a meeting of a feminist group, We Need to Talk, formed in response to the proposed changes to the Gender Recognition Act, was attacked in Hyde Park Corner by a trans activist.
Indeed, We Need to Talk has struggled to hold any meetings at all such has been the campaign of intimidation and harassment on the part of trans activists: in November, an event in York was cancelled due to pressure exerted on the venue by activists; in January, the same thing happened again, this time in Glasgow; and in March this year, an event was cancelled at Millwall Football Club, before a group of trans protesters blocked the stairs to prevent a We Need To Talk event at Bristol's Jam Jar.
Activists then made a bomb threat to another women's organisation, A Woman's Place UK, which also wanted to debate the future of the Gender Recognition Act. Even a left-wing newspaper, the Morning Star, has been attacked for daring to suggest that making it easier to change one's gender might be something we should debate.
And it is not just on the margins of the left that trans activism has been shutting down discussion. Campaign group Trans Media Watch lodged an official complaint last year against the BBC on the basis that two of its programmes – Transgender Kids: Who Knows Best? and an edition of Newsnight discussing gender recognition – featured too many critical voices on the trans issue. (In fact, they both presented a balanced range of views on the subject of transgender identity in adults and children, which so few programmes do now.)
Then there was the case of Jenni Murray, a host on BBC Radio 4's Women's Hour, who, in 2017, experienced the full wrath of a trans activist scorned. Her 'crime' was to ask whether someone who had experienced the privileges of growing up as a man could ever be a woman. For doing so, she was denounced on social media, and condemned by Stonewall UK. 'Trans women have every right to have their identity and experiences respected, too', Stonewall's statement ran. 'They are women – just like you and me – and their sense of their gender is as ingrained in their identity as yours or mine.'
Why was Murray being condemned, though? Her argument is perfectly legitimate: she was merely asking whether men, no matter what they feel, can ever be women. For posing this simple logical question, she was met with demands that she be fired.
The most worrying of all the instances of trans intolerance came this spring, when the editors of the Sun, The Times, the Daily Mirror, the Daily Express, the Daily Telegraph and Metro were required to appear before parliament's Home Affairs Committee's hate-crime inquiry to answer concerns that the media have fuelled hostile sentiment towards minority groups, specifically transgender people. Labour MP Stephen Doughty took the opportunity to challenge newspaper bosses over two stories he perceived as being 'negative' about transgender people.
But take a look at the articles Doughty was complaining about, and you can see just how threatened free and open debate on the issue of trans identity now is. Take 'We need to investigate the causes of this sudden transgender explosion', by Tory peer Norman Tebbit. He was merely questioning why so many young people were suddenly being referred to the Gender Identity Development Service (GIDS) at the Tavistock and Portman Trust, the national centre for treatment of children and adolescents experiencing gender dysphoria and other issues related to gender variance.
'Evolutionary change seldom comes so suddenly or across such a wide front', wrote Tebbit, 'so I think it is time we had some research into the extent of the phenomenon both in time and geographical reach'. Tebbit was hardly being controversial. In fact, he was merely reiterating the same concerns as those voiced by Dr Polly Carmichael, the director of the GIDS, who, having seen her service's caseload expand 35 times over in the past 10 years, called for investigation and research into the rise in transgender referrals. Yet Doughty seemed to be suggesting that such reasonable requests were tantamount to attacks on trans people.
History is replete with examples of the silencing of the press and free speech in general by those in power. The trans lobby may think it represents a weak and vulnerable minority, but its views have been adopted by those in power (hence the proposed changes to the Gender Recognition Act). Trans activists would do well, then, to study the history of press freedom. Seeking to dictate which views are permissible, and which are not, will not further the freedom of trans people to be who they want to be, but it will result in less freedom for all.
In his proposed preface to Animal Farm, 'The Freedom of the Press', George Orwell wrote: 'If publishers and editors exert themselves to keep certain topics out of print, it is not because they are frightened of prosecution but because they are frightened of public opinion. In this country intellectual cowardice is the worst enemy a writer or journalist has to face, and that fact does not seem to me to have had the discussion it deserves.'
I think it is high time we had this discussion.
Julian Vigo is a writer and academic.
To enquire about republishing spiked's content, a right to reply or to request a correction, please contact the managing editor, Viv Regan.