Barcelona, one year on
Why people still aren't taking violent Islamism seriously.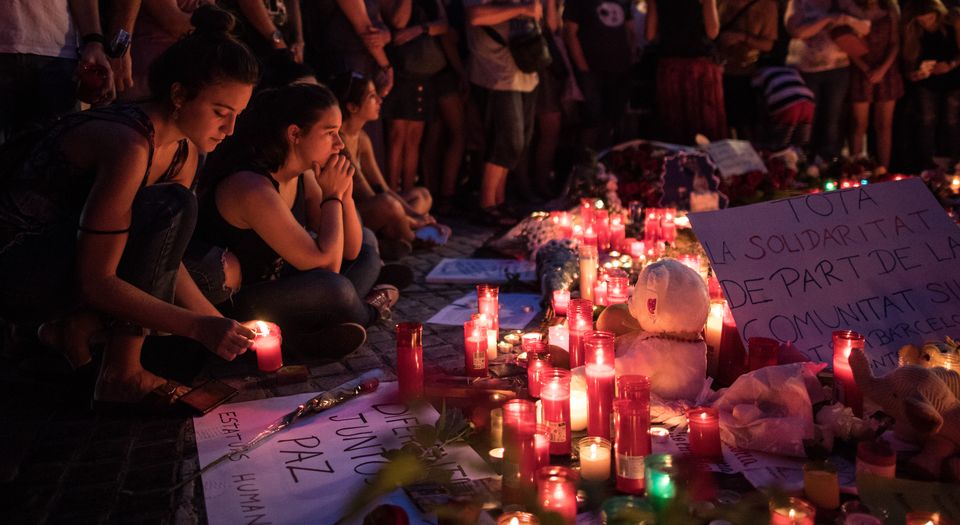 Rarely has the hypocrisy of the West's ostensible liberals and leftists been as violently exposed as it was this time last year. Between Charlottesville and Barcelona, between the killing of one protester by a white neo-fascist in a car and the killing of 13 people by radical Islamists in a van, we gained a glimpse into today's extraordinary double standards over extremists who loathe liberty, democracy and swathes of mankind.
If the extremists are white and fond of the swastika, they will be roundly condemned, organised against, transformed into a focal point for the activities of a flagging left. But if they are Muslims, if it's a misogynistic, homophobic caliphate they want to build, if their targets are 'kuffars' rather than pinkos or black people, they will be frowned upon, of course, but never raged against. Never organised against. They will be treated more forgivingly, and explicitly so. It became clear this time last year: anti-fascists only dislike certain kinds of neo-fascism.
The Barcelona attack took place a year ago today. A van driven by an ISIS-inspired radical Islamist rammed into crowds of people and killed 13, including a young child. A few days earlier there has been the disturbances in Charlottesville, during which a right-wing extremist murdered a female anti-racist protester by driving into the crowd of protesters.
Even before the Barcelona attack happened, the discussion about Charlottesville had come to be blown out of proportion. What was in truth a nasty but small demonstration by white-power losers was transformed by some observers into the second coming of the Third Reich. Where most leftists and liberal commentators respond to Islamist barbarism with a sad emoji or a national flag on their Facebook page, they responded to Charlottesville with historic hyperbole.
They shared images of Brits landing in France to fight Nazis, implying they were the heirs to such fighting. America mirrors Germany in the 1930s, they claimed. The left's blowing-up of Charlottesville was directly proportionate to its loss of focus and principle: it spies in these pathetic neo-Nazis a force it might resuscitate its fortunes in opposition to; a thing it might define itself against.
But if the treatment of Charlottesville and its vile car attack as a return of Nazism looked questionable before Barcelona, it looked utterly untenable after it. Yes, there are extremists in the West who have declared war on our fellow citizens, our liberties and our democracy. But they aren't American Nazis – they are radical Islamists, who increasingly think little of slaughtering anybody whose values run counter to theirs, whether it's French cartoonists, Berlin Christmas shoppers, British pop fans, or crowds in Nice celebrating Bastille Day and the birth of modern mass democracy.
These people's violent misanthropy makes America's white-nationalist movement look like a hippy outfit in comparison. A suspected hard-right fanatic killed one person at Charlottesville, in a foul assault on life and liberty; extreme Islamists have killed more than 450 people in Europe in the past four years.
And yet after Barcelona, as is the case after every Islamist attack, there was an awkward, shuffling silence in left and liberal circles. There was media coverage, of course. Lots of it, as there should be. There were condemnations and offers of solidarity with Barcelona. That was all good. But politics? Anger? A demand that we recognise the gravity of the threat posed by radical Islamists and get together to do something about it? Calls for confrontation with Islamist movements, demands that we 'Punch an Islamist', in the same way American leftists promoted 'Punch a Nazi' after Charlottesville? No. There was none of that. There never is after acts of radical Islamic violence.
On the contrary, we are encouraged to be sad about Islamist attacks but never active in relation to them. 'Don't look back in anger.' Consider how swiftly the Manchester Arena attack, which took place three months before Barcelona, drifted from Britain's national consciousness. Far more terrible than Charlottesville, and executed by a man as hateful as any neo-Nazi, the Manchester attack was nonetheless quickly moved on from. That was a direct consequence of the cowardly, apolitical climate that is always cultivated after Islamist attacks: we are always invited to 'move on' because dwelling on such extremist violence would raise too many awkward questions.
The difference is alarming: Charlottesville was instantly institutionalised as a turning-point event. It was folded, in mere days, into a 21st-century political narrative about a resurgent far right (an overblown threat) and the need for a more serious, anti-fascist left. It became a morality tale, swiftly. And it remains a morality tale, one year later. After violent Islamist attacks, in contrast, we are warned against doing anything like that. Don't look for lessons. Don't make it a moral issue. Don't politicise it or get too angry about it, because apparently that is what ISIS wants. This urge to moralise small neo-Nazi protests in the US while de-moralising, depoliticising and fundamentally defusing the problem of Islamist extremism has to be explained. What drives this double standard?
It is fear. Cultural fear. Fear of us, the masses, and what we will get up to if society green-lights an honest discussion about the radical Islamist problem. And fear for Muslims, whom too many on the left infantilise and treat as incapable of hearing robust discussion about problems in their communities. And so where observers insist after Islamist attacks that we mustn't hold all Muslims responsible, or make such violence into a focal point for politics, or get too angry, after Charlottesville they said the precise opposite. 'White culture' did this. Let's organise our political lives around it. Let's make this really political.
It is hard to escape the conclusion that many in the Western left have declared a self-flattering war on neo-Nazism precisely as a distraction from the real problems facing Western society today, to which they have no answers, and are uncomfortable even with the questions.
Brendan O'Neill is editor of spiked. Find him on Instagram: @burntoakboy.
A version of this article was published on spiked last year.
Picture by: Getty Images.
To enquire about republishing spiked's content, a right to reply or to request a correction, please contact the managing editor, Viv Regan.