It isn't Islamophobic to criticise Sadiq Khan
It is censorious to brand Trump a bigot for criticising the mayor.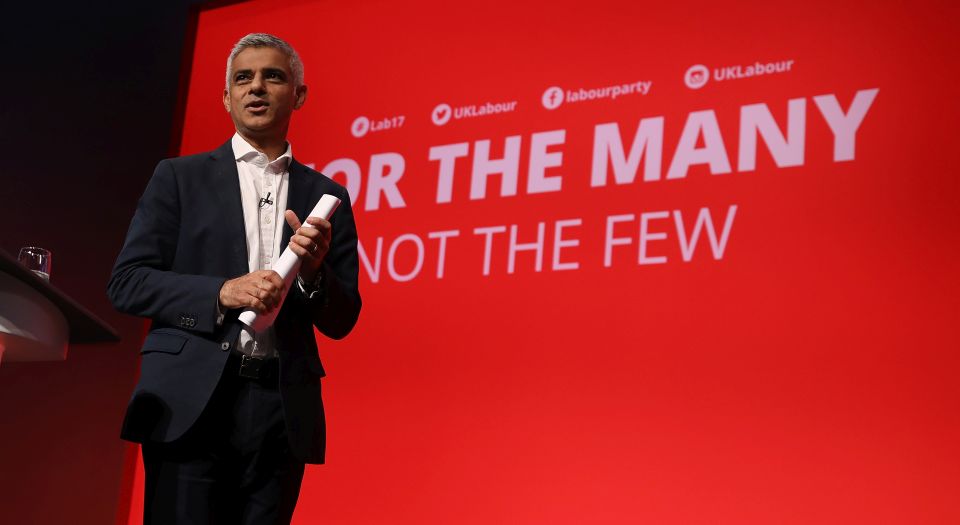 Anyone who doubted that the accusation of Islamophobia is used to silence perfectly legitimate political debate will surely change their minds as a result of the Trump / Sadiq spat. In the rush to brand Trump an Islamophobe and a racist merely because he criticised Sadiq Khan's response to terror attacks, Labour and its media cheerleaders have exposed how much of a conceit the phobia accusation is, how cynical it is, and that it really serves no other purpose than to shush unpopular opinions by slurring them as bigoted.
In his interview with the Sun, Trump, as is his way, had a pop at pretty much everyone. Theresa May. The EU. 'Soft' Brexiteers. And the London mayor Sadiq Khan. Trump and Sadiq have been engaged in the global-politics equivalent of a Twitterspat, a camp exchange of insults, for ages now. So it wasn't surprising that Trump seized the Sun opportunity to re-air his criticism of Sadiq's response to the two terror attacks in London last year, at Westminster Bridge and London Bridge. 'I think he has done a very bad job on terrorism. I think he has done a bad job on crime', said Trump. He also said there is too much immigration into Europe and Britain. No surprise there. Everyone knows he thinks this.
That was it. He didn't mention Sadiq's skin colour or his religion. He didn't mention the mayor's Pakistani origins. He said nothing about brown people. He didn't suggest Sadiq was soft on terrorism, far less that he is soft on it because he's a Muslim – he just said he's done a bad job on it. And yet for that, Trump has been roundly denounced as Islamophobic. Not just by the usual members of the Twitterati left for whom every criticism of the Koran or mocking of Muhammad is an act of bigotry that must be crushed – even very influential players in the Labour Party have opted to play the shrill identitarian grievance game and have suggested that Trump's criticism of Sadiq is by definition racist and anti-Muslim.
Trump is saying that Sadiq is 'responsible for terrorism', says Labour's shadow foreign secretary Emily Thornberry. He didn't say that, though. He simply said Sadiq has done a bad job on terrorism – the same way many, many people said Tony Blair did a bad job on terrorism and may even have stoked it up with his foreign interventions. Trump's comment on Sadiq is 'Islamophobia and it is racist', Thornberry said.
Labour MP David Lammy said, 'The real reason Trump blames my friend Sadiq Khan for the terror attacks last year' – he didn't do that! – 'is simple. He hates that London chose a Muslim mayor.' Lammy offers no evidence for this. But why should he? In the increasingly grating grievance politics of identity and victimhood, proof counts for nought and inference is always enough. Criticise Islam, you hate Muslims. Wonder about the wisdom of mass immigration, you're racist. It's automatic. Maybe I'm racist for criticising David Lammy.
Dawn Butler, Labour spokesperson on equality, slammed Trump's 'ugly dog-whistle politics'. In short, she can't prove that his comments on Sadiq were racist, but she can imply that they contain some kind of secret code that will be audible to more vulgar Britons – the 'dogs' in that analogy – who will have their innate 'Islamophobia' stirred up by their American master. This genuinely prejudiced view – that Trump could provoke the uncouth underbelly of British society to acts of hatred or violence – is now widespread online.
Everything about this dash to brand Trump an Islamophobe for criticising the London mayor is worrying. It confirms that the chattering-class concern with Islamophobia is not about protecting Muslims from genuine discrimination or violence (both of these things are already illegal), but rather is about ringfencing Islam and all Muslims from criticism, surrounding this one religion with a blasphemy-deflecting forcefield. So any commentary on Islam or even on influential Muslims can be casually batted aside as 'phobic'. Even worse, today's spat shows that now political debate, never mind differences on religion, can be demonised with the Islamophobia brand. Is it Islamophobic to criticise Sadiq? Must we all hold our tongue because he is of Asian and Muslim origin? Isn't that, erm, a little racist – treating a brown-skinned politician more gently and cautiously than you would a white one?
And this is worrying because of what it tells us about the Corbyn-led Labour Party: that it has been swallowed up by the infantile politics of grievance, identity and offence-taking. These are no longer traits limited to the so-called 'snowflake' generation or people in academia – rather, political parties themselves now embrace and weaponise overblown identitarian sensitivity and self-pity in order to chill political criticism, silence certain opinions, and exercise greater control over what it is permissible to say in public life. People are using Trump's visit to talk up the division and crisis he has apparently visited upon the American republic, but right now I am more worried by the insight we are getting into the further drift of British political life into the elitism and censoriousness of identity politics.
Brendan O'Neill is editor of spiked. Find him on Instagram: @burntoakboy
To enquire about republishing spiked's content, a right to reply or to request a correction, please contact the managing editor, Viv Regan.