Syria, The Times and free speech
Why did the newspaper attack me for questioning the government?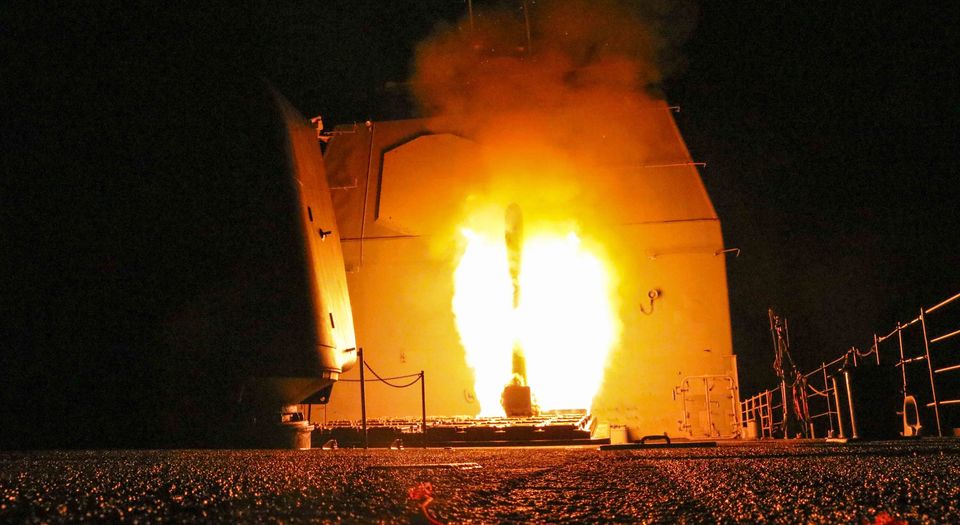 On Friday, the British government, alongside the US and France, launched airstrikes on Syria, a sovereign state, ostensibly to punish Bashar al-Assad's government for allegedly conducting a chemical attack in Douma in Eastern Ghouta, which is held by the Saudi-backed Jaysh al-Islam radical extremist group.
There were plenty of reasons to be concerned by this action: the airstrikes were illegal insofar as they violated international law as established by the UN Charter, the agreed framework for the conduct of interstate relations. They were carried out on the basis of little more than social-media videos as evidence. They happened just one day before the Organisation for the Prohibition of Chemical Weapons was due to investigate the attack. And they were approved without domestic authorisation from the UK parliament. Polls also consistently show that a majority of the public do not agree with the airstrikes.
Moreover, they were what James Mattis, the US defence secretary, called 'show strikes' – a performance of the honour of the international community, as French president Emmanuel Macron put it. Discussions were even held with Russia (and, by extension, Syria) to ensure no one was killed or injured. As such, the British state and its allies have indulged in the very worst kind of gesture politics, escalating conflict and inviting anti-Syrian government groups to claim evidence of further chemical attacks in the hope of prompting further action from the US and its allies.
So you might think at least some of this would be of interest to The Times. Yet on Saturday, its front page, a double page inside and lead editorial were dedicated to a risible hatchet job on me and other colleagues at an academic working group called 'British Media and the Syrian Conflict' (BMSC) – a group that seeks to build on the work of Piers Robinson (a politics professor at the University of Sheffield and one of the founders of BMSC) on the media's role in the Iraq War, and what is called organised persuasive political communication, or propaganda.
The Times' report and op-ed are notable for their lack of substance, which is hardly surprising given we have only just set up the working group, and are yet to produce any, well, work. Instead, like The Times' recent report, 'Exposed: Jeremy Corbyn's hate factory', which consisted of a trawl of Labour-supporting Facebook groups in search of unpleasant posts, its piece on us, headlined 'Apologists for Assad working in British universities', consisted of a trawl of my colleagues' blogs and tweets about Syria.
The Times states that by questioning the British government's stance we are apologists for Assad. More absurd still, it claims that by questioning and debating British foreign policy we are somehow shutting down debate. It seems to me that it is The Times that is shutting down debate, not to mention attacking academic freedom.
As a point of interest, two senior British military figures have been interviewed on the BBC and Sky questioning if it was indeed the Syrian government that carried out the chemical attacks. I am eagerly awaiting The Times' double page spread on those 'Assad apologists', Admiral Lord West and Lord Shaw.
It is entirely legitimate to ask questions about what has happened in a war, what the government tells us has happened, and on what basis it is making its decisions. Indeed, surely a newspaper should be asking those same questions rather than diving into academics' social-media posts. The Times even followed up its 'exposé', with a piece during the week in which it revealed that I had tweeted that the Syria strikes were against international law. Given that they are against international law, how exactly does my saying that constitute news?
It is exactly at times like these that it is the democratic duty of citizens to question their government. Don't take my word for it, take the word of the government-commissioned Chilcot report into the Iraq War, which showed that Tony Blair's Labour government lied to take us to war in Iraq. It was one of the biggest foreign-policy disasters of the post-Cold War era, and we live with the consequences today. This was not an intelligence failure, as it is often portrayed; rather, it was, as Sir John Chilcot very clearly showed, a deliberate decision to construct a false case for going to war. Much of the British media was complicit in peddling it.
But the Chilcot report is too often treated as a historical overview of something that could not happen again. Yet it did – in Libya. The House of Commons Foreign Affairs Committee report on the 2011 Libyan intervention very clearly shows that David Cameron's Lib-Con government constructed a false narrative of the Libyan civil war in order to intervene.
The idea that it is good to challenge the government on other issues, from housing to energy, but that we should all shut up when the British state is dropping bombs on people is wrong. Because if there is a lesson from the Chilcot report, it is that we should question the government, especially in times of war.
It is the democratic duty of each and every one of us to question and question and question, and ultimately hold our government to account. Calling people traitors, or useful idiots, or conspiracists, or apologists, is the oldest and weakest trick in the book. All it shows, in fact, is the weakness of the government's own case for military action.
Tara McCormack is a lecturer in international politics at the University of Leicester. She is author of Critique, Security and Power: The Political Limits to Critical and Emancipatory Approaches to Security, published by Routledge. (Buy this book from Amazon(UK).)
To enquire about republishing spiked's content, a right to reply or to request a correction, please contact the managing editor, Viv Regan.