Trump's cabinet of chaos
The appointment of war-happy John Bolton is yet another foreign-policy U-turn.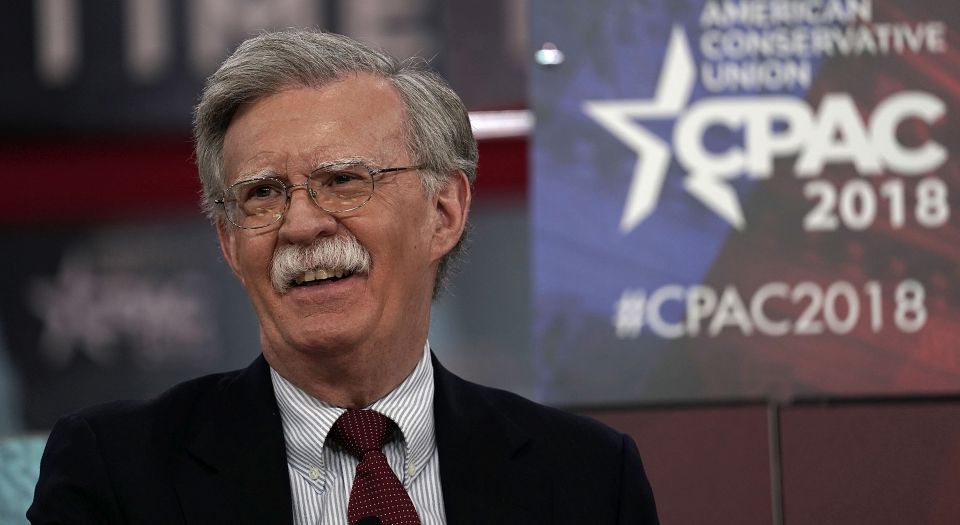 Coming hot on the heels of the appointment of might-is-right Mike Pompeo as US secretary of state, Donald Trump's decision to replace General HR McMaster with the warmongering John Bolton as national security adviser has been met with near universal gloom. It was hardly a surprise to see the liberal or, to use Trump's favourite epithet, 'failing' New York Times fast-forward to the apocalypse, stating that 'Yes, Bolton really is that dangerous'. But even the conservative sections of the political and media class seemed vexed by the news, with the Financial Times reporting that so-called foreign-policy hawks, such as Mark Dubowitz, the head of the Foundation for Defense of Democracies, are wringing their hands in exasperation.
And little wonder. There are very few questions to which Bolton will not answer, 'Send in the military'. Hence this 69-year-old veteran of George W Bush's administration, where he served as under secretary of state for arms control and international security in the run-up to the Iraq War, has had a spectacularly monotonous career, everywhere spying space for unilateral military intervention where others might see diplomatic opportunity. There is no problem, it seems, that military force cannot solve.
Bolton's monomania has only become more acute since he stepped down from public office in 2006, when his two-year tenure as US ambassador to the UN ended. So in 2015, he suggested meeting the challenge of Iran's nuclear-weapons programme with… military action, preferably as swiftly as possible. 'Time is terribly short, but a strike can still succeed', he wrote in the NYT: 'An attack need not destroy all of Iran's nuclear infrastructure, but by breaking key links in the nuclear-fuel cycle, it could set back its programme by three to five years.' He added, unnecessarily, some might say, that 'the United States could do a thorough job of destruction'. And, in response to North Korea's own nuclear-weapons posturing last year, he wondered if the solution might not lie in… military action, preferably as swiftly as possible. 'Time is not a neutral factor here. Time is an asset for the proliferator', he said on Fox News, adding later that: 'It is perfectly legitimate for the United States to respond to the current "necessity" posed by North Korea's nuclear weapons by striking first.'
But perhaps most damning of all has been his response to the calamity of the Iraq War, a venture he unsurprisingly and enthusiastically supported in the aftermath of 9/11. While even George W Bush has expressed regret over the decision to invade Iraq on the basis of 'flawed' or, more accurately, non-existent evidence, Bolton has remained adamant that military action, presumably as swiftly as possible, was unquestionably the right move. 'I still think the decision to overthrow Saddam was correct', he said in 2016. 'I think the worst decision made after that was the 2011 decision to withdraw US and coalition forces. The people who say, oh things would have been much better if you didn't overthrow Saddam miss the point that today's Middle East does not flow totally and unchangeably from the decision to overthrow Saddam alone.'
Which brings us to Trump, who made precisely the point Bolton rejects in a presidential debate in early 2016: 'I said it loud and clear [in opposition to the Iraq War], "You'll destabilise the Middle East".' And that was not all he has said against the Iraq War. Since the mid-2000s, Trump has repeatedly boasted, as is his wont, of his anti-Iraq War credentials. In a 2004 interview with Esquire, he was unequivocal: 'What was the purpose of this whole thing? Hundreds and hundreds of young people killed. And what about the people coming back with no arms and legs? Not to mention the other side. All those Iraqi kids who've been blown to pieces. And it turns out that all of the reasons for the war were blatantly wrong. All this for nothing!'
In fact, in the run-up to the 2016 presidential election, Trump, with his opposition to the Iraq War to the fore, struck a consistently anti-interventionist foreign-policy pose. No doubt it helped him get one over on Hillary Clinton, who, in Congress, voted for the Iraq War, and, as secretary of state, pushed for the catastrophic intervention in Libya, but it also seemed to be something of a matter of principle for Trump, too. Even the liberal New Yorker conceded in April 2016 that, 'On the spectrum of interventionism that defines the foreign-policy debate in the GOP, Trump is clearly on the less interventionist end'.
So why, given that the Trump people voted for in 2016 was largely anti-interventionist, a Trump who vowed to 'replace randomness with purpose… chaos with peace', is today's Trump now appointing such an obsessively war-focused old Republican to a senior administrative post? Many have speculated that, alongside the appointment of Pompeo as secretary of state, Trump is creating a cabinet of the willing – willing, that is, to enter into open conflict with Iran, North Korea and any other axis point of evil.
Which would make sense if Trump was an ideologue, a president with a coherent idea and vision of his presidential mission. But there is nothing to suggest that is what he is. He has flipped, flopped and flipped back again on virtually all of his political positions, from abortion rights, to, in this case, military interventionism. Besides, if Trump really was set on reviving some notion of Dick Cheney's American Empire – 'when we act, we create our own reality' – why, from out of nowhere, did he suddenly, at the behest of South Korea, consent to a summit with North Korean leader Kim Jong-un? And how on earth does the appointment of a staunch opponent of negotiating with North Korea align with Trump's plan to, er, negotiate with North Korea?
Everything about the Trump presidency is systematically inconsistent. Its essence is impulsive, not planned. To see Machiavellian machinations in all this is to treat Trump as something he is not: malicious, rather than capricious, scheming, rather than whimsical. Not that government by caprice is a good thing. With every volte face – the anti-interventionist now pushing for military intervention; the anti-establishment candidate appointing a near 70-year-old GOP veteran to a senior post – makes a mockery of those who voted for him.
But the chaotic, incoherent nature of Trump's presidency, the fact that his mood seems to dictate policy and personnel decisions, is not a sign of Trump's strength. It is an indication of institutional and especially Republican weakness. So Republicans in Congress, possessing the desire but lacking the popular legitimacy to challenge Trump, align themselves with and protect him – in complete bad faith. And from such institutional weakness, Trump draws personal strength. But what he is does not draw, and what he needs, particularly in global affairs where his ignorance is most pronounced, is political direction. Trump's ever-changing cast of advisers and statesmen reflects this lack of direction, this profound incoherence. He governs as his gut dictates, as the fancy takes him, firing and hiring on what seems like a monthly basis.
As the writer Saul Bellow once said of American public virtue, we might say likewise of American political power: it now resembles a ghost town into which any one can move and declare himself sheriff. And it seems that Sheriff Trump is a law unto himself.
Tim Black is a spiked columnist.
Picture by: Getty
To enquire about republishing spiked's content, a right to reply or to request a correction, please contact the managing editor, Viv Regan.