Brexit Deal Betrayal: did the UK lose a war?
What democracy has to do with the price of fish.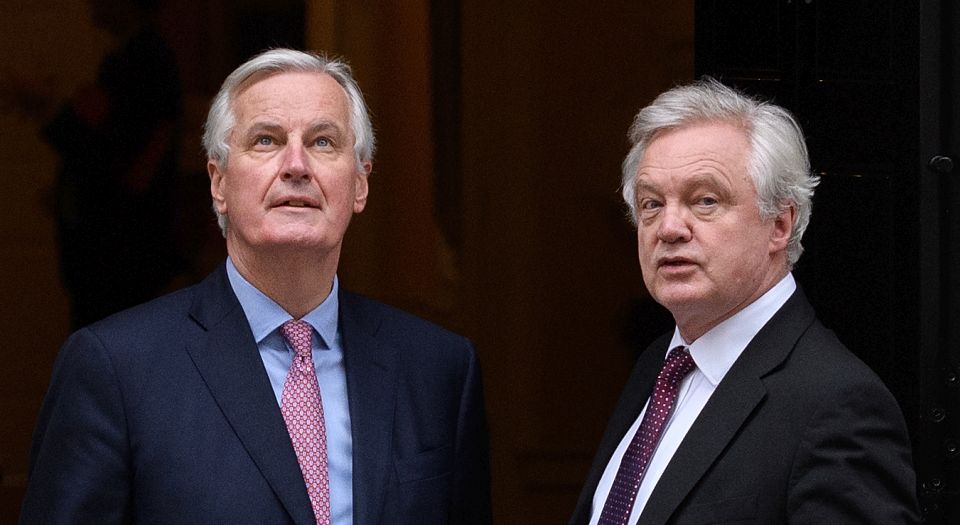 What was Brexit secretary David Davis looking so pleased about at that press conference this week? After all, the alleged Tory champion of Leave had just agreed a draft transition deal with chief EU negotiator Michel Barnier that put a smile on many a Remainer's face.
To judge by its punitive terms, anybody might think that the UK had lost a war and been subjugated by a conquering power in June 2016 – rather than having voted for more sovereignty and democracy.
Even some of us who have warned about a potential Brexit betrayal since before the EU referendum was won could have been surprised by the stark grimness of the draft transition deal. Theresa May's spineless government has apparently bowed to all the Eurocrats' demands and crawled across every one of its own 'red lines', on issues ranging from budget payments or the Irish border to the rights of EU citizens or British fishermen.
The BBC assured us that there would be 'sighs of relief' in Whitehall, Westminster and the City of London, where the value of the pound was boosted by the news. That should come as little relief to the rest of us. The top figures in the Conservative government and the financial sector are of course all ardent Remainers, who told us not to dare defy them by voting Leave and still don't want Brexit at all. The draft deal was also welcomed by arch Remainer Sir Keir Starmer, Labour's (anti-)Brexit secretary, with the proviso that it did not go far enough in kowtowing to Brussels.
Some bitter 'Remoaners' such as Lib Dem leader Sir Vince Cable still dream of staging a second referendum to get the 'right' result. Meanwhile, the proposed transition terms show how the pro-EU elites on both sides of the Channel are striving to annul and overturn the democratic Brexit vote in practice without risking a second referendum. They want to compel us to swallow a deal that really represents Remain by another name.
These elites recognise that there is far more at stake here than the fine details of a legal deal. It is an issue of political principles. Brexit has never just been about future relations between the UK and the EU. It is about the future relationship between the people and power – between the demos and kratos – in our supposedly democratic society. If the mandate endorsed by 17.4million Leave voters – the largest vote for anything in British political history – can effectively be ignored or overturned, then by what measure do we live in a democracy?
To see the fear and loathing of popular sovereignty and democracy driving the Remainer elites, look away from Brexit for a moment to the Cambridge Analytica scandal. No doubt there are genuine issues here about the use and abuse of date obtained via Facebook. But that's not really what all the fuss is about.
The Facebook/Cambridge Analytica furore is driven by an underlying prejudice against democracy: the elitist belief that people are too stupid and gullible to be trusted to vote in their best interests. The British and Western elites refuse to accept that 17.4millon people could have made a rational decision to reject their instructions and vote for Brexit – or that 63million Americans could have coolly refused to endorse Hillary Clinton and opted for the idiotic Donald Trump instead.
As leading US Democrat voice Arianna Huffington put it, Trump's election as president was not just unfortunate but entirely 'incomprehensible'. Back in Britain, leading Labour MP David Lammy declared the Leave vote to be an incomprehensible act of 'madness', while his mystified Labour colleague Keith Vaz observed that, 'In a thousand years I would never have believed that the British people would have voted in this way'.
Ever since 2016, the elites have been groping around for some way to explain away these unbelievable, incomprehensible popular revolts. As ever, they have concluded that the voters must be to blame for being too easily duped by demagogues and puppetmasters.
They tried to blame it on the 'Brexit lies' painted on the Leave campaign battlebus. Then they sought to blame 'fake news' spread by state-sponsored Russian bloggers for swinging the votes for Brexit and Trump. And now, in desperation, they want to blame the use of Facebook data by the likes of Cambridge Analytica for using a 'psychological warfare mindfuck tool' to fool millions of revolting proles into voting the incorrect way on both sides of the Atlantic.
As Norman Lewis analyses elsewhere on spiked: 'The real reason the liberal media and politicians have gone into meltdown over this case is because of their prejudiced and misguided belief that Cambridge Analytica successfully used this data to bring about political outcomes which disgust them.' The lesson they draw is that those disgusting democratic decisions are illegitimate and should be overturned by hook or by crook.
At stake in the Battle over Brexit, then, are the biggest issues imaginable – of power and popular sovereignty. That's why it's important we don't get too bogged down in the endless stream of secret talks, draft deals or leaked reports, and lose sight of the big picture. Let's remind ourselves – and them – of a few things that appear in danger of being forgotten amid all the micro-analysis.
The Brexit vote was not primarily about trade deals. It was about democracy. It represented a popular desire to take back control, not only from the distant Eurocrats but from the UK's own Remainer elite who had treated the people with contempt for too long. That is why the craven draft agreement matters – because it further undermines the demand for popular sovereignty by extending the control over our lives of unelected, unaccountable bodies such as the European Commission and courts.
Nor was the Leave vote just about the details of fishing rights – though the anger of UK fishermen at the draft deal giving the EC carte blanche to impose quotas for two years after Brexit is entirely understandable. It was an assertion of the people's right to be sovereign, to control their own affairs in a democracy. That is why concessions over things like fishing rights matter to us all, because they take away the right to make our own rules.
And nor is the Battle over Brexit really about the finer points of cross-border relations in Ireland. It is about national sovereignty, being the only system yet developed by humanity as a basis for democracy. I have long supported the idea that Ireland should be a sovereign, 32-county united republic. But it can only undermine both British and Irish sovereignty if we allow the EU elites to impose an artificial border deal of the sort proposed, effectively redrawing our borders and taking political decisions that should only be the business of the British and Irish people.
In short, the Battle over Brexit is about who has the power. The popular Brexit revolt against the elites is an unfinished political revolution. It is a political revolution now being betrayed by all leading parties in Westminster and Whitehall. But then again, they are not really 'traitors' since they were never on the side of the people in the first place.
There is nobody in UK politics speaking for the 17.4million, as Corbyn's Labour comes out as the party of the metro Remainer middle classes and UKIP stands exposed as a joke well past its sell-by date. We desperately need a political realignment to give those voters a voice. Yet the battle is far from finished. Those 17.4million votes cannot be erased from history so easily. The democratic genie is out of the bottle – despite any draft agreement between the UK and EU elites to try to stuff it back in and forcibly replace the stopper.
Mick Hume is spiked's editor-at-large. His new book, Revolting! How the Establishment is Undermining Democracy – and What They're Afraid of, is published by William Collins. Buy it here.
To enquire about republishing spiked's content, a right to reply or to request a correction, please contact the managing editor, Viv Regan.