The comic genius of Ken Dodd
He had one ambition in life and he achieved it: to make people laugh.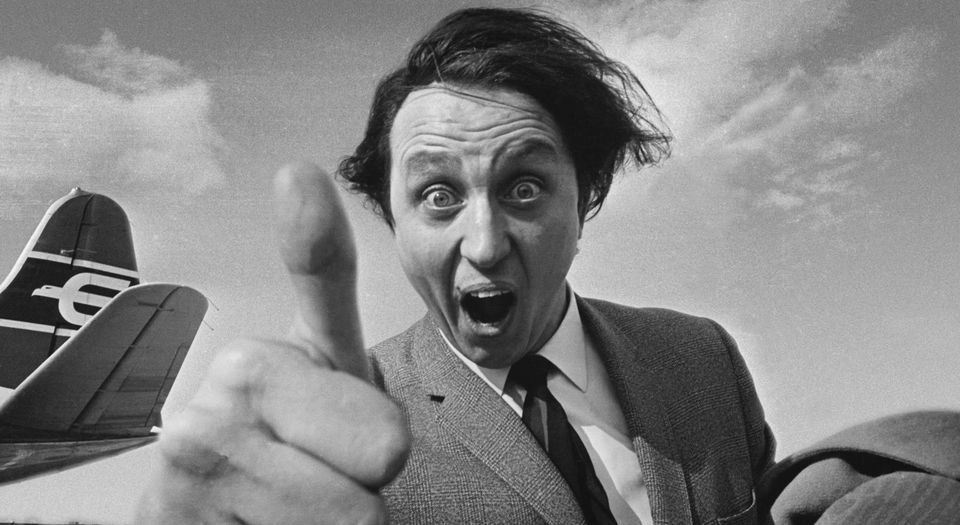 Flags on official buildings flew at half-mast in Liverpool this week as a mark of respect for one of 'the city's greatest sons': the legendary Ken Dodd, whose death was announced in the early hours of Monday morning. Instantly recognisable for his swept-up hair, buck teeth and trademark tickling stick, Sir Ken – he was knighted last year – had been hospitalised with a chest infection after giving his final performance in Liverpool at the end of December.
Often referred to as the last of the music hall maestros, Ken Dodd was born the son of a Liverpool coal merchant in 1927 and lived his whole life in the family home in the suburb of Knotty Ash, where he died two days after marrying his long-time partner and fellow performer, Anne (Sybie) Jones.
Learning his trade in the hard school of Britain's variety circuit, Doddy became a household name in the 1960s and 1970s. Although most famous for his achievements as a comedian – he sold out an unprecedented 42 weeks at the London Palladium in 1965 – the Squire of Knotty Ash was then one of Britain's top-selling chart acts, too. He famously kept The Beatles off the No1 spot with his single 'Tears'. His tattyfilarious catchphrases – 'Have you ever been tickled, Missus?' and 'How tickled I am!' – became part of British life and culture, along with his imaginary world of Diddy Men, jam-butty mines and black-pudding plantations.
But despite the well-earned awards and acclaim – Doddy stood on the shoulders of Lancashire comedy giants like Stan Laurel, Robb Wilton and George Formby – Liverpool's flags weren't lowered in memory of past glories; rather, they were lowered to salute a man with a simple genius for making people laugh.
I first saw Ken Dodd live 20 years ago at the Whitley Bay Playhouse on a wet August bank holiday night. The London Palladium and primetime TV appearances were long behind him. But where other entertainers of a similar vintage might be heading to the golf course or plying their trade on the chat-show circuit, the outrageous King of Mirthyside had embarked on his annual pilgrimage of touring shows, bringing happiness and laughter to the overlooked and mostly unloved towns of provincial Britain.
Packed with talent from 'all four corners of the job centre', the show opened to a full house at 8pm and we were still there at half past midnight. 'Put your hand up if you hear one you like', he told us, half an hour and 200 jokes in. 'The sooner you laugh, the sooner you can go home… this is not the TV, missus, you can't switch me off.' No use trying to escape at the interval, 'I'll just follow you home and shout jokes through the letterbox'. By the end of the night – missed trains and frantic babysitters notwithstanding – nobody wanted him to stop. We had joined the charmed circle of Doddy devotees, the last men standing; we were hooked.
People would ask, was he any good? Good? He was brilliant. Trouble was, you could never remember any of the jokes – although in the years that followed I did get to know and love them like old friends: 'This woman wanted sleeping pills for her husband. "Why?" said the doctor, "what's the matter with him?". "He's woken up".' Then there was the one about the man who invented cat's eyes, who got the idea when he saw a cat looking into his headlights: 'If the cat had been going the other way, he would have invented the pencil sharpener.'
It didn't matter that Doddy's gags were as old as the hills or that his flights of fancy conjured up a bygone era of tin baths, outside toilets and horse-drawn carts delivering coal. They were only ever means to an end. Doddy was not in the business of contriving humour, but of unleashing the sheer power of happiness. It was Doddy's devotion to his trade of making laughter that kept me and countless others enthralled. It was his ambition, he said, to 'slave over a hot audience' in every live theatre in the land. Asked for his favourite town, he replied, 'The one I'm playing tomorrow night'. From Sunderland to Stockport, Warrington, Whitley Bay, Wolverhampton, Sheffield, Stoke and back to Liverpool, he loved them all, and we loved him back. Tatty-bye, Ken, and let's raise a glass to absent friends.
Pauline Hadaway is a writer and co-founder of the Liverpool Salon.
To enquire about republishing spiked's content, a right to reply or to request a correction, please contact the managing editor, Viv Regan.