Trump: bad, not mad
Diagnosing him from afar is dangerous and anti-democratic.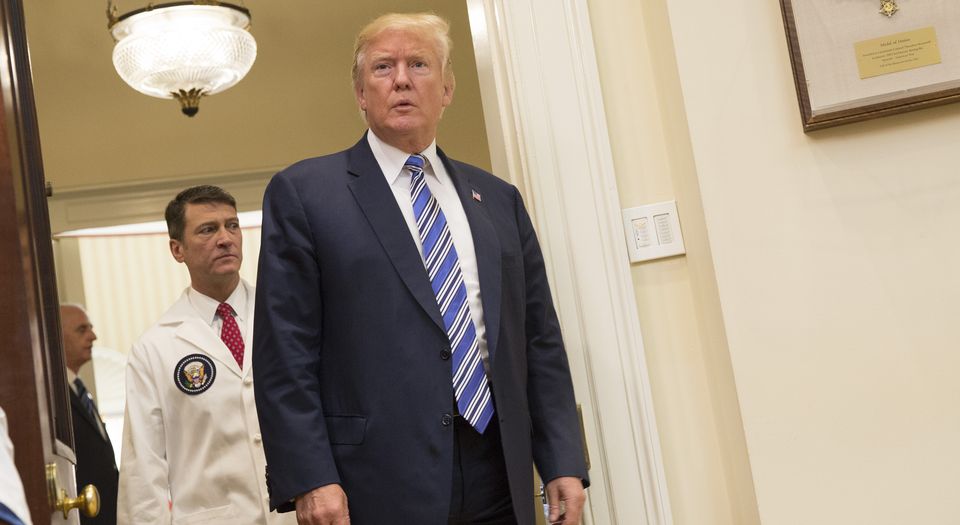 So the official verdict on Donald Trump's fitness for office is in. Not only do we have the views of his doctors (that a lifetime of abstinence from modesty… sorry, I mean from booze and smoking, has left him in rude health), we also have his own official pronouncement on his intellectual prowess and mental stability. Of course none of this is likely to stop the considerable speculation about his sanity, or to prevent attempts to use mental health to undermine him. However, just because Trump says he's sound in the head, that doesn't mean saying the opposite is a useful way to attack him.
There have now been so many requests for psychiatric evaluations of POTUS it's hard to keep track. The main diagnosis mentioned is 'narcissistic personality disorder' from the DSM, the main manual of psychiatric classification in the US. Certainly features such as 'antagonism', 'grandiosity', 'attention-seeking', and a 'sense of entitlement' make a certain intuitive sense after five minutes looking at the president's Twitterfeed. Simple, no?
Immediately, though, debate gets bogged down in ethics. The American Psychiatric Association has the 'Goldwater Rule', which renders diagnosis at a distance taboo. However, that's only one professional body. Others don't have such restrictions, so perhaps this is fair game? True, while organisations such as the Royal College of Psychiatrists don't have an equivalent of the Goldwater rule, they do require respect for and the avoidance of harm to those who use health services. It's hard to square most codes of conduct with using your clinical opinion as a political weapon.
But do ethical rules actually matter? I mean, c'mon, Trump is a crisis of global proportions and there are no time for niceties, right? After all, as Edmund Burke said, and people never tire of repeating, the triumph of evil merely relies on good men doing nothing.
However, Burke made no mention of doing the wrong thing, and the question remains of whether (whatever the ethics) remote diagnosis will actually help the situation. Unfortunately, a significant problem here is that mental-health judgements can be somewhat subjective. Even professionals often don't agree. While proper examination and structured assessment tools may improve things, going the other way, and taking your primary information from cable TV, social media and partisan feeling, is not likely to produce the greatest reliability and accuracy. Of course, as professionals we all may feel our clinical opinion is unlikely to be skewed by personal feeling. And, like The Donald himself, we're all absolutely the best judges of our own objectivity and competence. Aren't we?
Let's assume for a moment that we are good judges, can make an accurate diagnosis, and that we can get over any ethical reservations. If we (just for now) accept that President Trump has a serious mental illness, where does that get us? Does it change anything? Okay, he's a vain, volatile attention-seeker, but does that mean he isn't up to the job? Actually, mental-health diagnosis may have very little to tell us about a person's competence. Antagonism and grandiosity may be a lot more common in authority figures than we might think. Did Barack Obama, with just one sensational speech to his name, run for president out of modesty? And anyway, since when does a mental-health issue disqualify you from a job? Churchill and Lincoln seemed to do okay. As do plenty of less notable people struggling not to have their competence defined by their diagnosis. A big downside of this whole affair is leaving them in an even tougher spot.
Of course, when there are performance issues for ordinary people in ordinary jobs, there are managers to deal with it and procedures to apply. But what on Earth do we do if we think a head of a government isn't up to it? Who guards the guards? It's an age-old problem. Shakespeare was big on royal incompetence, from Hamlet right through the history plays. Our island story may have been a lot less dramatic, though, if we'd had modern ways of dealing with doubts about our leaders. Instead of wars, these days we have elections. If the boss isn't up to it, it's down to us.
John McGowan is an academic and clinical psychologist.
To enquire about republishing spiked's content, a right to reply or to request a correction, please contact the managing editor, Viv Regan.