The year everything was politicised
Apparently you can't take down Trump without Taylor Swift.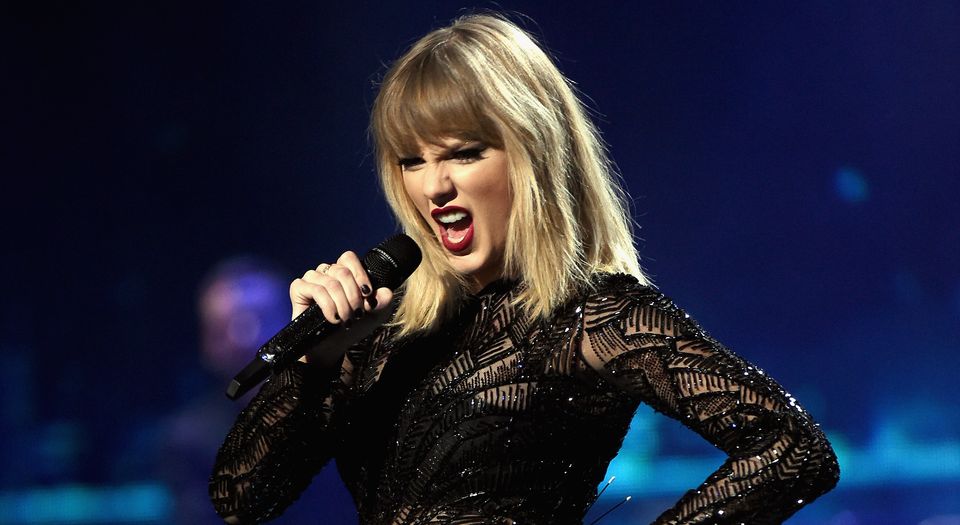 Taylor Swift has enraged the Twitterati by daring to say she 'couldn't have asked for a better year'. Sure, she won her sexual-assault case and had yet another blockbuster album, but how dare she say something positive about 2017! 'I can't even begin to explain the lack of empathy it requires to even begin to describe 2017 as a good year', decried one shellshocked Twitter user.
The rage against Swift's upbeat 2017 tweet came after months of criticism of her for staying out of the 2016 presidential election debate and, since then, refusing to denounce Donald Trump. Her critics seem to think those pesky Trump voters would have completely changed their minds if only T-Swizzle had snapped them out of it. Apparently a star with such a huge pre-teen audience has an obligation to be the next Bob Dylan. But this isn't about encouraging her to express her opinions — it's about castigating her for failing to express the 'right' opinions.
Swift's haters do have one point: 2017 was not a great year. And one of the things that made it dreadful was this demand that every celebrity be political – and the willingness of celebrities to step up to the plate. Swift, you see, was in many ways the exception. This year, everyone from sports stars to commentators to comedians have felt the need to hold forth on everything from Trump to healthcare to police brutality – and have been cheered by the great and good for doing so.
Perhaps it's a sign of the times. So much of political debate has been reduced to shallow virtue-signaling and narcissistic moralism, so celebrities find themselves perfectly placed to pitch in. In turn, political commentators have become strangely captivated by the the stars of sport, TV and music. There's always been celebrities who like to flaunt their respectable views. But this year was different: culture became so thoroughly politicised that stars were considered morally reprehensible if they simply didn't want to join in.
Due to her sexual-assault trial, Swift was named as one of the many joint winners of Time's Person of the Year, as one of 'the Silence Breakers' – those who united under the #MeToo hashtag. A notable runner-up for Person of the Year was former NFL player Colin Kaepernick, who continues to be lauded even though his 'taking the knee' protests against police brutality took place last year. (He was dropped by his team and hasn't been on the field since.) But Trump calling him out a few months back, and his fellow players' protests in solidarity, got him trending again.
Considering all the praise heaped on Kaepernick over the past two years, it is astonishing how little he has actually said about police brutality. His entire thoughts on the subject have come from a single post-game interview. As Time says, he's done nothing of note this year; instead, Time points to his influence – teens dressing up as him at Halloween, Jay-Z wearing his jersey and high-school players 'taking the knee' at their own games. His primary achievement has been to turn himself into a right-on meme, and yet he is hailed nonetheless.
ESPN sportscaster Jemele Hill was another hero of 2017, elevated for 'correctly' using her platform. She railed against Trump in a series of tweets, calling him a 'white supremacist who has largely surrounded himself with other white supremacists'. Then, as ESPN weighed up whether to suspend her (the network is supposed to be apolitical), she became the focus for the cheapest of political point-scoring. The left held her up as a courageous example to us all, while the right dropped its supposed love of free speech and joined Trump's White House in demanding she be fired.
In their celebrations of Kaepernick, Hill and even talkshow host Jimmy Kimmel (for his tirades against Trumpcare), those on the liberal-left reveal how cut-off they have become. They are so detached from ordinary people that they get overexcited whenever someone on the TV, someone Those People might actually listen to, agrees with them. They seem to think the public believe whatever celebrities tell them to – forgetting that Trump's victory was made that bit easier by the countless godawful celebrities who backed Hillary Clinton in 2016.
The politicisation of everything is bad for everyone. It diminishes both politics and culture. Theatrics, hashtags and parroting the party line are held up as radical and progressive. Substance and struggle are replaced by spectacle and conformity. Culture and sport become cluttered with lame political platitudes. And no one's mind is changed. If the Twitterati learn one thing from 2017, let it be this: the public are perfectly capable of finding fault with President Trump without Taylor Swift's assistance.
Christian Butler is a spiked columnist. Follow him on Twitter: @CPAButler
Picture by: Getty
To enquire about republishing spiked's content, a right to reply or to request a correction, please contact the managing editor, Viv Regan.