Labour: a party against the people
The idea that Brexit is impossible reveals the conservatism of the pro-EU set.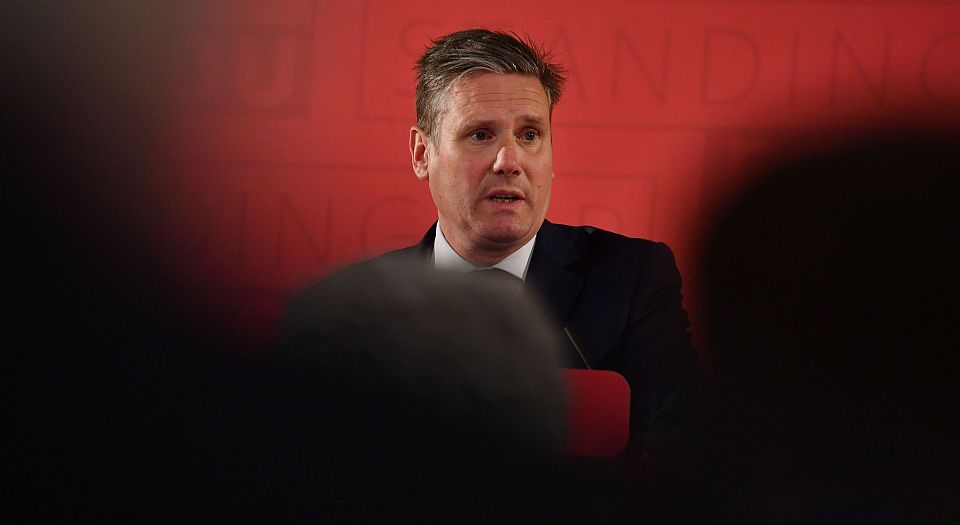 So now we know. After over a year of trying to look both ways on Brexit, to endear itself to both its metropolitan Remainer base and its Brexity working-class heartlands, the Labour Party has made clear on which side its bread is buttered. In an urgent question to Brexit secretary David Davis in the Commons yesterday, Labour's Keir Starmer called on the government to put membership of the Single Market and the Customs Union back on the table. He slammed the government's decision to rule out a so-called Soft Brexit as 'reckless' and said the breakdown in negotiations in Dublin – after the DUP, propper-up of the Conservative minority government, objected to the deal about to be struck between Ireland and the UK on the question of the Irish border – proved the position a 'fantasy'.
Given the Labour Party position on Brexit seems to change on an almost daily basis, the significance may be lost on many. But yesterday Labour's approach to Brexit could not be more clear, or its implications more significant. Where, for months, Labour has aired vague and often contradictory statements on Brexit, it is now openly the party of Soft Brexit. Or rather, it's the party of Not Brexit, which thinks its Brexit-supporting voters aren't quite smart enough to know the difference. The party set up supposedly to give ordinary people more of a stake in how society is governed would rather deny ordinary people's desire to 'take back control', as expressed in June last year. They've sided with the anti-democratic status quo, and a pro-EU establishment desperate to keep the people from power.
Yes, Labour backed Remain at the referendum, even if its longtime Eurosceptic leader Jeremy Corbyn said he was, at best, 'seven out of 10' in favour of that position. But it's one thing to campaign for a different outcome in a referendum, and quite another to render the resulting mandate – the biggest in our history, no less – irrelevant. Because that's exactly what a Soft Brexit would do. It would mean Remain by another name – no longer being a member of the EU but still being subject to its rules on everything from trade to borders to state aid. Joining the European Economic Area, and staying within the Single Market, may give us a bit more 'wriggle room' in relation to these matters, but that's emphatically not what people voted for.
No one who knows anything about the Labour Party's history should be surprised, of course. Its historic role has been to temper working-class passions, to rein in revolutionary sentiment. It was on the wrong side of history during the General Strike of 1926, and it's on the wrong side now – and a thoroughly more aloof, bourgeois party than it was then. Yet its about-face on Brexit is striking not only for its galling anti-democracy but also for its straightforward conservativism. Starmer's argument is effectively that Brexit, a real Brexit, is impossible, a 'fantasy' – that the big, important issues it raises about trade, borders and sovereignty are simply too tricky, too fraught with disaster. Change, in effect, is either seen as dangerous, or not worth the hassle.
The idea that Brexit is 'undeliverable' has long been the Rearguard Remain argument of last resort. Rather than try to argue the case for the loathsome, anti-democratic racket that is the EU, these elitists say you just can't do it. Not happening. It's an argument as desperate as it is hypocritical. (The same people who, for years, said Eurosceptic concerns about the EU usurping British democracy were hysterical are now saying it's effectively impossible to leave.) But it reminds us that the pro-EU set's fear of democracy goes hand in hand with a fear of change itself. And this grips Blairites as much as it does the supposedly radical Corbynistas, one of whom castigated the Tories this week for their 'revolutionary zeal' over Brexit.
Leaving the EU raises all manner of constitutional and legal questions – the Irish border high among them. But that debate has barely even begun, as it is impossible to say definitively what will happen at the border until trade arrangements are agreed upon. This row isn't about the potential instability unleashed by a 'reckless' negotiation but the threat of the 'reckless' public who dared to vote against the elite last year. The Tories are hardly capable of meeting the radical democratic promise of Brexit. But the fact that Labour, the supposed party of the people, has become the premier spokesman for this prevailing conservatism, this deep fear of change, and of us, cannot be ignored. It is now, officially, a party against the working class, not for it.
Tom Slater is deputy editor at spiked. Follow him on Twitter: @Tom_Slater_
To enquire about republishing spiked's content, a right to reply or to request a correction, please contact the managing editor, Viv Regan.