Freed from Britain, trapped by the EU
Ireland fought for independence yet now wants to give it up to Brussels.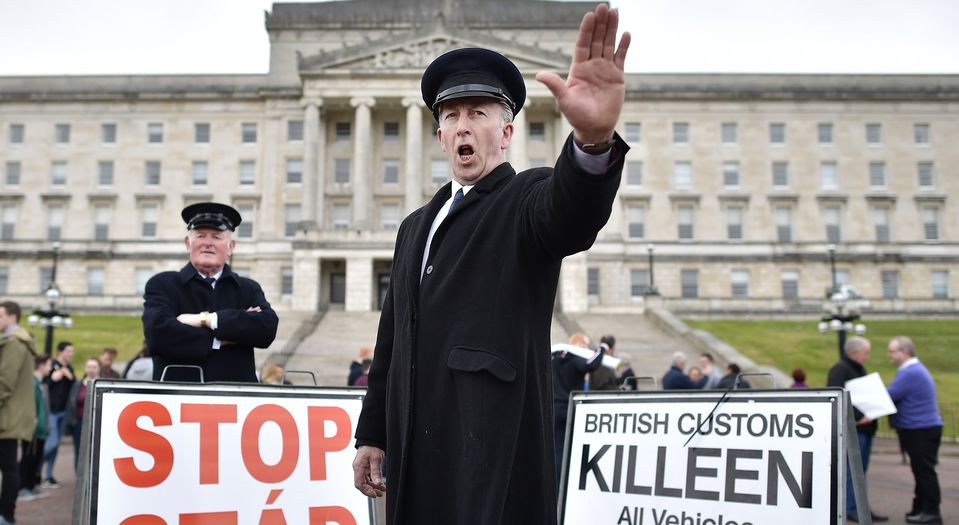 Once upon a time there was an independent nation. This was a proud nation, which was gradually incorporated into an empire that cared little for its people. After years, the people of this nation decided to do something about this. They no longer wanted to belong to this callous empire. They wanted self-determination and freedom.
The empire didn't like it when the rebellious nation declared independence, responding with bullying and threats. The empire was terrified that if one member nation were to leave, others would soon follow. The empire feared that its days were numbered, which is why it reacted with such disproportionate vehemence.
Fast-forward from the Anglo-Irish conflict of 1916-1922, in which what would become the Republic of Ireland secured freedom from the United Kingdom, and on to the events of 2016-2019, in which the UK will secure liberation from the European Union.
I'm not the first person to draw a comparison between Ireland then and the UK now, but it is worth reiterating. Not just because of the threat from the Irish prime minister, Leo Varadkar, to block progress in the Brexit talks unless the UK gives a formal, written guarantee that there will be no hard border with North Ireland, but because of the ceaseless carping from the Irish Times and Dublin 4 smartset. Last year, Ireland celebrated the centenary of the Easter Rising that began its road to independence. Yet, in the same year, many started to complain that Britain was being anachronistic, stupid and selfish for doing likewise.
What is all the more galling about this lofty sanctimony is that the UK has never sought a hard trade border with the Republic. The UK and the the Republic had a common travel area long before both joined what was the EEC in 1973. Postwar, the UK and Ireland had no trouble trading before the EEC existed. It's the protectionist EU, not the UK, which today guards its borders so fiercely in matters of trade and commerce. Any 'hard border' that could result from Brexit will be the fault of Brussels, not London.
Dublin must also share the blame. It was the Irish Free State that started the 1932-38 Anglo-Irish trade war. Dublin hardened the border by leaving the Commonwealth in 1949, switching its road-distance signs to kilometres in the 1970s, ending parity of the Irish pound with sterling in 1979, and in 1999 getting itself dragged into the Euro.
If the Republic of Ireland, having jettisoned its reverence for the Catholic Church, hadn't developed in its place such a devotional and deferential attitude to the EU over the past decades, maybe it wouldn't be in this pickle. By popular culture and language, Ireland is closer to Britain than the continent, not to mention far more connected to the UK in matters of trade.
The embarrassing, servile, EU-philia of the Irish metropolitan classes is ultimately to blame here, and the logical solution would be for Ireland to leave the EU, too. What was the point of fighting to extricate the country from London rule, only to hand it over to Brussels in a matter of decades? Remind me: what was that expression? 'Ourselves Alone'. That's the one.
---
Are we now guilty until proven innocent?
Kevin Spacey has been airbrushed out of a movie and expunged from Netflix before any trial has begun in relation to accusations that he sexually harassed some individuals. And now, the singer and presenter Aled Jones will not be appearing on the BBC while it investigates a single allegation by a woman about a text he sent 10 years ago.
As has become the norm in 2017, men accused of crimes are treated as guilty until proven innocent. We talk of 'victims' before any criminal proceedings have started, let alone concluded, when we should be talking of 'accusers'. The police now urge women to come forward, saying 'you will be believed' rather than 'you will be listened to'.
These are important distinctions. The principle of guilty until proven innocent inevitably results in the imprisonment or ruination of people who have done no wrong. Well-meaning folk – often the cause of so much human misery – will only realise the enormity of the precedent being set here when it hits them or their family, by which time it will be too late.
---
That alternative BBC Radio 4 schedule
6.00: Today, hosted by Katie Hopkins and Jeff Stelling
9.55: Thought for the day. There is a God. There is right and wrong. End of.
9.00: Start the Week. James Delingpole is joined by Melanie Phillips, Morrissey and Richard Fairbrass from Right Said Fred.
10.00: Man's Hour. Richard Littlejohn discusses erections, smegma, the new Porsche 911, and whether there is any magic left in the FA Cup.
12.57: The Shipping Forecast. 'Fog over the Channel. Continent Isolated.'
1.00: The World At One
3.00: Afternoon play: Them Next Door. Asli is a Turkish single mother living in a Sheffield council estate. She is worried about the new wave of immigrants from Slovakia creating a strain on schools, housing and hospitals, but everyone just calls her racist.
3.00: Book of The Week. Jeremy Clarkson reads extracts from Has The World Gone Completely And Utterly Bonkers Or What?, his latest hilarious collection of columns from The Sunday Times.
4.00: Pull Yourself Together. A new series on mental-health issues. Jenny Flughafen argues that sad and moany people need to get a grip, and just accept that life isn't meant to be happy.
6.00: The Now Show. Steve Punt and Hugh Dennis cast a wry satirical eye on current events. This week: how Remain voters are unbelievably thick. With side-splitting monologues that conclude: 'It would be like a headline in the Guardian.'
7.00: The Archers. No one quarrels or shouts. No one is horrified. No one is at breaking point. Everything is fine.
7.15: The Moral Maze. Is euthanasia wrong? Do animals have feelings? Is wrestling fixed? Why does toast always land butter-down? Do owls dream?
8.00: Any Questions. From Basildon. With Jacob Rees Mogg, Dan Hannan, Peter Hitchens, Mel Gibson and Bobby Davro.
10.45: Book At Bedtime (1/6). England Is A Proper Tasty Country and I Fucking Love It by Sir Roger Scruton. Read by fucking Danny Dyer.
11.00: Late Night Man's Hour At Closing Time: So who's up for a kebab? I'm properly mullered. Oh Christ I've got work tomorrow. You're my best friend, you are.
To enquire about republishing spiked's content, a right to reply or to request a correction, please contact the managing editor, Viv Regan.